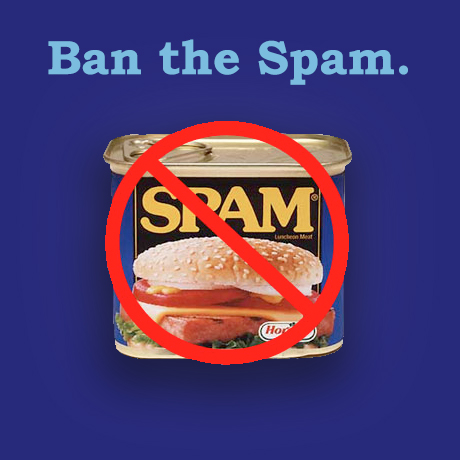 Who doesn't love Spam? We've consumed cans and cans of this comfort food and we never get tired of it. Unfortunately, spam has become synonymous with what the internet hates the most – especially by bloggers. Too much of it is just pretty hard to ignore.
Comments – Love 'em. Hate 'em.
Admit it. When you started out blogging, you would check your blog everyday to see if someone left you a comment on your post. AND, you were absolutely thrilled when someone actually did. Never mind that it wasn't from some popular blogger or someone famous. Someone left a comment. Hooray!
Soon after, someone left another comment. And another comment. And another comment. And another comment – this time with a link. More comments. More links. And pretty soon, your dashboard is exploding with millions of comments and links that have nothing to do with your blog post. "Hello world." just turned into "Hello spam." Now, you've probably realized that more doesn't exactly mean great. What to do?
Approve. Reply. Delete. Trash.
WordPress has a built-in system that can handle all the basic comment management requirements necessary like approving, replying, deleting, or trashing comments. However, the native WordPress system, albeit simple and easy to use, has its limitations and the more savvy users need more than just the basics. Features like social media integration, media support, public user profiles, or better spam filtering options cause people to turn their heads to third-party solutions especially when comments flood the back end and become challenging to monitor and manage.
Ban-The-Spam Solutions
Why ban the spam? Spam is a global problem and often WordPress comments are the place when bots try to enter bogus content full of links to their sites. Here are some of the blog comment systems and/or plugins you can use on your websites to help you manage those annoying spam comments.
WordPress Default Comment System – built-in comment management system that's simple and easy to use but needs supplemental plugins to ban spam effectively.
Cost: FREE
Akismet – It is an external service for battling spam with a database of known emails, IP addresses, and usernames used for sending spam. This advanced hosted anti-spam service efficiently processes and analyzes masses of data from millions of sites and communities in real time. When a visitor submits a comment, it is checked by Akismet and put in a special Spam folder to be managed by the website admin later on.
Cost: FREE (Personal, Non-commercial sites/blogs)
• $5-$50 (For commercial, business, and professional sites / For publishing networks, agencies, hosts, and universities)
Disqus – Disqus, Inc. is a blog comment hosting service for web sites and online communities that uses a networked platform. The company's platform includes various features, such as social integration, social networking, user profiles, spam and moderation tools, analytics, email notifications, and mobile commenting. Features a powerful moderation dashboard and all the filters you'd expect: blacklists, whitelists, spam controls, and word filters.
Cost: FREE (core version)
Livefyre – Livefyre Comments 3 is a comment platform for real-time conversations. Important features include real-time user generated content-publishing, mobile device-friendly, real-time profanity filters that administrators can moderate and flag comments from directly within the stream, or block by IP address and Web Browser, social media and multi media support.
Cost: FREE (basic version)
Other practical tips to manage spam:
Control which comments are automatically published and which ones need to be moderated. WordPress has a built-in provision for this.
Tag comments that have more than one link to be manually approved.
Create a blacklist and/or white list of frequent commenters.
Disable comments on older posts and pages.
Install tried and tested WordPress plugins or 3rd-party plugins to beef up your comment management system.
Wipe out your spam folder regularly.