Best Theme (v1.1)
A Beautiful, Responsive Theme for WordPress Sites
Make sure to check out our official post on the Best Theme for updates on recent and future releases!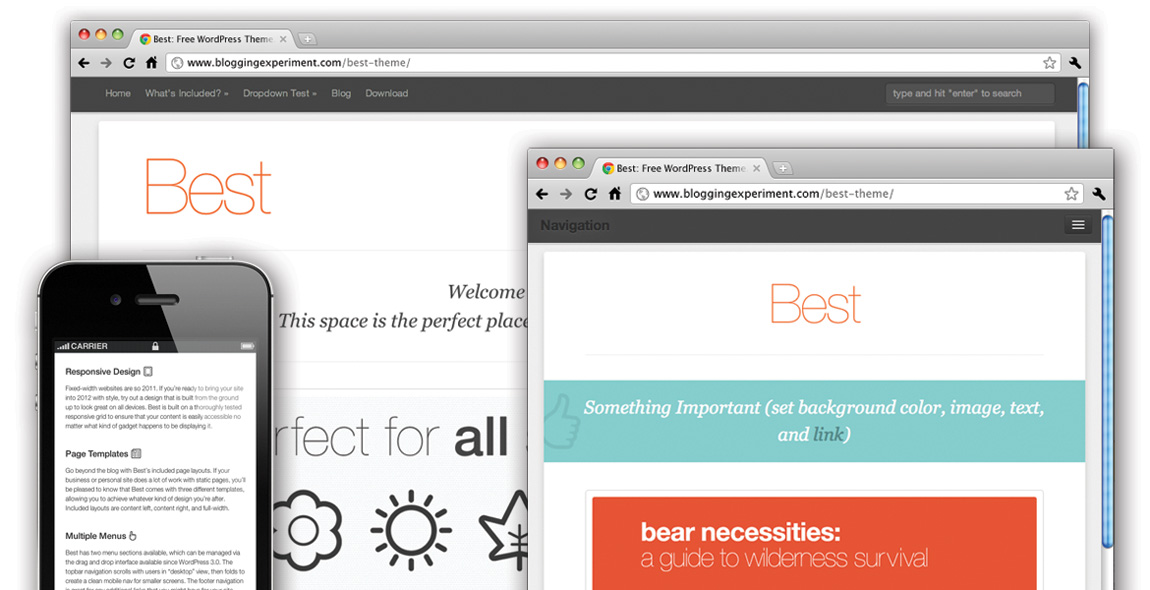 Take some time to check out the Best Theme demo today! There you'll be able to see what Best offers, access documentation, and download the theme for free. Best affords a wealth of flexibility and power to WordPress powered sites. Built from the ground up with valid HTML5 and utilizing the latest CSS3 techniques, Best is a forward-thinking template that is designed to last. It's also the same Theme we are using on this very site!
---
Responsive Design
Fixed-width websites are so 2011. If you're ready to bring your site into 2012 with style, try out a design that is built from the ground up to look great on all devices. Best is built on a thoroughly tested responsive grid and HTML5 to ensure that your content is easily accessible no matter what kind of gadget happens to be displaying it.
Page Templates
Go beyond the blog with Best's included page layouts. If your business or personal site does a lot of work with static pages, you'll be pleased to know that Best comes with three different templates, allowing you to achieve whatever kind of design you're after. Included layouts are content left, content right, and full-width.
Multiple Menus
Best has two menu sections available, which can be managed via the drag and drop interface available since WordPress 3.0. The topbar navigation scrolls with users in "desktop" view, then folds to create a clean mobile nav for smaller screens. The footer navigation is great for any additional links that you might have for your site.
Layout Options
Utilize your site as a simple blog or full-fledged content management system with Best's easy-to-use layout options. This portion of the options panel allows you to activate or deactivate certain areas of your theme depending on how you plan on using the theme, including:
Header banner area
Homepage intro text
Homepage widget row below slider
Featured content bar on inner pages
Twitter integration above footer
Top footer area
Bottom footer area
Theming Options
With Best, you can rest assured that you'll never have a site that looks just someone else's as it comes with plenty of features allowing you a lot of flexibility with the theme. You can choose colors, upload logos, and background images for various areas, including:
Header logo uploader
Site background
Main link color
Main link hover color
Footer link color
Footer link hover color
Featured content bar background
Featured content bar text color
Featured content bar link color
Featured content bar link hover color
Shortcodes
And what would all of these great options be if you were simply stuck with writing regular old blog entries and pages? With Best, you can quickly unlock complex layouts and designs with shortcodes that let you accomplish a lot with little effort, including:
CSS3 buttons
CSS3 social buttons
Columns
Responsive YouTube embeds
Responsive Vimeo embeds
Alerts