WordPress and Cloud Storage Apps – How Safe is Your Data?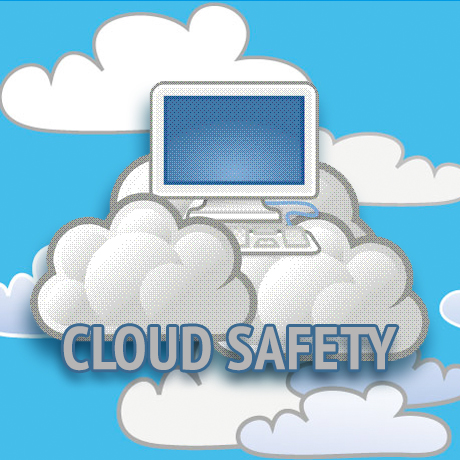 Up, Up, and Away!
We somehow have this picture in our minds that all the stuff we upload online is somehow floating over our heads, whisked way, way up into cyberspace. But what do we know about Cloud Storage and what really happens to all the files we upload? Maybe some people can probably relate to this old song about clouds by Joni Mitchell.
I've looked at clouds from both sides now
From up and down and still somehow
It's cloud's illusions I recall
I really don't know clouds at all
Is Cloud Storage all that it promises to be? Convenience, accessibility, tons of file space. Is it possible that this nice, fluffy, feel good Cloud could go wrong and cause seemingly irreparable damage to its users? Case in point, the recent celebrity photo hacks, Dropbox, iCloud, Snapchat, etc. Is Cloud Storage really safe to use?
Of Dropbox, Copy, Box, and other Cloud Storage Apps
Cloud storage service is an amazing innovation, which allows you to upload, store and share images, videos, and other type of content online. How does it work?
Cloud storage is a model of data storage where the digital data is stored in logical pools, the physical storage spans multiple servers (and often locations), and the physical environment is typically owned and managed by a hosting company. These cloud storage providers are responsible for keeping the data available and accessible, and the physical environment protected and running. People and organizations buy or lease storage capacity from the providers to store end user, organization, or application data.
Cloud storage services may be accessed through a co-located cloud compute service, a web service application programming interface (API) or by applications that utilize the API, such as cloud desktop storage, a cloud storage gateway or Web-based content management systems. (source: Wikipedia)
Ok. That's a mouthful. In other words, Cloud Storage "refers to saving data to an off-site storage system maintained by a third party. Instead of storing information to your computer's hard drive or other local storage device, you save it to a remote database. The Internet provides the connection between your computer and the database."
Hacker Proof Cloud Storage
Does it exist? Probably not. Just like secrets, keeping digital information from getting into mischievous hands is like pinky swearing. There is no fool-proof way. Ever tried to format, erase or delete photos from your memory card or your hard drive? Guess what. They still live there, way below the recesses of your storage device and can still be extracted using recovery software. Yup, even after you've formatted or reformatted (quick reformat and not full format) And that's just local storage. Still very much within the scope of your control. But what about cyber storage? Does this mean that you shouldn't use Cloud Storage at all?
Secure Your Online Data
People are paranoid about large-scale theft of personal information. Unknowingly, they post more than just the usual profile information required when joining a social or public website. (Check out this amazing mind reader.) Their entire lives are posted blow by blow on social media – voluntarily. But the operative word here is – voluntarily. Quite the opposite of theft, where someone takes away from someone against his or her will or permission.
There will always be risks. Whether online or offline. Once anything is uploaded and publicly shared, the risks should have been supposedly counted already. It can be stolen, shared without permission, downloaded, altered, wrongfully claimed, disputed, etc. It's a reality. Of course, the expectations change when information is shared with restrictions.
People need to be fully aware of what they are sharing, to whom they are sharing it with, and where (websites, online storage, etc.) they share, post, or upload. Make sure to read and understand (someone said this is the biggest lie online) the terms of use of websites and note if there are any third party clauses that allow these websites to share, sell, or pool personal information to their suppliers or sponsors.
Use a strong password and don't repeat the same password in different places. Consider a password manager. Use the two-step verification or two factor verification option if a website provides one. Do manual backup instead of automated backups. It doesn't hurt to create your own self-policing practices to ensure that your rights to privacy or ownership rights are not violated.
Note: Many of the articles on this site include affiliate links that may earn us a commission if you decide to buy the recommended product.
Related Articles