Best WordPress Themes 2013
UPDATED February 18, 2013: As the new year gets underway, 2013 is sure to be another great year for WordPress Theme development. Like the millions and millions of people using WordPress, we eagerly await the Themes and Plugins to be released this year, and you can count on Blogging Experiment to keep you updated on everything you need to know!
With tens of millions of websites powered by WordPress, programmers are constantly innovating their themes to keep pace with the development cycles of WordPress. Responsive design and HTML5 are on the cutting edge of features, and we expect to see a heavy focus on these two options this year.
To help you navigate the world of WordPress Themes, we are pleased to present you with the our 5th annual Best WordPress Themes – this time for 2013.
Instead of creating a huge list of random themes, our 2013 Themes will be broken down by category. Throughout the year we will not only keep this list updated with the latest and greatest in the world of WP Themes, we will also add be adding new articles weekly about the latest in the world of WordPress. BloggingExperiment.com is your #1 source for WordPress Themes 2013.
For your convenience, we've broken down the themes on this page by categories including: Responsive, Portfolio, Magazine, Business, eCommerce, BuddyPress, Frameworks, HTML5, Real Estate, Free, and Premium.
In this our February 2013 Update, we have focused on the best magazine and business WordPress Themes. Be sure to check out these amazing designs!
We will be updating this page several times each month all throughout the year, so be sure to click the social links to your left to share with others. If you are looking for our absolute top pick in WordPress Themes for 2013, it is without a doubt Elegant Themes.
---
Best Responsive WP Themes 2013
As was true in 2012, we expect responsive design to be the "theme" of WordPress development into 2013. Providing your visitors with a single design that responds to the myriad of devices in which people can access your site (desktop, laptop, tablet, phone) should be a primary focus as you search for WordPress Themes 2013.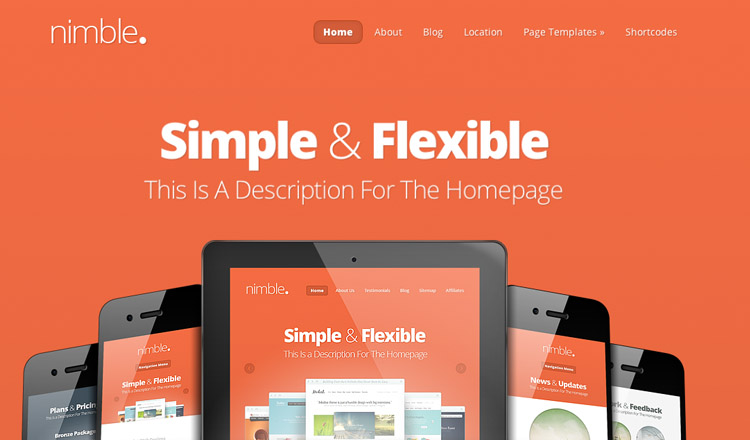 Nimble Theme is a wonderful responsive Theme from Elegant Themes great for showcasing your product, info, or content in a exciting and compelling manner. Coming with all the features that you are used to having, you can't go wrong with this template. An easy to use page builder as well as a shortcode generator help you to create unique pages within minutes. Due to the outstanding support from Elegant Themes you will always get proper help if you have any questions regarding any of their Themes (and don't forget that you get ALL of the 80 Themes from Elegant Themes – including Nimble – from just $39).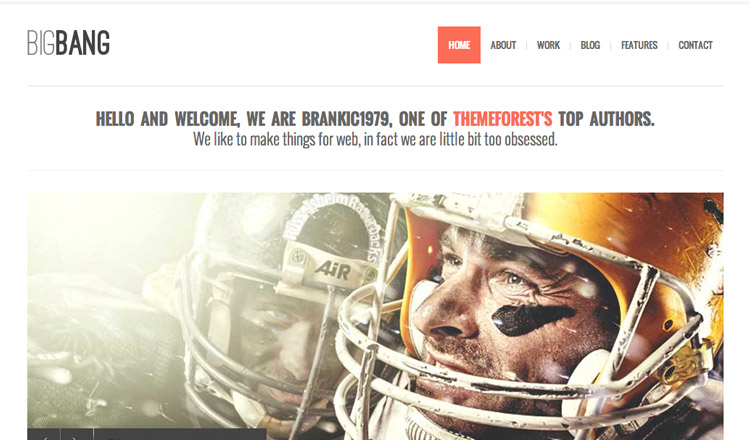 BigBang Theme is an outstanding theme that comes with all features you would want for your website. If you are looking for a responsive template that just works out of the box and comes with a lot of customization options BigBang will not disappoint you. As one of the best selling themes and due to frequent updates you can't go wrong with this theme.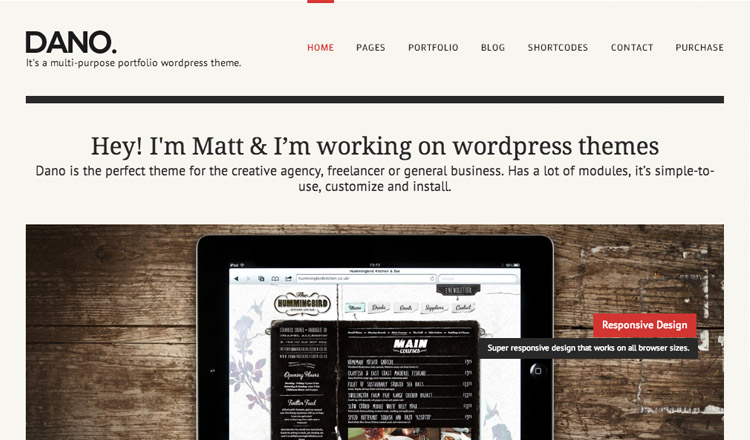 Dano Theme is a very minimal yet powerful Theme. It has all the new features you might need and fully supports the latest version of WP (3.5 as of this update) which comes with the new media uploader. When you want your audience to focus on the content rather than the images this Theme is the way to go. This template supports all resolutions from 1680px down to 240px so it doesn't matter with what device your user will view the site, it always will look good.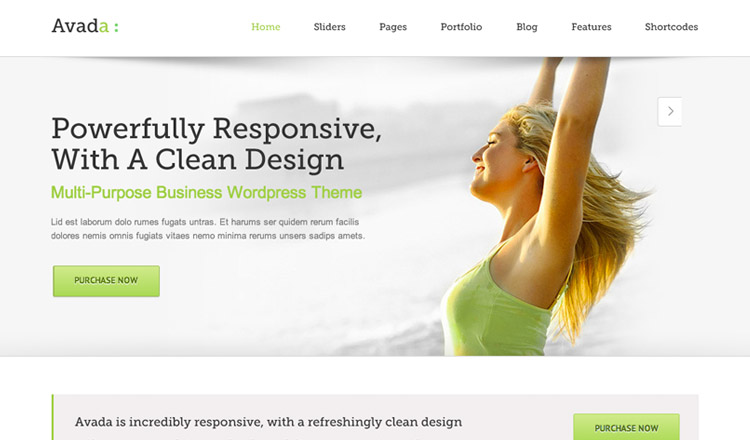 Avada Theme is another wonderful responsive design and was arguably one of the most popular WordPress Themes of 2012. It continues to be at the front of the ThemeForest leaderboards as their #1 most popular Theme even now into 2013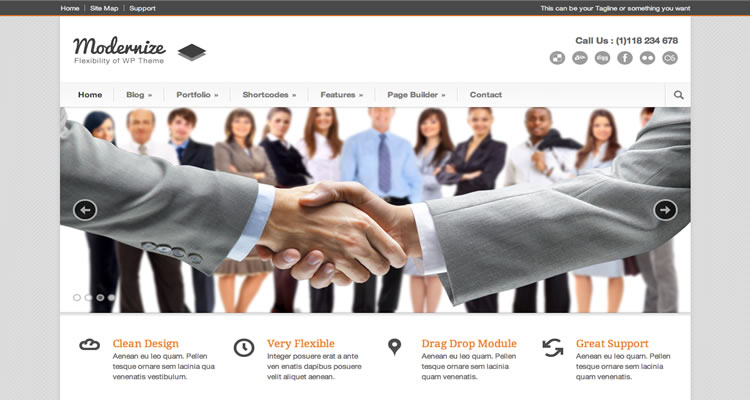 Modernize Theme was created by the ever-popular GoodLayers over at ThemeForest. With a wonderfully designed drag and drop page builder on the back end, Modernize is about as cutting edge as you can be when it comes to finding the Best of WordPress Themes in 2013. Boasting a responsive design that looks wonderful on desktops, tablets, and mobile devices — Modernize is a wonderful example of responsive technology at its best.
Pinpoint Theme – is one of the top selling themes in 2013. It has a very business focused look and comes with tons of customization options. There are several color options as well as an extensive documentation that explains everything properly. If you are looking for a template that comes with many options this is the theme you should get.
---
Best Portfolio / Photography WP Themes 2013
Portfolio WordPress Themes are great for photographers, videographers, or anybody who needs to showcase creative work. Below you will find our favorite Portfolio and Photography WordPress Themes for 2013.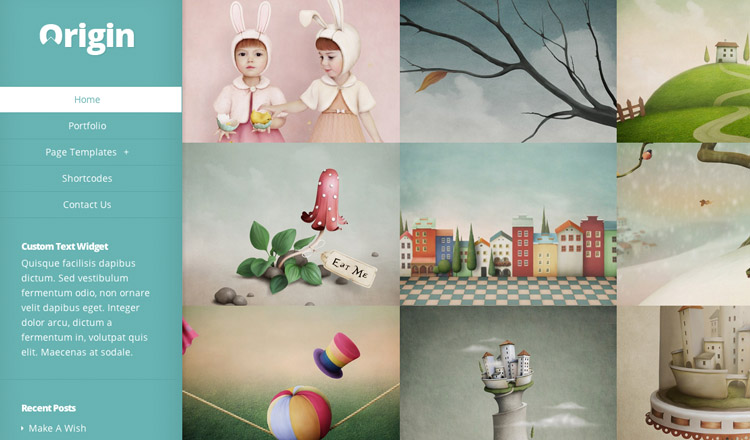 Origin is one of the newest themes from Elegant Themes, and is the perfect solution if you are looking for a modern grid-based portfolio theme. Fully supporting localization and being SEO optimized means that you won't have to worry about installing additional plugins or spending time looking for solutions. When buying a theme from Elegant Theme you know that it just works and that there is always a very helpful support team.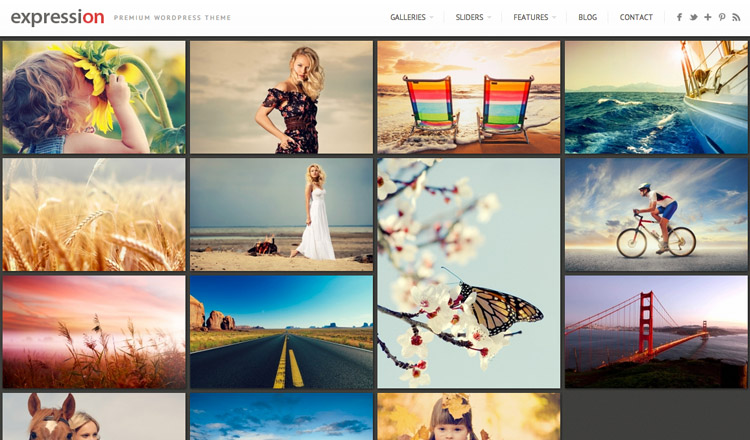 Expression Theme is one of the best selling Portfolio WordPress themes of 2013. Coming with a modern grid based layout that puts the attention on the images this theme is the perfect solution if the majority of your content are images. With the option to create custom detailed pages for each portfolio item Expression gives you the opportunity to feature your work perfectly.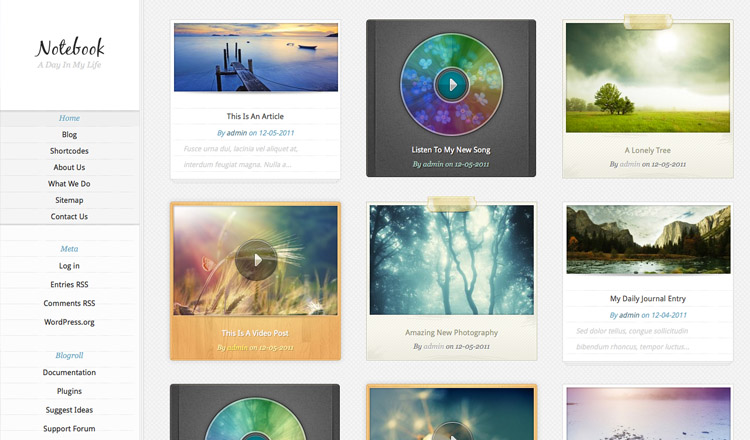 Notebook Theme from Elegant Themes comes with all the options you expect from the Elegant Themes. A font customizer as well as a wide range of shortcodes make it easy to set up this WordPress Theme. Even if you want to run your site in a different language Notebook comes full localization support.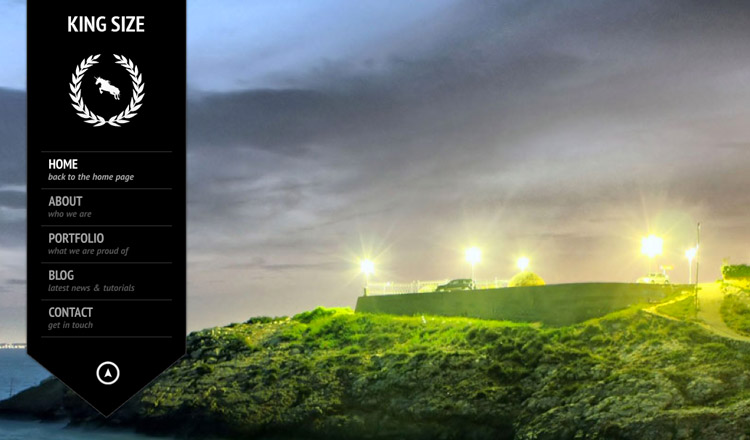 KingSize Theme is the #1 photo WordPress template on the famous marketplace ThemeForest. Over 10,000 people can't be wrong! This Theme gives you everything you need and due to its constant updates it is ready for 2013. Fullscreen portfolios and the option to activate ajax to prevent reloading on pages makes this template stick out of the crowd.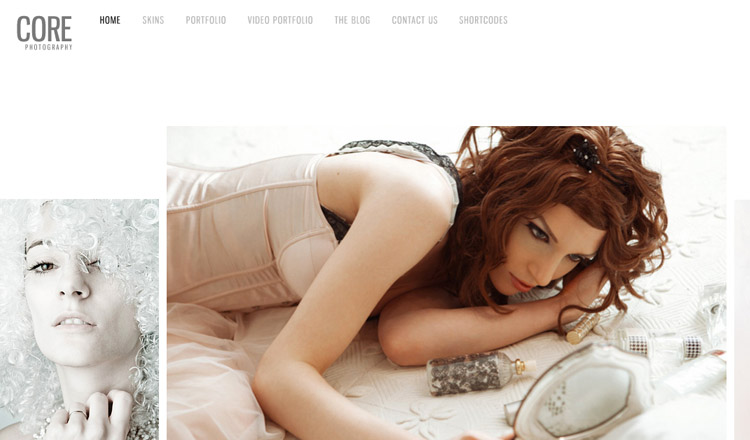 Core Theme is a more minimal approach when it comes to Portfolio WordPress themes. Custom posts types, full-width slideshow, and a social widget which make it easy to share pages or images with other people are the reasons to get this theme. Due to it's clean design and the wide range of page templates you can style your site unique and make a professional appearance.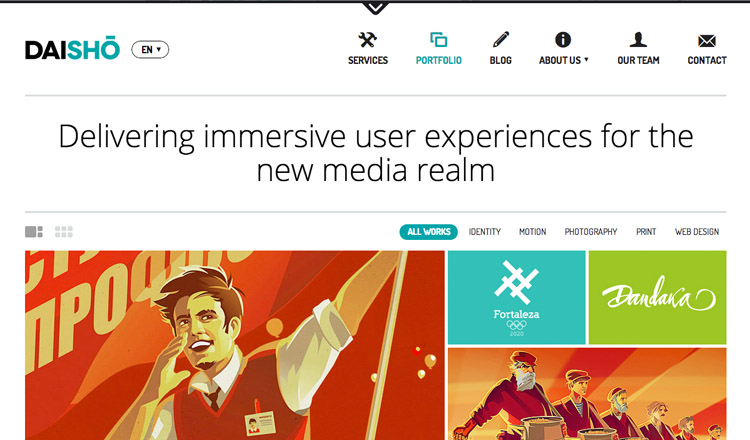 Daisho Theme for creative people is the way to go when looking for something fresh and clutter-free. Category filter and built in SEO tools help you to manage your site with easy and 2013 will be a troublefree year for sure.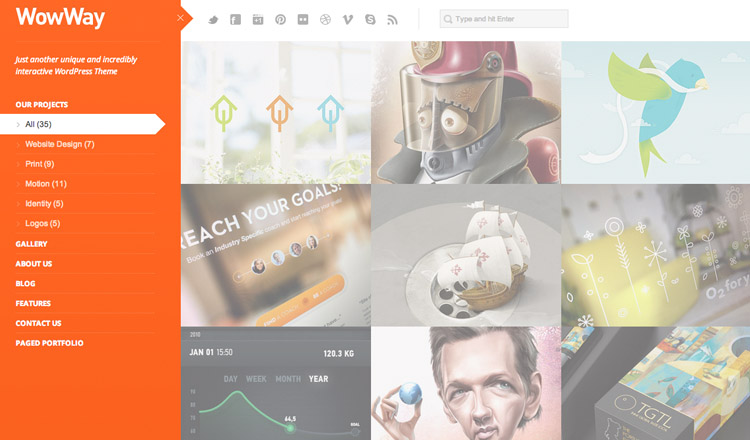 Wowway comes with a wide range of features and uses the latest technology of 2013 to ensure to get the most out of your WordPress site. Optimized to work on your smartphone, tablet, and desktop you won't have to worry if your clients are using a different tool to access the internet than a desktop pc. Clever things like the use of Gravatar round up this great theme.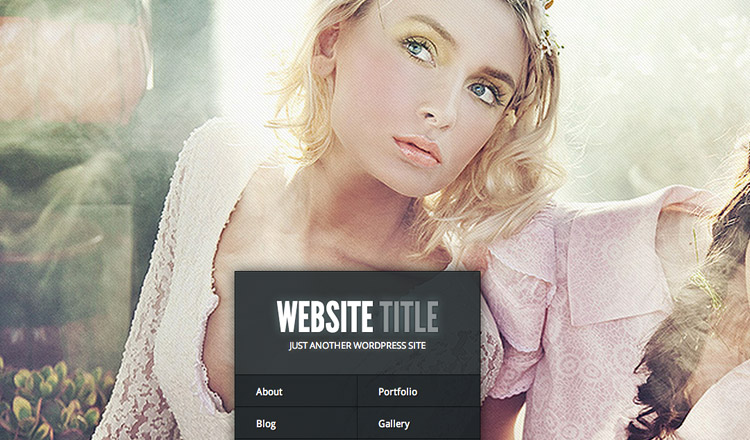 Gleam Theme comes with a very one of a kind design. The frontpage consists of a full-width image of your choice. When clicking on the logo the menu appears and leads you to all other pages. Due to this design you can feature an image or product of your choice while guaranteeing visitors won't miss it! A very creative photography WordPress Theme for 2013.
---
Best Magazine WP Themes 2013
WordPress Magazine Themes are great for sites that produce a lot of information and want a way to feature it in an easy to consume manner. Whether this is for your personal blog or a large corporation, these Magazine Themes are some of the best of the best!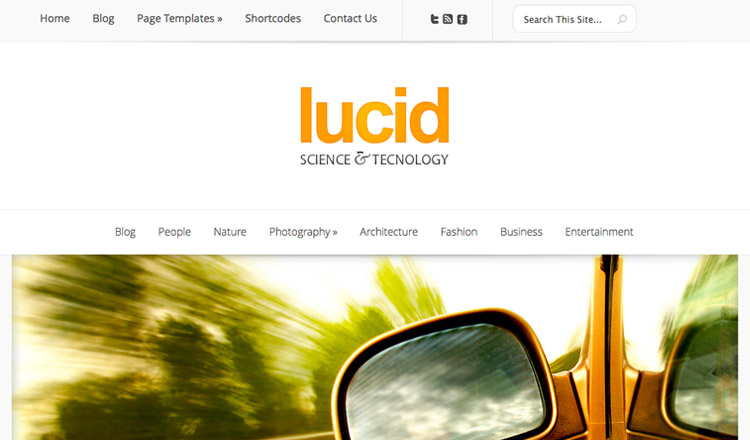 Lucid Theme is one of the most popular Themes from Elegant Themes. While it is very clean and spaced out, it still has room for a lot of content. It has everything a magazine template in 2013 should have and sticks to those root features instead of providing too much so the user is confused. The best thing with this Theme is that it comes with all the tools that all other Themes from Elegant Themes have like the pagebuilder and shortcode generator.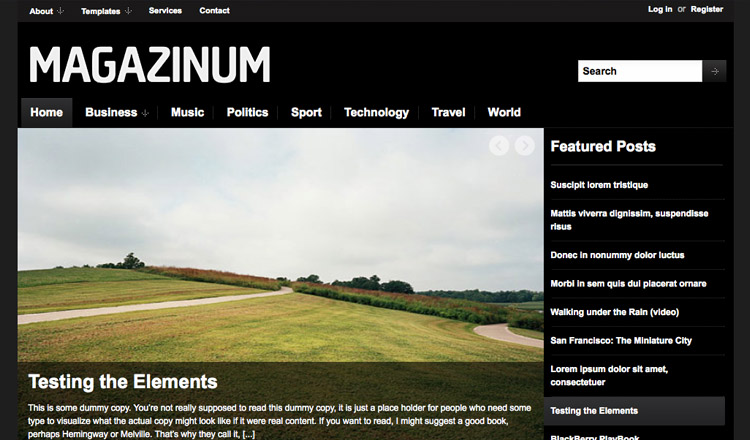 Magazinum uses the famous ZOOM Framework and is known to be a very solid magazine template. Custom post types, featured sliders, and a custom widgets are just a few of the outstanding features. One thing worth noticing is the custom login form that it comes with. It lets you style the look of the login page of your visitors and therefore comes in very useful for those looking for a very custom looking WordPress Theme.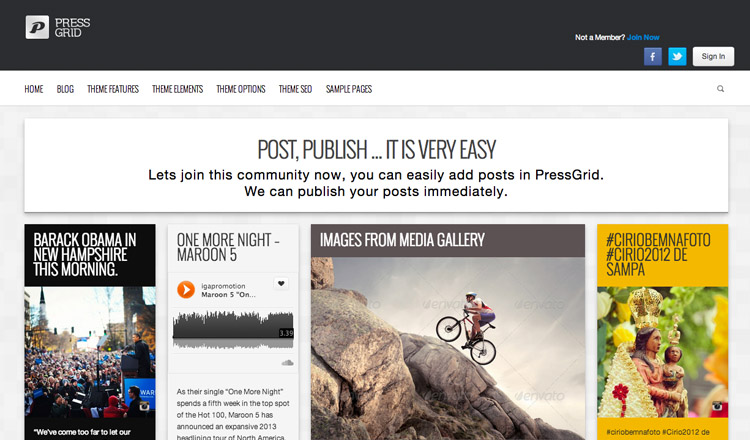 PressGrid Theme is one of the latest magazine Themes that takes the idea of the "usual" magazine Themes to a whole new level. Articles styled like a grid as front page is something very trendy in 2013 and that's one big reason to take a look at this template. Besides this revolutionairy layout it also comes with soundcloud integration which is currently very popular in the music scene.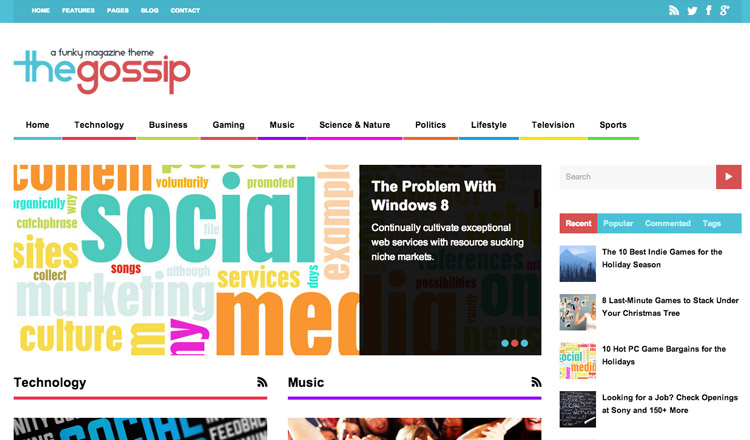 The Gossip Theme gives your magazine page the right look for 2013. Coming with an auto install feature, an extensive admin panel and tons of custom shortcodes you can't go wrong with this theme. It's one of the top sellers of 2013 and supports retina displays which is very future proof. To top it off it even supports BuddyPress and bbPress in addition to being an outstanding magazine theme.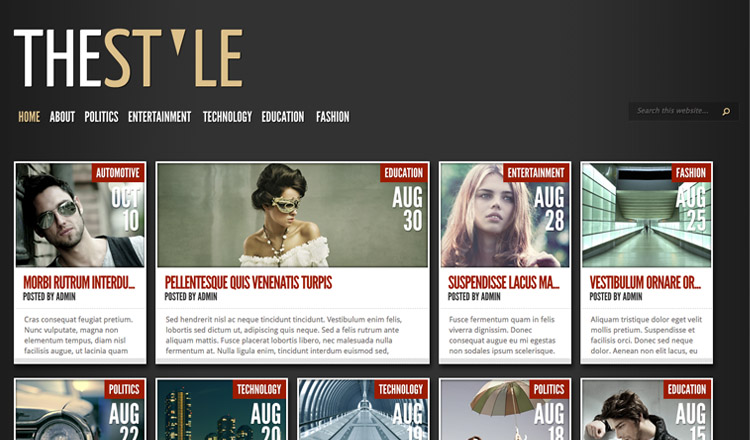 TheStyle Theme is in contrast to Lucid a dark WordPress theme from Elegant Themes. It comes in five different colors and tries a very simple approach to the so often cluttered world of magazine layouts.
---
Best Business WP Themes 2013
If you or your client run a business and need a professional web presence, allow us to introduce you to these amazing Business Themes for WordPress.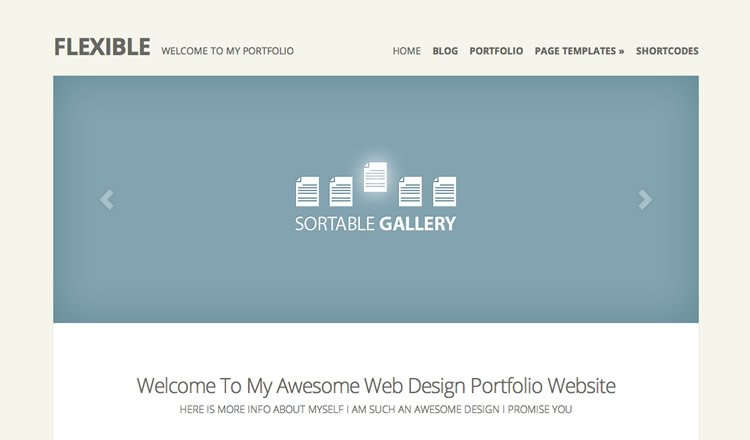 Flexible Theme is currently our favorite Business Theme of 2013 that also happens to be fully responsive. This wonderfully designed WordPress Theme is easy on the eyes, created by the one and only Elegant Themes, and a great example of responsive design in action. Perhaps our favorite feature of this fine Theme is that it is part of the entire Elegant Themes club which means you'll get access to this plus the nearly dozens and dozens of other premium Themes from ET for just $39.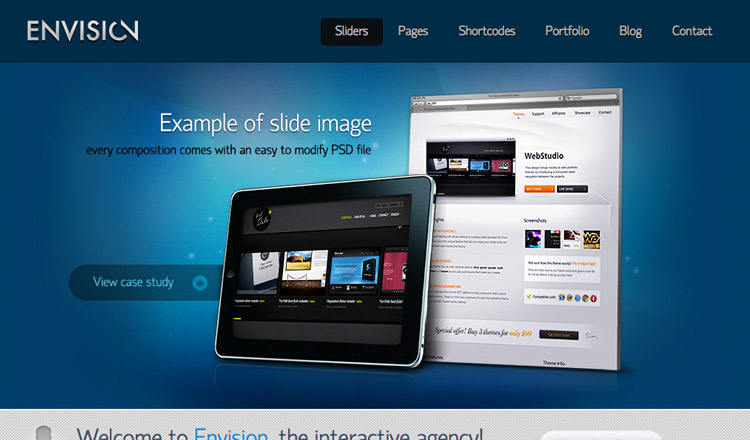 Envision Theme is a top line business WordPress Theme that gives your company the right look to bring across a message. Coming with 5 different homepage sliders and an easy one-click auto install, this is a Theme that even people without WordPress experience can easily set up. Shortcodes which make is easy to customize each page are included with a wide range of different looks.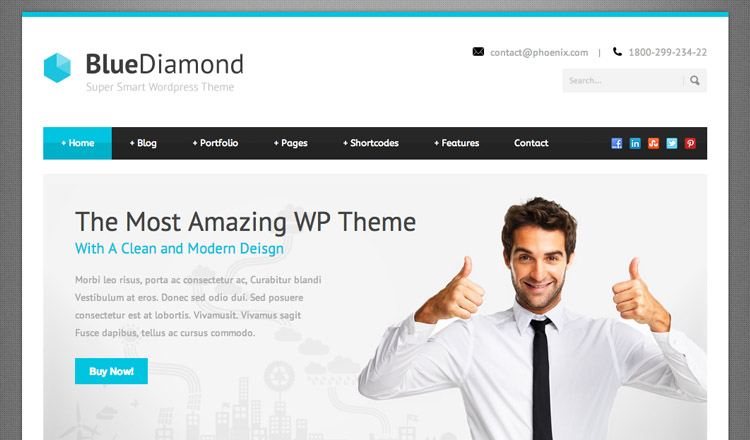 Blue Diamond Theme from GoodLayers is one of the best selling Themes of 2013 in the business segment. The reasons are pretty obvious. This Theme comes with a page builder that is superior to most others on the market and lets you customize the layout of each page with a simple drag and drop interface. No coding required. Another big thing is that it comes with two different versions. One boxed and one full-width mode which change the look and feel of the Theme dramatically. Very awesome!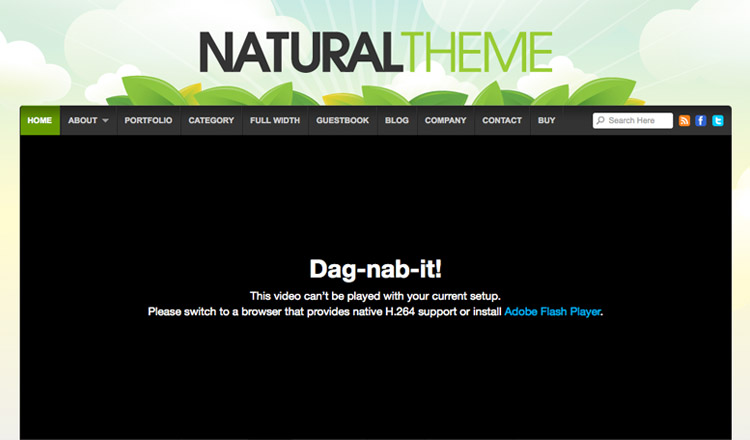 Natural Theme, from Organic Themes, is like the name states: a Theme that targets eco friendly businesses. The year 2013 is definitely one where people are starting to seriously care about the environment – so if you want to give your comapany a clean and green touch then this template is the way to go.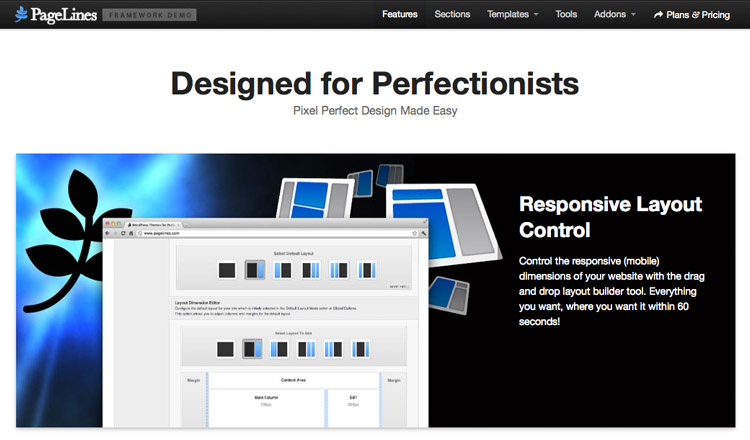 PlatformPro Theme is from PageLines. They were the first Theme developers that published a Theme that is completely customizeable with an outstanding drag and drop interface. If one Theme can be called customizeable, it's for sure this one. Besides having a very good reputation this theme comes with outstanding documentation and support which is a huge plus for people that aren't used to WordPress.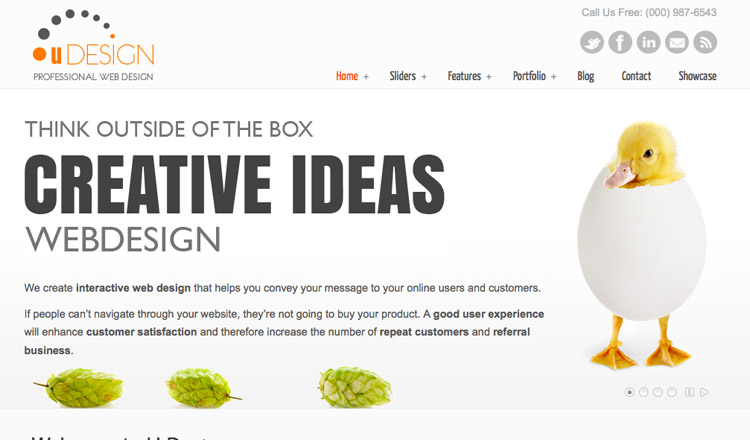 U-Design Theme is the number one selling theme on Themeforest and comes with hundreds of features. While some templates give you one or two options when it comes to page styling this theme takes it to another level. Over 20,000 people have bought this template and a dedicated support staff is taking care of each and every customer.
Karma is another famous Theme and it was updated recently to support all smartphones and tablets. This makes this Theme an even better fit if you are looking for a business Theme in the year 2013. Bullet-proof code and full location support will give your visitors a flawless experience. Another feature is that is comes WooCommerce ready which gives you the option to sell products directly on your site.
---
Best Ecommerce WP Themes 2013
Selling something online has never been easier. Thanks to these amazing WordPress Ecommerce Themes, you can quickly and easily setup your online store in 2012 using WordPress.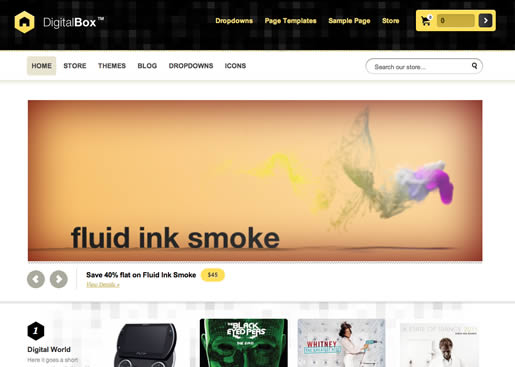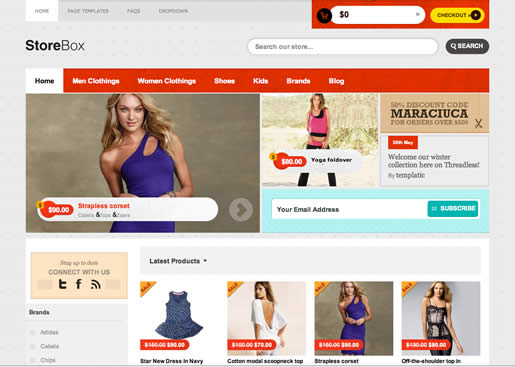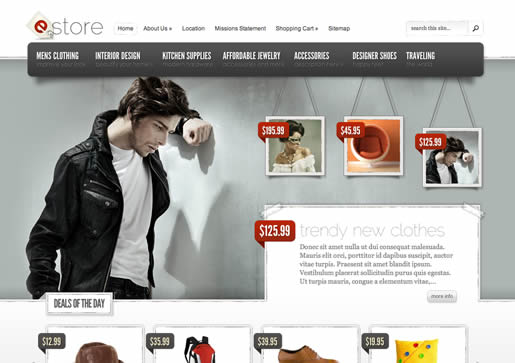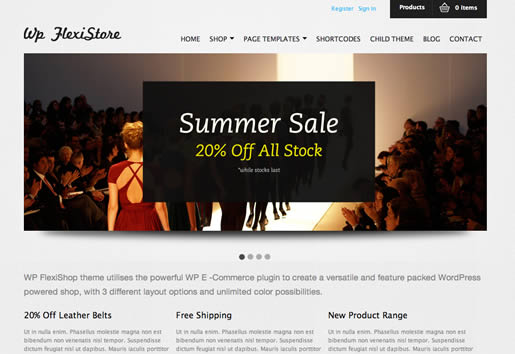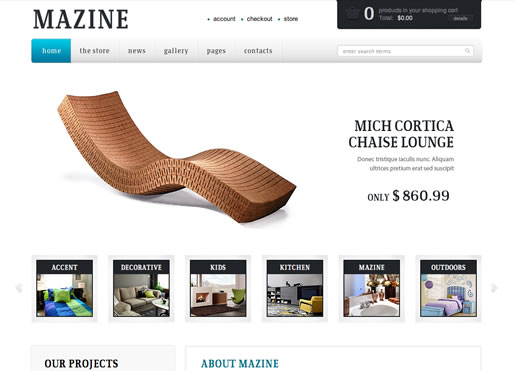 Best BuddyPress WP Themes 2013
Are you looking to build a community online? Want to have a social network or forum built right into WordPress? BuddyPress (from the creators of WordPress) is just the (free) tool to do that…and these are the WP Themes you'll want to use.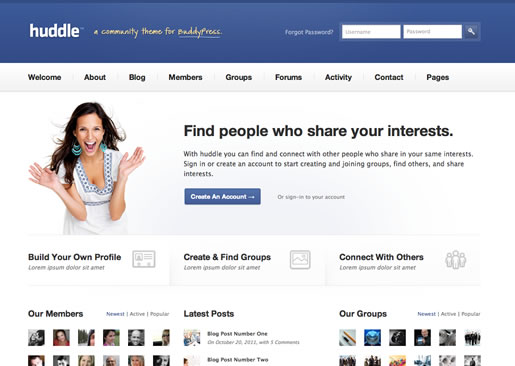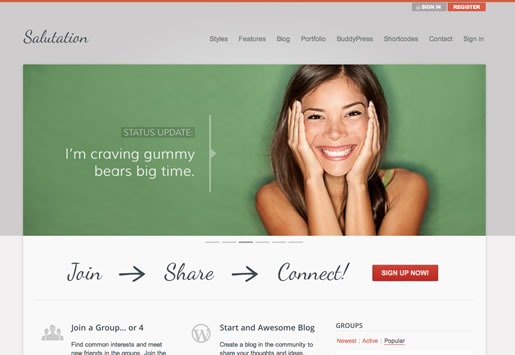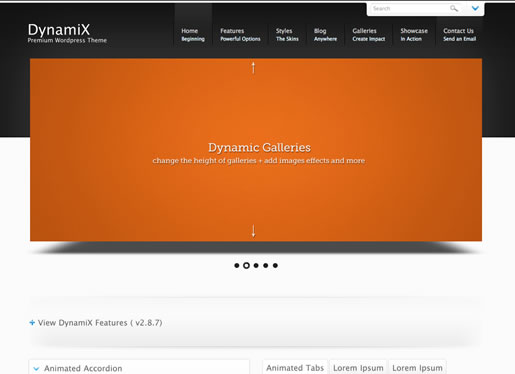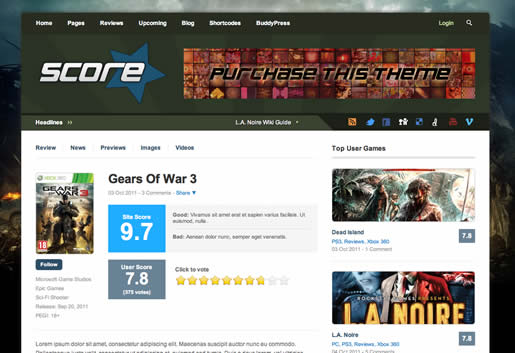 Best WordPress Frameworks 2013
Looking to get into WordPress Theme development in 2012? Here are some of the most poupular Theme Frameworks. (ThemeShaper and Skelton are starter themes). Save time and money by using one of these wonderful frameworks or starter themes for your next development project.





ThemeShaper HTML5 Starter WordPress Theme

Skeleton Responsive Starter WordPress Theme
Best HTML5 WP Themes 2013
HTML5 is no longer the future – it's the here and now. While we feel that Responsive Design will be the primary focus of WordPress Theme development in 2012, HTML5 will be hot on it's tails. Check out some of the best HTML5 WordPress Themes currently available.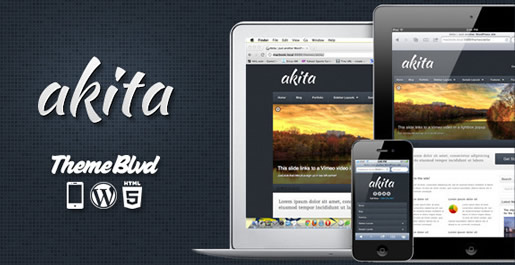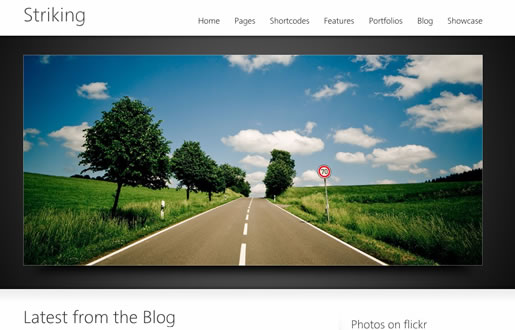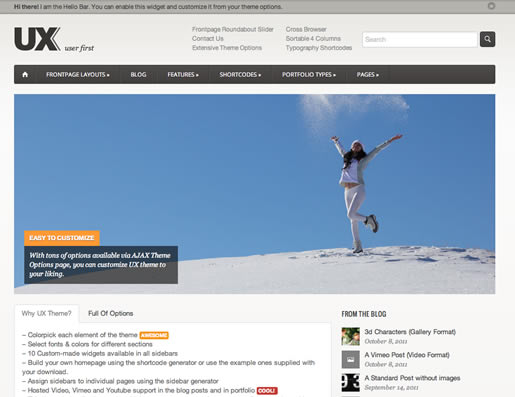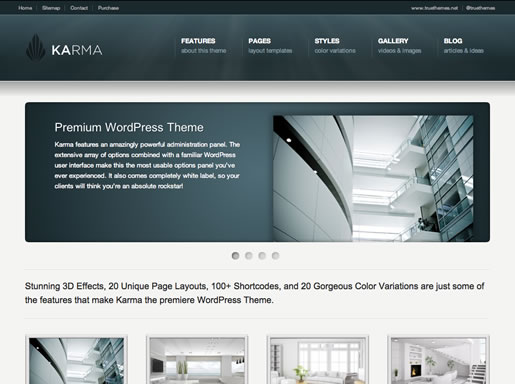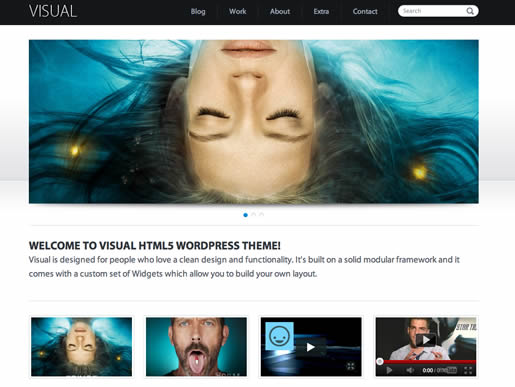 Best Real Estate WP Themes 2013
Are you in the real estate profession and looking for a top-notch design to show off your listings? Use one of these Real Estate WordPress Themes, and leave your competition in the dust!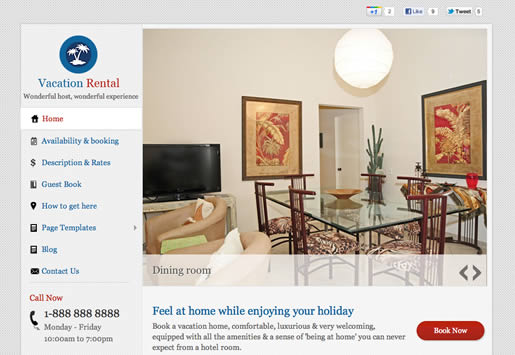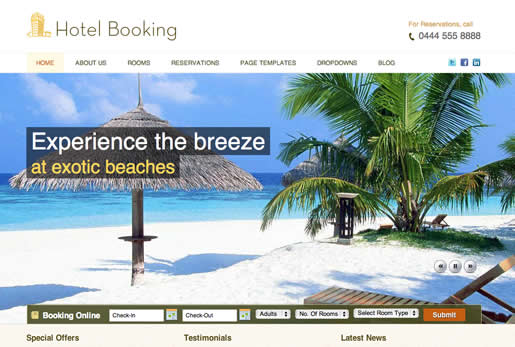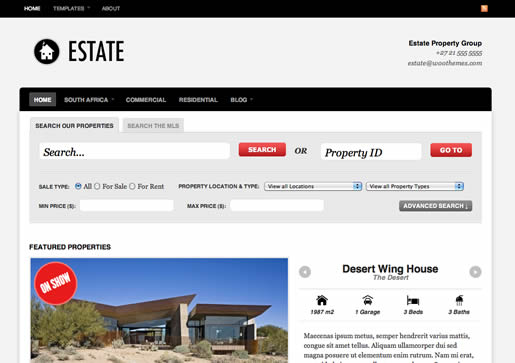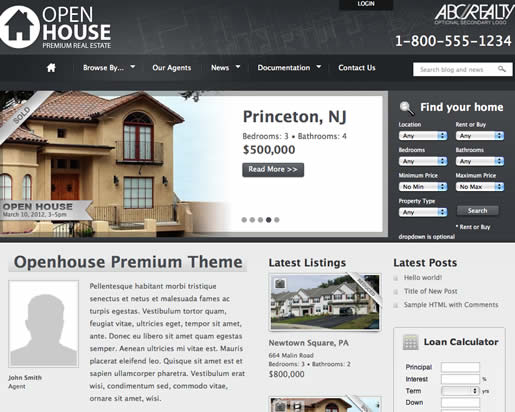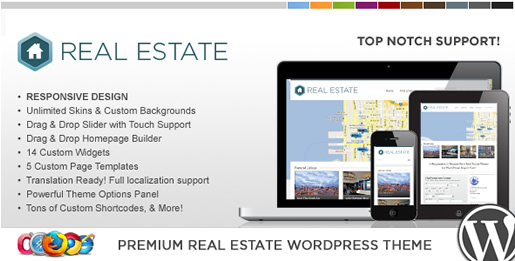 WP Pro Real Estate (Responsive Real Estate WordPress Theme).
Best Free WP Themes 2013
Finding quality Free WordPress Themes can be nearly impossible. These themes are not only free…they are free from encrypted links and a lot of the other garbage found in 99% of "free" WordPress Themes.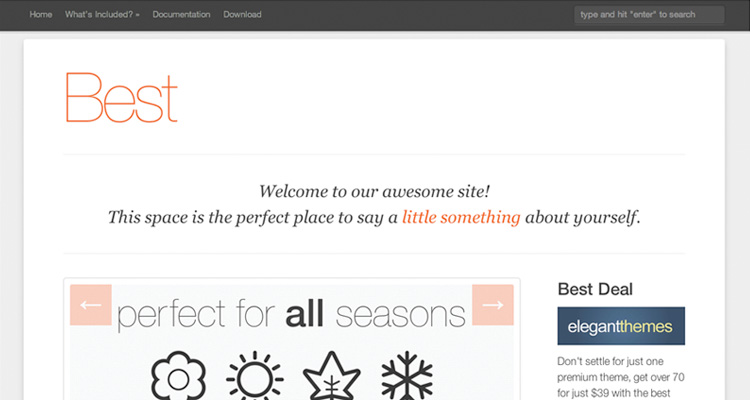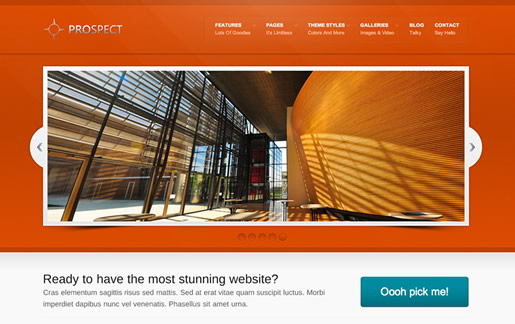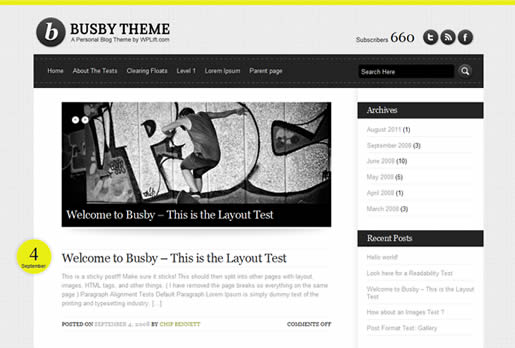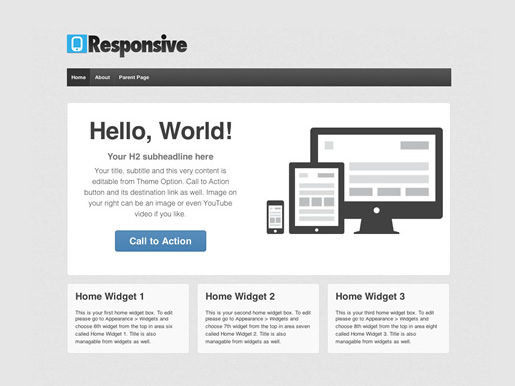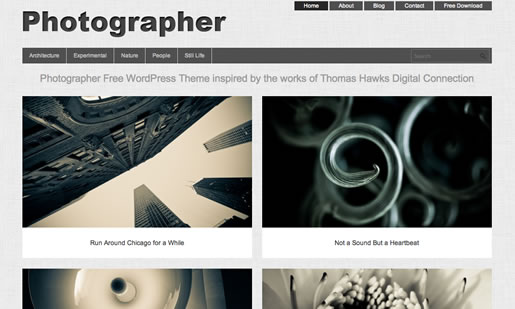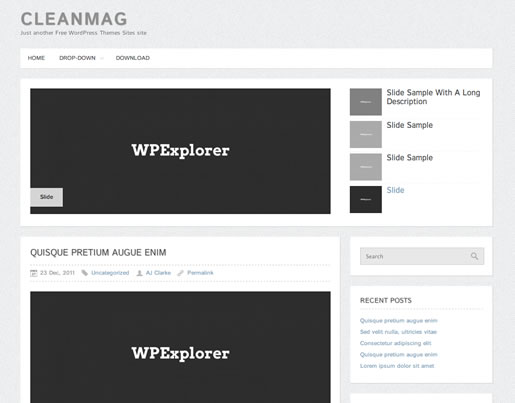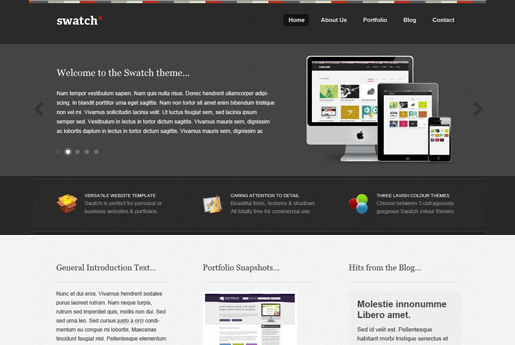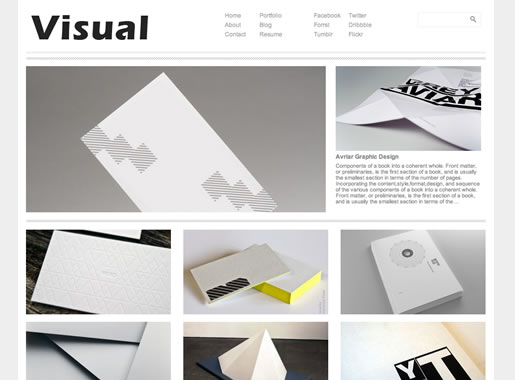 ---
The Best WordPress Themes

Imagine something for a second…
Imagine you can get almost 100 Premium Themes from every possible category of site including responsive, photography, ecommerce, business, magazine, and more.
Now also imagine helpful support for whenever you get stuck.
Next imagine getting 1-2 new Themes each month built with the latest features and most cutting edge functionality that WordPress has to offer.
How great would that be? Thankfully that is EXACTLY what you will get when you purchase a membership to the absolute Best Deal in WordPress: Elegant Themes.
Throughout the years we've had the chance to review thousands of different WordPress Themes. Some are good, many are bad, but Elegant Themes has remained at the top of the pack. You can check out our detailed Elegant Themes Review here.
Providing both the best deal in WordPress – 80 Themes for just $39 – and some of the most cutting edge functionality – Elegant Themes continues to be our absolute favorite place for WordPress Themes in 2013.
For a mere $39 (yes, just $39) you get access to ALL of their premium themes + access to their support forums which are second to none. More importantly, we're not just fans of Elegant Themes, we're a paying customer.
They provide the highest quality WordPress Themes of 2013, and they come at a price you simply won't find anywhere else! While most individual themes cost $40 to $100 each, for a fraction of that you can download ALL of the 80 premium themes from Elegant Themes for $39. If you do anything with WordPress, this is the membership you simply must have!
Join Elegant Themes
---
We hope you've enjoyed our list of the Best WordPress Themes of 2012 – 2013. Please don't forget to share this page by using the social links to your left. We will be updating this page often throughout 2013 to keep you updated on the latest in free and premium WordPress Themes. Last Updated: February 18, 2013.