WordPress Theme Marketplaces 2013: Trends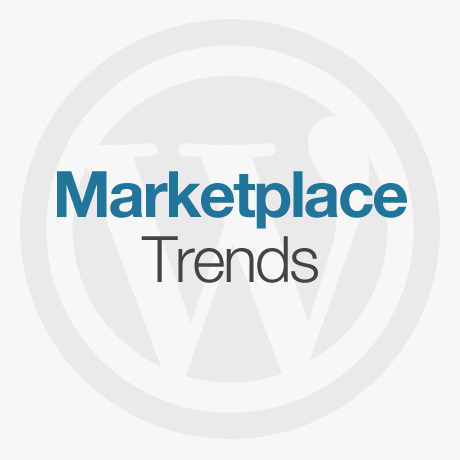 A good way to spot emerging trends in the WordPress themes market would be to look at the behaviour of theme marketplaces like Themeforest, Mojo Themes and other boutique WordPress marketplaces. Here are some of our observations of what is currently ongoing and our take on what is to be:
Themeforest – The WordPress Marketplace Giant
With about 2500 themes in its inventory, Themeforest is probably the largest theme marketplace there is. Collis Ta'eed, founder of Envato which runs Themeforest, observed that the main trends on theme sales for 2012 have been: responsive, e-commerce and app themes (themes that have app like functionalities).
These trends are indeed reflective of trends observed by developers in the industry. With mobile platforms taking their place as the new mainstream it is just fitting to find responsive themes becoming more of a necessity rather than a trend.
The introduction of Jigoshop and WooCommerce plugins are making people realize the viability of turning WordPress themes into robust e-commerce solutions.
Specialized app themes will remain and will continue to flourish because of the specific niches they service. These niche WordPress app themes will continue to evolve as the themes market matures.
Mojo-themes and other WordPress Boutique shops
A look at the top 10 sellers on Mojo Themes similarly shows 4/10 themes are already responsive indicating that the trend towards mobile friendly themes is indeed a phenomenon. Their top selling theme is an e-commerce theme validating the emergence of WordPress as an e-commerce solution. The rest of the themes are multi-purpose or portfolio themes which target professionals, small or medium scale businesses and corporations.
Boutique theme shops and clubs such as StudioPress, Thematic, Press75, iThemes, WooThemes, Templatic and many others continue to thrive with their own loyal following.
Outlook for 2013
Major and minor WordPress theme marketplace vendors are experiencing the trends towards responsive themes and e-commerce. The question is how will these trends influence these marketplaces as they prepare for 2013 and beyond?
It is our opinion that responsive themes will continue to be in high demand as the transition to mobile platforms is still ongoing. About 6.1B mobile subscriptions are still yet to convert to internet ready smartphone subscriptions. The recent introduction of WooCommerce and Jigoshop indicates that the market is also only in the early stages of adaptation and mainstreaming of this technology. 2013 will be a year for continued acceptance as more sites exploit the democratization of e-commerce with these two plugins. Perhaps more eCommerce plugins will be introduced into the market and WordPress users will have more options and solutions to choose from.With a big year ahead for responsive themes and e-commerce, developers now have to bid for the best products to serve these markets as well as look at what lies ahead in 2014.
As ThemeForest continues its commitment to evolve and improve its review standards on what WordPress themes are made available in the marketplace we can expect higher quality WordPress themes that will satisfy even the strictest Code gurus out there. The renewed commitment to become more involved in the WordPress community is also a welcome move that will surely benefit us all.
Note: Many of the articles on this site include affiliate links that may earn us a commission if you decide to buy the recommended product.
Related Articles