WordPress Plugins and Widgets To Help You Manage Your Content Efficiently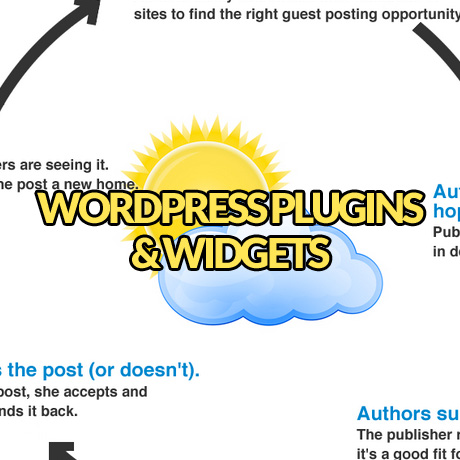 Managing large volumes of content can be quite a task if not managed well especially if you are handling multiple contributors, authors, and guest authors. Here are some useful WordPress plugins to help you streamline and monitor your content activities:
Postrunner is a guest posting system connecting authors with site owners. This plugin facilitates the process of hooking a WordPress site into Postrunner to receive guest posts. PostRunner streamlines the guest posting process for authors and publishers who want to share content, but don't want to deal with the normal prospecting, pitching, and negotiating traditional guest posting requires. Authors get abundant guest posting opportunities; publishers get quality content for their blog or website while maintaining total editorial control.
Really Simple Guest Post Plugin allows your visitors to submit posts even without registration (as a guest author). Anyone will be able to submit post and it will be added automatically as a pending post for review, approval or rejection. Posts will be directly saved into WordPress database and will show up in Admin Dashboard as pending post with given Title, Description, Category and Tags.Moderator will be able to review and approve them as needed. Authors Name, Author url and email will be added as custom field.
Frontend Publishing is a lightweight plugin that allows you to accept guest posts/articles without giving your members access to the sensitive WordPress control panel. It will automatically filter out all the posts that don't meet the submission guidelines of your website. It can be a huge time saver if you have a very popular blog or article directory. You can allow members with a certain user level to publish posts instantly. All other posts are added to the 'pending' queue.
The Custom Content Type Manager (CCTM) is a WordPress plugin that allows users to create custom content types (a.k.a. post_types) with virtually any type of custom field. This plugin allows users to create custom content types (also known as post types) and standardized custom fields for each, including dropdowns, checkboxes, and images and more. You can select multiple images, posts, or media items and store them in a single field making it easy for you to store a gallery of images or long lists of values. This plugin also lets you export and import your content definitions, making it easy to ensure a similar structure between multiple sites.
Ajax Post Content Filter allows you to filter your content with a drop down box. Just install the plugin, activate and open the ACF Posts located in the left side menu bar. You will need to add new ACF posts by filling up the post title and placing your content in the editor then publish it. Simply put the shortcode [ACF] in a page or post in admin. You can also put the shortcode ajax_content_filter() in your template file and you will get the simple dropdown box on your page at front side.
Give identity to your single or multi-author WordPress website with Fancier Author Box – a WordPress plugin that allows you or your authors to connect with your audience on all levels and encourages people to read the author's bio and engage on major social networks. You can modify display settings and color settings according to your preferences.
The Editorial Calendar Plugin gives you an overview of your blog and when each post will be published. You can drag and drop to move posts, edit posts right in the calendar, and manage your entire blog. See all of your posts and when they'll be posted. You can drag and drop to change your post dates, manage your drafts with our new drafts drawer, quick edit post titles, contents, and times, publish posts or manage drafts, easily see the status of your posts, manage posts from multiple authors.
This plugin acknowledges authors for their post by displaying a brief biography about them at the end of their post. It is perfect if you have multiple guest bloggers on your website and they do not each have a user account. It also gives an added incentive for bloggers to write guest posts on your site. Multiple custom profiles can be created and they take preference over website user profiles. You also have the option to specify a specific profile to display for each post. Custom profiles are completely configurable, it can include links to social media (such as Twitter, Facebook, LinkedIn & Google+) or you can specify any HTML/text you want to display. This plugin displays the author profile at the end of the post. It gives you have the option to display the author's website user profile or a custom profile.
This plugin allows you to add a customisable biography to posts, RSS feeds, pages, archives and to each post on your blog's landing page as well as via a widget in your sidebar. It integrates out of the box with the information that can be provided in each user's profile and supports custom post types. Display of the Biography Box can be hidden on a global or per user basis for posts, pages and custom post types as well as on a per category basis.
Note: Many of the articles on this site include affiliate links that may earn us a commission if you decide to buy the recommended product.
Related Articles