WordPress Design For A Global Market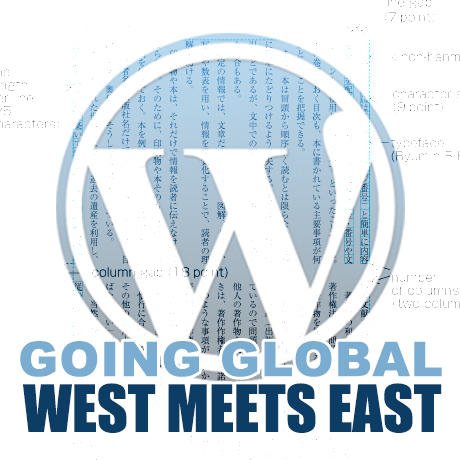 Design is subjective. There are generally accepted design principles that govern the design community and serve as guides to evaluating "correct" design. However, not all of them are totally applicable to specific clients especially when Western taste buds meet Eastern culture. But when and where shall the 'twain ever meet if beauty and design aesthetics are wrapped deeply in mores and culture?
This is the cross cultural challenge that web designers need to face in order to remain competitive in today's global market place.
West, Meet East
Before the West was, the East was. Two of the world's oldest civilizations, China and India, are also two of the fastest and most robust economies today. According to Census.gov, as of 2014, China and India ranked as the top two countries with the highest population in the world. China ranked first with 1.3B (population) with an approximate 42.3% Internet penetration, followed by India with 1.2B (population) with an approximate 81% Internet penetration. Approximately 1 billion internet users from these 2 (right to left, top-to-bottom reading) countries alone. And if theme developers do the math, even if at 1% of a billion internet users, that's still a lot of WordPress themes right there. Too many to ignore.
Global Market Local User Design
We've talked about defining your target market and directing your business to reaching your specific demographic. Once you have that down pat, it's probably time to think of expansion and consider widening your net a little further. To go a little more granular and target the local user.
With WordPress powering over 21% of the Internet and being one of the most user friendly and reliable CMS systems existing today, aside from the fact that it is free, more and more Internet users are looking to it as their platform of choice.
With that, the popularity of WordPress has crossed over into multi language markets despite having been around for only a decade and catering mainly to users of modern languages which are generally left to right in direction. Hence, the increase in demand for WordPress themes with RTL or WPML features or WP plugins that provide this functionality.
The diversity of WordPress users from all across the globe is becoming an important factor in developing themes that are relevant culturally and technically suited to these users local needs. As responsive once was a premium feature that has now become a standard feature in all WordPress themes, so shall the multi language and RTL feature become.
The Design Approach
The WordPress theme development marketplace has grown considerably with designers coming up with better and more user friendly designs that match the general needs of WordPress users. There is a huge pool of WordPress themes available for, generally, almost every type of website need out there. But there is still room to grow for more cross-cultural friendly options.
Below are some design elements that designers need to consider when creating themes that are responsive to culturally diverse user groups. (Notes culled from W3.org and Sitepoint.com)
Language
– Languages don't have a direction. Scripts have a writing direction, and so languages written in a particular script, will be written with the direction of that script. Languages can be written in more than one script.
Typography – fonts and characters
– Typography can look "busier" to Western eyes than to Asian readers because many Asian scripts don't have separate upper and lower cases. Some languages have scripts that are not alphabetic at all, but which express an idea rather than a sound. Occasionally, it's necessary for an author to provide readers with pronunciation help for especially rare or awkward characters, usually with an alternative script in small writing above the ambiguous character.
Content presentation
Styling
Usability
Navigation
Mirror layout
Scripts (Left to Right, Right to Left, Top to Bottom)
– Text direction is another thing that should not be confused with language. In some scripts, such as Arabic and Hebrew, displayed text is read predominantly from right to left, although within that flow, numbers and text from other scripts are displayed from left to right. Knowing the directionality of text, based on the script(s) to be used, is important to web designers and authors, because right-to-left text can be more complicated (for beginners) to work with and the organization and directionality of the page layout are affected. Therefore, knowing the writing direction can be relevant to estimating the work involved to create web pages in a new language.
Images and animations
Forms
– Designing forms for an Asian market can have pitfalls for Western developers. For example, it's common to require both given name and family name and give an error if both are not completed. Many Asian languages write names with family names first and given names afterwards while some have only one name. Also, do not limit the amount of characters in Address fields.
Mobile
Propriety
Color palettes
– While choosing your colors for your design, keep in mind that certain colors have different connotations across cultures. For example, red is lucky for Chinese people. On the other hand, Thai people will be offended if you print their name in red — it's the color that monks employ to write names on coffins, so to write someone's name in red is to "wish them dead".
Symbols and metaphors
For web designers, W3.org International's tagline sums it up quite well: "Making the World Wide Web Worldwide." Let's!
Note: Many of the articles on this site include affiliate links that may earn us a commission if you decide to buy the recommended product.
Related Articles