WordPress Design and Development Trends 2014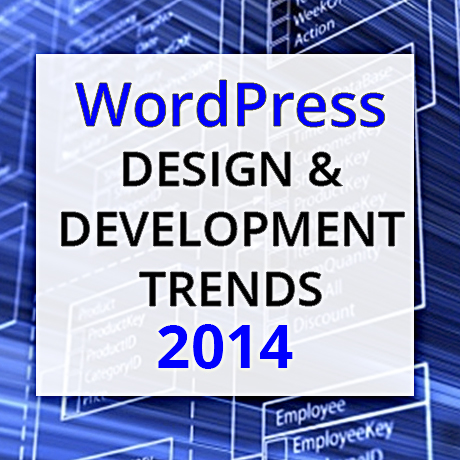 What do you think WordPress has in store for the coming year?
Here are some of the ideas shared by key people in the WordPress community:
From Tomas Puig, WordCamp Chicago 2013:
Device fragmentation is driving the adoption of CMS technologies.
WordPress is going to be used as the backend to drive core business for small and large audiences
WordPress is the best system of record that is used by lots of people and is a pleasure to work with compared to other systems.
30% of the Internet are familiar with WordPress. In the world of CMS's, WordPress user acceptance is easy.
WordPress is democratizing the serving of content to native applications across all platforms. Not only is it a blogging platform alone but it is already being used and optimized as an application framework.
From Collis Ta'eed, CEO (Envato)
Flat has a long way to go yet, and so the main changes I think we'll see in the next year are more fun, but faddish, trends like long shadows and the like. In similar fashion I think we'll see some more depth, layering, graduations, and other visual distinctions making their way back in, but in a more refined and subtle way than the old days.
Incorporating motion in its various forms is another logical build on flat design. Everything is pointing to this becoming a major piece of interface design going forward.
WordPress will continue to dominate the open source CMS market. Its position feels unassailable thanks to a heady combination of usable software, massive community, and constantly improving product.
2014 will see even more diversity in the tooling landscape from indie software development houses, SaaS companies, and the big A.
Currently powering over 21% of all websites – with 46 million downloads and thousands of WordPress themes built, bought and sold each day, the future of one of the most popular open source CMS's existing today burns brighter than ever.
Note: Many of the articles on this site include affiliate links that may earn us a commission if you decide to buy the recommended product.
Related Articles