Voyage: Travel WordPress Theme 2013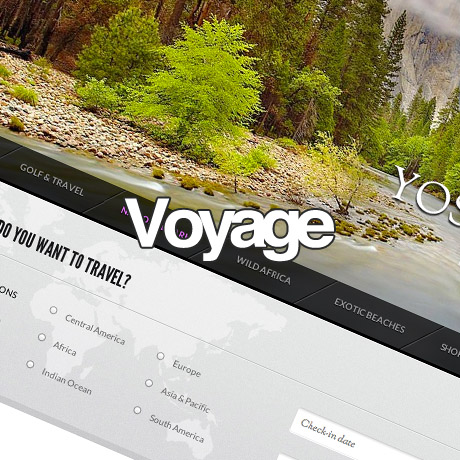 We all love an adventure. Who doesn't dream of traveling or going on that dream vacation? According to the Global Online Travel Report for 2012, some of the key findings and statistics featured in their report listed below are:
The trend of booking trips online is expected to grow further in 2012, especially in emerging markets such as China, India and Brazil.
In 2012, the "Online Travel Segment" is forecast to represent almost a third of the total global travel market value.
Online travel sales in the US are forecasted to increase by more than +10% in 2012 compared to 2011.
The UK is projected to remain the largest share of Europe's online travel market in 2013, followed by Germany and France.
Gross bookings on the Asia Pacific online leisure/ unmanaged business travel market are expected to increase by more than +30% in 2012 compared to 2010.
Meanwhile, according to US Travel.org,
"Activities with the greatest level of interest among U.S. adults are, in order, visiting friends and relatives, sightseeing, beaches/waterfronts, visiting zoos/aquariums/science museums, national parks, visiting a state park, going on a cruise, theme parks, visiting a city and visiting a mountain area. Interest in the engaging in the activities varies by generation, household income, gender and most other demographic characteristics of leisure travelers."
Based on these statistics and findings, barring local and international security issues and safety, people WILL travel. Perhaps it is also safe to say that the travel industry, at present, is definitely a viable industry. It may be also safe to say that the internet has contributed a great part to making travel reachable and accessible to a lot of people all around the globe. Access to online airline e-ticketing, booking and reservations, destination packages, hotel reviews and ratings have made people bolder in making travel decisions. Even if only a fraction of the 7 billion world population have the means to travel, travel agencies have not fully saturated this market. So, if you are considering putting up your own online travel agency, this is great news. The next step is to setup your own website and what better way to do it than through WordPress and with a theme that's specifically tailored for travel agencies.
Voyage Travel WordPress Theme is a gorgeous feature packed premium WordPress theme built for this specific niche. The responsive theme's highlights include an extremely powerful search and filter option that clients can use to find the travel package of their choice. The theme also includes lots of pages for showcasing a variety of holidays, special prices and latest promos, packages according to destinations, and a whole lot more. It also comes bundled with a Blog and Contact Page and tons of shortcodes you can use to customize or tweak the theme according to your needs. A lot of these powerful functionalities are based on one of Themefuse's best and most complex theme, Homequest. Another great thing about Voyage is that you can actually play with it for 14 days, using Themefuse's test labs feature, before you decide to purchase.
Features:
Responsive
One click auto install
Best for a travel agency website
Powerful search and filter options
Dynamic Sidebar Widget Creation
jQuery Image / Video Light box
Voyage Premium WordPress Theme includes video tutorials, theme documentation, and access to an AfterCare Forum for theme issues, questions, and support.
Voyage: $49 | Demo & Download
Note: Many of the articles on this site include affiliate links that may earn us a commission if you decide to buy the recommended product.
Related Articles