Vertex WordPress Theme – 85th Theme from Elegant Themes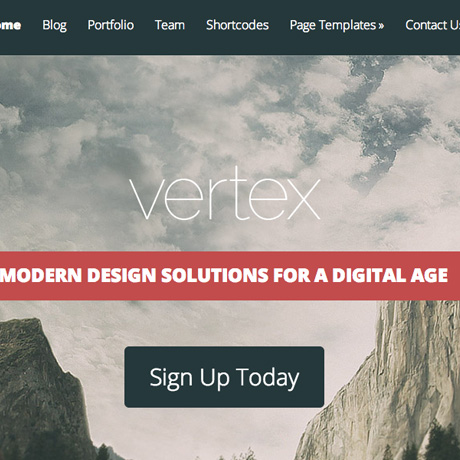 Take your website to the top of your game with Vertex Premium WordPress Theme, the 85th theme to be released by Elegant Themes. Web and graphic designers, photographers, and all kinds of service providers will surely create an impact on their clientele with this stunning theme's distinct animation effects that will surely keep them engaged from the very start.
This premium theme is primarily geared specifically for service providers and businesses and it is perfect for businesses that would like to showcase their services and products. Dynamic animation, beautiful muted colors, clean and classic typography – all conveniently packed in this one page, long scrolling design wonder. This modern design style allows users to have a good overview of your business right at the home page – perfect for the busy client who needs answers to who, what, why, and how – pronto.
The homepage has a stunning image section that fills the full width of your browser. As you scroll down the page, you experience a 3d parallax like effect with the theme's animation effects. Color schemes, fonts, and overall color management can be easily changed in the Theme Customizer panel with tons of options for color combinations and font choices. The theme also includes several sections among them are: a manual slider with 3d transitions, a portfolio, customer endorsements, team member bios featuring each team member's skills and expertise level, a prominently displayed call to action button, and a widgetized footer section.
Vertex Premium WordPress Theme is fully responsive, SEO optimized, and meticulously designed in every detail to help take your website all the way to the top.
Features:
Theme Options
Shortcodes
Page Templates
Responsive
Perpetual Updates
Secure and Valid Code
Browser Compatibility
Complete Localization
Unlimited Colors
Vertex Premium WordPress Theme includes perpetual updates, unparalleled support, and access more than 80+ high quality WordPress themes included in every Elegant Themes membership.
Get 85 WordPress Themes For $39!
Note: Many of the articles on this site include affiliate links that may earn us a commission if you decide to buy the recommended product.
Related Articles