Useful WordPress Widgets For Your Website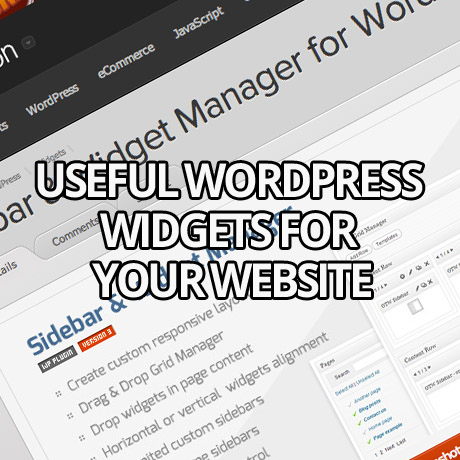 Not sure which widgets to add to your website? Widgets are handy tools or content that make it easy to customize the content of your sidebar(s). You can add, arrange, and remove them from the sidebar(s) of your blog according to your design and function preferences. Here are some useful and popular widgets to beef up the overall functionality of your WordPress theme.
This powerful widget manager allows you to have full control over your WordPress theme pages, layouts, and content and turn them into widgetized, responsive layouts. With its easy to use grid manager, this tool allows you to drop and drag widgets into any part of the page. You can replace existing sidebars with custom ones, add a sidebar in a page template file, manage vertical and horizontal widget alignment, and so much more. This widget supports other popular widgets such as WooCommerce, WPML, BuddyPress and BBpress. Designed to fit into the core WordPress design, the Sidebar and Widget Manager requires easy administration with minimal fuss.
Taxonomies Filter Widget is a robust but powerful WordPress plugin that creates a widget which acts as a filter for your categories, tags, taxonomies and numerical custom fields. Visitors will then be able to do faceted searches on your site to filter posts and pages by taxonomies and numerical custom fields, using drop-downs, checkboxes, radio buttons, multi select and range sliders. While built especially for sites with a variety of categories, custom taxonomies and custom posts (eg: shops, directories, tutorials, job boards or listings), this plugin will also do a great job at filtering the WordPress posts and pages by categories, tags and even post format. Search can be done using dropdowns, checkboxes, radio buttons, multi-select and range sliders. Hierarchical navigation is also possible, allowing readers to drill down to specific information.
This two-in-one widget allows you to show trending posts by comments or views according to a custom time interval, in say, the last 7 days. What makes this Popular Posts Widget unlike the rest is that it displays your most popular posts in a bar format. You can customize the number of posts to be shown or set a time lapse filter to show only those related to a specific time frame. The graphic display engages the curiosity of visitors thus encouraging them to check out the most popular posts in your site. The widget also gives out information on how many visitors have checked out your posts which can prove valuable to you as a provider of content.
Twitter Ultimate is a user friendly, highly customizable WordPress plugin you can use to display real time twitter feed based on the search word / username / list entered. You can: display tweets from usernames or tweets mentioning a word, display tweets from multiple queries or usernames, control number of tweets to be shown in the feed, control speed of incoming tweets, embed the widget directly on your pages or posts, etc. This gives you real time, live feedback for a specific post or page.
"Hello ajax tabs" is a WordPress plugin, which can be used for creating tabs element from any widgets you have. This plugin comes with 16 predefined styles and 23 animation effects, ajax support, multi tabs support, easing support, vertical tabs support, menu width and height adjustment controls for vertical tabs, fixed height support, other useful features to ensure you can create the tabs you need.
The Dropbox Frontend Slider widget allows you to display dropbox images directly on your website. You can display these images either using the flexslider without effects or create your own effects. You can also choose between various frontend image sizes, choose the direct URL from Dropbox where the images are located, add or edit your dropbox images and immediately see the changes coming up on the frontend, etc.
Note: Many of the articles on this site include affiliate links that may earn us a commission if you decide to buy the recommended product.
Related Articles