Top Free and Premium SEO Tools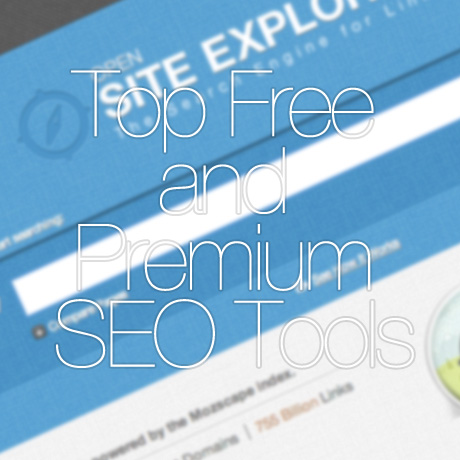 Here are some of the most popular SEO tools and platforms on the market to help you monitor and analyze your SEO efforts on link building, keyword research, page analysis, rankings, authority, and tracking:
Open Site Explorer allows you to analyze a website's linking profile by providing you with detailed information (link anchor text, page authority, and domain authority) for the first five backlinks of a domain. Open Site Explorer is an extremely overpowered tool that can provide detailed link information such as: Inbound Links, Top Pages, Linking Domains, Anchor Text, Compare Link Metrics, Advanced Reports, and Just-Discovered links. Link data can be used to analyze Page Authority, Domain Authority, Link Equity, Followed/No Followed Links, and so much more.
According to SEO Tools Review,
"SEOmoz Pro is, by far, the best SEO tool suite on the market today, handily winning our TopTenREVIEWS Gold Award. With great link building tools, industry-leading on-page analysis, a massive database of links and authority metrics that powers several other tools, and a community that is unsurpassed in the SEO world, SEOmoz pulls far ahead of the competition."
Free users are limited to three reports per day but you can run unlimited reports, view up to 10,000 backlinks, export backlinks to a CSV, and use the other suite of SEOmoz tools for $99 USD per month. Free and Premium.
Ahrefs.com is an independent tool for SEO analysis with a wide range of features. It is designed, first of all, for SEO specialists and site owners but may be of interest to other concerned Internet researchers. It has its own crawler and index, collects and arranges all data without any use of third-party services, and has the largest base of actual data on the links. Their crawler can index up to 6 billion pages per 24 hours. They help to find certain issues on your websites. They can provide social metrics like the number of tweets, Facebook likes, Facebook shares, Google +1 for your pages and referring pages (for all paid subscriptions). They also have a tool, Ahrefs Rank, aimed at solving the same tasks as Google PR. Ahrefs Rank measures the impact of all backlinks with different link juice to a given page. Free and Premium Version.
Raven Tools, founded in 2007, is a one-stop SEO tool that brings all types of SEO tools, social media tools and advertising tools all under one roof. You can manage paid search advertising (AdWords), link building, keyword research, competitive analysis, social media analytics and basic reporting all in the same place. Raven integrates essential data from Majestic SEO, SEOmoz, Google AdWords and more. Raven's SEO research tools also pull dozens of metrics, analyze thousands of pages and compile reports in minutes. Its Link Manager keeps your outreach organized, efficient and simple to report and it stores, organizes and tracks every detail for fast reference. 30-day trial.
According to SEO Tools Review,
"One unique feature of RavenTools is its integration with Textbroker, an article composition outsourcing service that can help you bulk up your site's content. While it can be risky delegating your content creation in large part to external contributors, it can be a useful way to supplement your content needs."
HubSpot Inbound Marketing Software helps customers generate traffic and leads through their websites, and convert more of those leads into customers. HubSpot is an integrated inbound marketing software that includes tools for: tools to attract visitors, tools to convert leads, and tools to close customers using various methods that cover blogging, landing pages, lead nurturing and management, marketing analytics, content management, social media, SEO, CRM integration, email marketing, and more.
According to SEO Tools Review,
"One of the unique and appealing features of HubSpot is its keyword research integration across the board; you can research keywords and compose blog posts focused on those keywords all within their comprehensive platform. It becomes exponentially easier to optimize for the correct keywords when you can focus on writing great content and leaving the keyword optimization to HubSpot's platform."
SEMrush is created by SEO/SEM professionals for SEO/SEM professionals with knowledge, expertise, and data to help you take your projects to the next level. They collect massive amounts of SERP data for more than 95 million keywords and 45 million domains, including: AdWords ad copies and positions, organic positions for domains and landing URLs, search volumes, CPC, competition, number of results, and so much more. SEMrush tracks an immense amount of organic data in Google and Bing SERPs. You can therefore see where your competitors are ranking in the top 20 Google and Bing results for the top 95+ million organic keywords. They collect data on both a domain level as well as landing page rankings for all of the keywords that they track, and they can provide you with an in-depth look into how a website really stacks up in search. Premium.
According to SEO Tools Review,
"SEMRush is the industry standard SEO tool for keyword research, giving unparalleled insights into competitors' PPC keyword targeting, rankings and traffic data. The tool is amazing in its own right, earning it a spot on our lineup of the best SEO tools.

One of the most useful features of SEMRush is its ability to tell you what other major web properties are trying to rank for your keywords. After you drop your URL in the search box and click the button, you'll be inundated with useful insights about your organic and AdWords competitors. Armed with this information, you can analyze their strategies to see what's working for them, or even approach some of the big spenders in your niche and pitch a display ad campaign. SEMRush gives you all the tools you need to evaluate pay-per-click advertising competition."
Google Webmaster Tools is a no-charge web service by Google for webmasters. It allows webmasters to check indexing status and optimize visibility of their websites on the following: site data, keyword data, sitemaps data, message center messages data, and crawl errors feed. Google Webmaster Tools shows traffic for each keyword separately; it gives more information about website performance according to Google search query. Google Analytics shows total traffic for a website, such as clicks to your site, regardless of where they came from and what search terms were used. It shows whatever search terms brought up your site in the listings. Free.
AuthorityLabs was built to be easy and simple enough for the average business owner, but scalable enough for those responsible for large organic search efforts. AuthorityLabs helps you gain an understanding of how search engines are displaying your brand over time. Consumers start at search and often experience a brand for the first time within search results. Easily add domains or pages to be tracked from anywhere, track thousands of keywords within each domain and get ranking data every day for Google, Yahoo! and Bing, monitor multiple related sites in mind. 30-day Free Trial.
Note: Many of the articles on this site include affiliate links that may earn us a commission if you decide to buy the recommended product.
Related Articles