Tools to Help You Manage Multiple WordPress Sites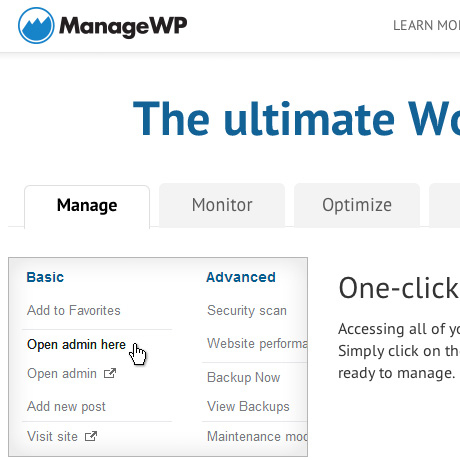 Owning more than one website is not uncommon. But how do you keep track of which ones to update and which ones to archive? What about plugin updates, backups, multi language sites, multiple locations, multiple passwords, platform or software updates? Managing multiple websites can be challenging especially if you are a WordPress professional handling several clients. Below are some of the tools you can use to manage multiple WordPress sites:
ManageWP – Manage multiple WordPress sites from a single dashboard.
run updates
backups
update plugins
optimize databases
run security tests
manage analytics
manage comments
manage SEO
update themes
WP Remote – Manage multiple WP sites (free and Premium versions)
Monitor unlimited sites for free (free)
Easily update WordPress Core, plugins & themes with one click (free)
Download a snapshot of your site (free)
Automatic backups to our servers, your own S3 or Dropbox (premium)
Automatic Plugin, Theme and Core updates (premium)
Daily notification emails of all available updates (premium)
Keep a record of site activity (premium)
Manage and install Plugins and Themes right from within WP Remote (premium)
WP Site Stack – create Multiple WordPress Sites from one Installation of WordPress. For people that have more than one WordPress site or for consultants that host WordPress sites for their clients. (multi sites)
Use one installation of WordPress to install as many sites as you'd like
Use the same Plugin and Theme installation on all sites
Allows multiple multi sites.
Quick & easy backups | Quick & easy updates (updating one/updates all)
One database (never worry about database limits)
Installs on virtually any hosting account (no VPS required)
qTranslate – For multilingual sites. This plugin makes creation of multilingual content as easy as working with a single language.
qTranslate Services – Professional human translation with two clicks
One-Click-Switching between the languages
Language customizations without changing the .mo files – Use Quick-Tags instead for easy localization
Multilingual dates out of the box – Translates dates and time for you
Comes several languages – English, German, Simplified Chinese etc.
qTranslate will download .mo files automatically for you
One language for each URL – No mixing of multilingual content (user and SEO friendly)
LastPass – Password management tool to help you create secure logins for your accounts. Supports multiple operating systems and browsers.
xMarkPro – contains full WordPress management, allowing you to easily manage all aspects of your blogs from the one centralized administration panel. This includes mass posting to multiple blogs, drip feeds, theme & plugin installation, auto-upgrading, categories, blogroll links, widgets, users, and much more.
Mass Post to Blogs
Post Repository
Plugin & Theme Repository
Manage blogrolls, categories, users, widgets, posts, pages
SpinTax Integration & Thesaurus
Drip Feeds
Media Manager
Link Tracker
Authority Links
---
Related Articles