ThemeForest Theme Sells Over 800 Copies In One Week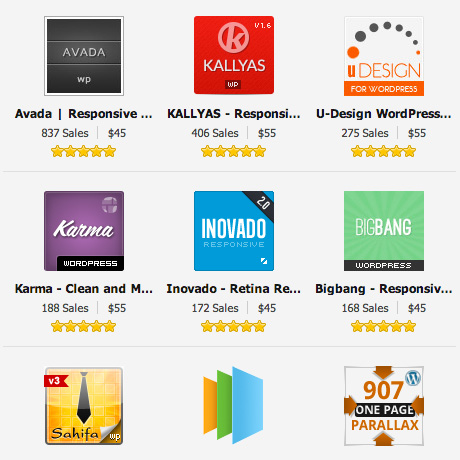 One WordPress theme, 7 days, 800 copies, $36,000 grand. A lot of WordPress authors and developers on Themeforest would love to achieve even a fraction of that and most of them are probably scratching their heads wondering why. This popular theme has even dislodged U-Design from its top spot for the past few weeks and to think it's the only item in this author's Themeforest portfolio. If you are wondering what theme achieved such a feat check out AVADA, a responsive multi purpose theme created by ThemeFusion.
Let's dissect this theme a little bit further and try or simply attempt to figure out why the market is loving this theme.
Overall aesthetic
Avada's layout can be classified as clean, straightforward, and professional-looking with very neutral colors and lots of white space. If you are familiar with real estate open houses, real estate professionals really spend a lot of time to "stage" a property before "opening" it up to the market. Care is taken to display only enough design elements to highlight the property's unique and outstanding features, pulling back from adding unnecessary and distracting clutter. This deliberate "staging" is intended to give the potential buyer the room to imagine what he can do with it to meet his own needs. The focus is on its potential and what it can become. Avada is like that, a well-staged theme with lots of potential for all types of buyers. The demo is clear and easy to maneuver, giving customers a taste of all that it can be for whatever need they have.
Features & Functions
This premium theme is not just a pretty face. It has enough built in features and functions to create the website you need for yourself or for your clients. Everyone wants to create a website that is unique and representative of himself or his brand. Avada has a plethora of feature and function choices that, when mixed and matched together, with the client's own images and content, can create a one of a kind and totally different website every time. Here are some of Avada's easy to customize features that you can "play" with:
Homepage – 10 versions
Sliders – 6 styles
Headers – 5 versions
Page Templates

About Us – 2 versions
Services – 2 versions
Pricing Options
Meet the Team
Side Navigation
Contact Page – 2 versions
FAQ – 2 versions
Sidebars – Left and Right
Full-width page
404 page

Portfolio – 6 layouts
Blog – 4 layouts
Custom Posts, Custom Widgets,
Shortcodes for Elements, Icons, Media, Pricing Tables & Typography
Responsive
Retina-ready
Support
Aside from the extensive, detailed documentation and easy to follow HD narrated video tutorials, Avada generously includes the entire set of PSDs (20+ files) for those who want to customize the theme even further. Buyers get 100% free support via their support forum. Customer feedback has been, overall, favorable so far. Providing WordPress theme support is not an easy task especially if you are servicing thousands of buyers. To receive favorable feedback regarding their theme support indicates that they have a support system that really works. This translates into higher buyer confidence which translates further into higher sales.
Avada has sold almost 15,000 copies to date and has received more than a thousand 5-star ratings which is something worth noting. Receiving a 5-star rating from 2 or more people can be easily dismissed but 1,000 or more satisfied customers can't be ignored.
Fluke or luck? We think not. A good product with a lot of hard work backing it up sounds more like it. If this is the trend that the market is supporting as far as WordPress themes are concerned, then it is good sign that the market and the industry are headed for better days.
Get Avada Now!
Note: Many of the articles on this site include affiliate links that may earn us a commission if you decide to buy the recommended product.
Related Articles