Tech WordPress Themes July 2013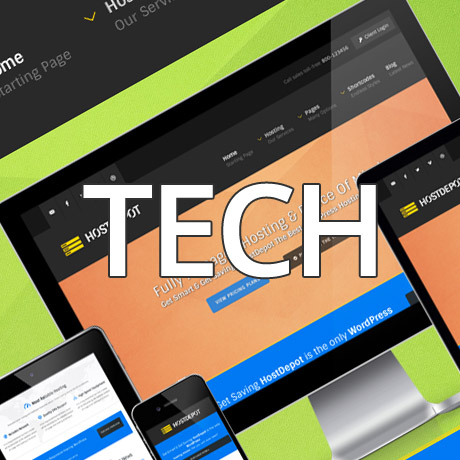 Technology has one of the fastest turnovers in terms of design and features. If you are into technology and the latest tech products out there, show them off on your website on an equally tech-savvy looking theme like these WordPress themes we've found:
Host Depot is a theme designed for modern hosting and server services. It has a built-in layer slider that allows you to do 170 3D and 2D hardware accelerated transitions to catch the eye of visitors. The theme also has a hassle-free and easy to use pricing table editor. Host Depot integrates well with WHMCS to give you seamless processing of your financial and logistic transactions. You can easily set-up forums on your site with the bbPress plugin. HostDepot is indeed a great solution for those in the web hosting business.
Elegant Hosting is a sleek WordPress theme designed for web hosting services. The main strength of this theme is the easy to manage hosting plan tables. This theme has a special feature to add hosting plans right at the admin panel. With the plans displayed side by side, comparison may conveniently be done by potential customers. You can customize the theme with shortcodes to create the look most appropriate to your marketing efforts. Theme also comes with a slider which will be useful in marketing.
Appland Premium Theme is a WordPress theme designed for promoting your hottest app. Built on the powerful Twitter Bootstrap, this theme is designed to work well on mobile devices incorporating touch gestures that works even on the Flexslider. Appland also has amazing eye-catching 3D parallax effects to help you keep visitors glued to your site. Customization is easy with the plethora of design options and features such as using the shortcode generator, available Google fonts, the quick uploader feature, awesome icons, and so much more. Appland is responsive fitting for a theme designed for mobile.
Mega Host Premium WordPress Theme is an impressive and modern theme designed for virtual hosting services. Although primarily designed for web hosting, this theme includes all the necessary features to build a corporate website as well. A notable feature of this theme is that it is built on twitter bootstrap, making it more mobile device friendly. Its advanced admin panel and its CSS design make it easy to customize. Mega Host is also built for retina-ready devices giving you sharp stunning images on these devices.
Create that interactive effect with this stunning WordPress Theme – Rocking Parallax a WordPress theme especially designed to showcase your iPhone apps. This theme makes a great one page solution to your marketing needs. This theme's awesome parallax 3d effects will definitely make your apps shine. It features many design elements that allow you to create countless mix and match combinations and layouts that will match your design aesthetics. Rocking Parallax Premium WordPress Theme is the perfect tool for marketing and promoting your iPhone apps.
Mobile apps are one of the hottest ways to make it big in the market. The influx of free and paid apps flooding the market is an indicator of what people are interested in nowadays. Apley Mobile WordPress Page is a clean and modern theme designed to showcase mobile apps. The elegant black, minimalist features suggests the theme's affinity to most mobile devices. It has an easy to use WordPress customizer to help you tweak the theme according to your preferences. Apley also has a fully working blog, a custom homepage, a custom subscribe form, a shortcodes plugin to help you customize in minutes, and many more features.
Cloud Hoster is a professional looking WordPress theme designed to promote your web hosting and server services. This theme is equipped with the popular Revolution Slider so you can create stunning slideshows with different and customizable transitions to grab the attention of casual visitors. Cloud Hoster also has a unique two color blog which can be configured at the backend. Shortcodes give you the power to customize and stylize this theme with ease.
This responsive theme is also built on twitter bootstrap with advanced API features to help your site look good on mobile devices and ensure a pleasant browsing experience for your users.
Note: Many of the articles on this site include affiliate links that may earn us a commission if you decide to buy the recommended product.
Related Articles