Running Out of Content? Content Curation Might Be Your Answer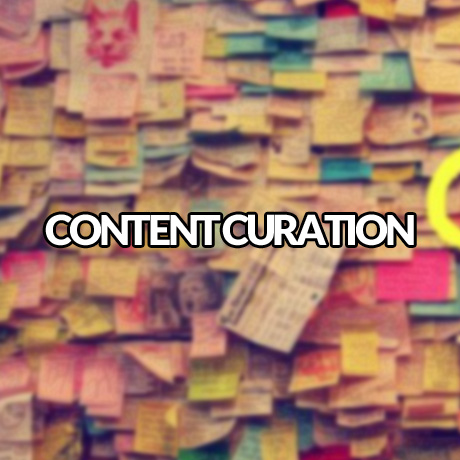 Have you ever gone down a supermarket aisle and just labored at the thought of choosing which cereal box to choose from the dozens and dozens of flavors right before you? Or what about a candy store? A bag shop? A book store? Having so many choices can be pretty overwhelming.
Imagine the Internet is as wide and as deep as the Pacific Ocean – filled with letters, words, images, music, videos, games, information, spam, bacon, and everything else you can think of. All this content begging for you attention and yet you don't know where to start, which to choose. So many choices. In the end, you end up with nothing. What if someone filtered out all the stuff irrelevant to you and presented you with the best of the content you are interested in and then served it to you on a silver platter? Convenient, don't you think? This process of sorting through the vast majority of content on the web and presenting it in a meaningful way is called Content Curation. (Neil Patel, Kiss Metrics)
What is Content Curation?
Content curation is hand selecting content created by other sources and sharing them with your community. Best done when whoever is curating adds their own explanation for sharing, reaction or opinions.
– C.C. Chapman author of Amazing Things Will Happen and co-author of Content Rules.

According to Michael Kolowich of KnowledgeVision,

Content curation is a way to view the world through an expert's eyes. A great curator selects from a great many sources, is clear on mission and scope, is consistent on selection criteria ("most thoughtful", "most original", "funniest", "latest"), adds value with indexing and/or commentary, gives credit where credit is due, and shares generously with his/her sources.

"… Content curation also pulls from many sources. However, instead of automatically posting every piece of content pulled in there is a manual filtering and sorting process that takes place in order to select only the most valuable pieces of content for a given audience. Curation also involves adding helpful annotation that frames the information already provided from the original source in such a way as to add additional value and/or understanding." – (source: Nathan Weller, ManageWP)
We know that the name of the game today is delivering high quality relevant content on a regular basis. Google demands this. Google rewards this. Unfortunately, the reality is, your content creativity well can sometimes run dry. And when that happens what do you do? Many websites turn to content curation. Is it a valid option?
At SXSW 2013, WordPress CEO Matt Mullenweg stated that content curation along with long form content would be one of the key areas of focus for his company in the future.
Of course there will always be detractors and those who will argue against it in favor of original content creation and this is normal. However, websites will benefit when content curation is layered with content creation – adding a different dimension and variety to the usual fare being dished out.
Curation tools, websites, and plugins are readily available and have made it simple and easy for anyone to curate content and distribute it within seconds. If you are interested in integrating content curation into your WordPress site, check out one of the more popular ones, Primal for WordPress to help you get started in the right direction in no time.
Note: Many of the articles on this site include affiliate links that may earn us a commission if you decide to buy the recommended product.
Related Articles