Popular WordPress Theme Features To Watch in 2014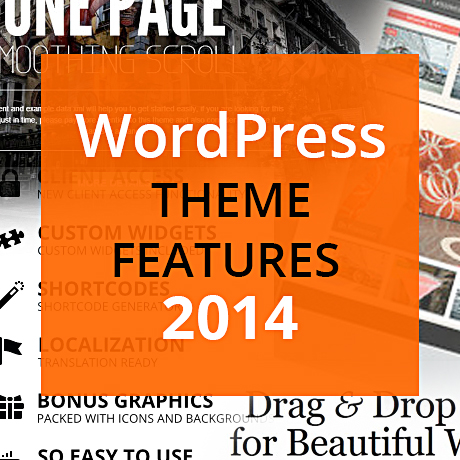 WordPress theme designs come in all shapes and sizes packed with features that don't get used at all. Here are some of the most popular features users look for in a WordPress theme and a few others that could be the next big theme feature in the future:
Drag and Drop
This feature is one of the most popular features users look for in a WordPress theme because of its ease of use especially for non-coders. Chris Lema defines drag and drop like this:
The end user can assemble the design of a web page by dragging and dropping key elements/components onto a "canvas" designing the layout/structure of the page.
For a more in depth analysis on drag and drop, check out Chris' post: Design without coding: Comparing Drag and Drop WordPress themes.
Single Page with smooth scrolling
The single page smooth scrolling feature is where all of the content is on one page that the user can scroll up and down or side to side. More and more users are opting for this single or one page website design to contain all their content because it's easy and simple enough to build and maintain yourself, as opposed to more complex multipage websites.
Flat, simple and then some
Flat has a long way to go yet, and so the main changes I think we'll see in the next year are more fun, but faddish, trends like long shadows and the like. In similar fashion I think we'll see some more depth, layering, graduations, and other visual distinctions making their way back in, but in a more refined and subtle way than the old days. – Collis Ta'eed, Envato CEO
Clean and Standards compliant code
Adherence to proper coding protocols (PHP, HTML, CSS, privacy, security). Clean and quality code is the backbone of a quality website and ensures that it is easier to maintain and flexible enough to run with other properly coded scripts. Clean code also contributes to speed and loading time.
eCommerce option
The eCommerce feature is as the responsive feature was – it is becoming more and more a staple feature included in WordPress themes.
All in One Design bundles
WordPress theme designers are expanding themes to include a variety of add-ons to provide a complete design package. These extras can include: letterhead, business cards, social media branding package (Facebook, Twitter, etc.), newsletters that work with external email clients, etc., aside from the WordPress theme itself so that all brand materials are consistent. Bundles are popular because they present a complete brand package and include everything you need to get a site launched and promoted.
User Friendly and Mobile Friendly Menu/Navigation System
The era of a website having traditional navigation is quickly ending. Users are now used to on demand menus, sticky navigation and fixed headers that follow you as you scroll. These new tools allow for cleaner, simpler web design.
These are just a few of the most popular WordPress features that we think will continue to evolve and improve in 2014. Exciting times ahead!
Note: Many of the articles on this site include affiliate links that may earn us a commission if you decide to buy the recommended product.
Related Articles