Panda Proofing Your Website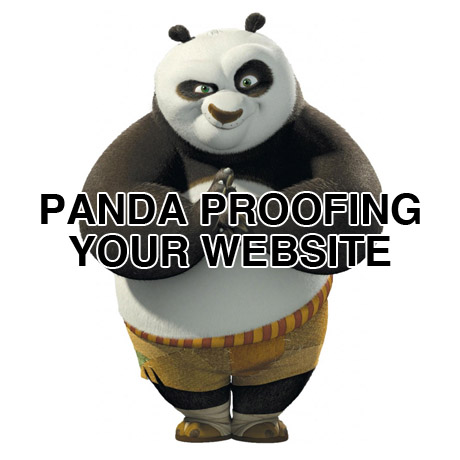 If your website has been hit by Panda and like most, you've began making improvements and implementing changes to your website immediately after, you might not be able to see the effects right away. It might take a while but it is possible to reverse the fall and recover from Panda.
Eric Lancheres, SEO Guru and sought after speaker, shared, in the recently held Traffic and Conversion Summit 2013, a few tips and tricks on how to Panda Proof your website.
Here are some of them:
Include Date Posted and Last Updated when posting articles/content.
Have pictures cut right at the fold. Try to tweak landing page pictures at the fold.
Plant 2-3 comments to get the ball rolling. Encourage comments from users.
Add social media buttons and ask friends to add comments votes and likes.
Manually add relevant or recent articles in the sidebars.
Improve bounce rate by using Pagination + Table of Contents. More pages lead to more pageviews. Easy to read pages encourage user engagement and interactivity which translates to spending more time on your website. More activity and more action from users translates into high quality perception for Google.
Increase visitor engagement by interlinking your articles. A good example of proper internal links execution is Wikipedia.
An intuitive dynamic navigation is key to having a high quality score. If supplementary content is not available, you CANNOT have a high quality ranking Sidebar navigation is your supplementary content.
Speed improves everything. Site load under 4 seconds load time is acceptable. Server load speed will increase all your metrics by about 1%-5%. Check your page load speed. If it too slow, you need to start optimizing your site. Try resizing your images, or, if necessary, consider moving to a better server.
Implementing all these changes plus improving the quality of your content will help you recover whatever lost ground your website experienced because of Panda. Of course, there will always be a lag in seeing the results of these changes between the time you implement them and the next Google update. Panda is here to stay so you need to work on improving your site including your business model. Keep working at it. Eventually, your traffic will improve, visitors will have a better experience on your website, and you should be able to earn more money than when you started.
Note: Many of the articles on this site include affiliate links that may earn us a commission if you decide to buy the recommended product.
Related Articles