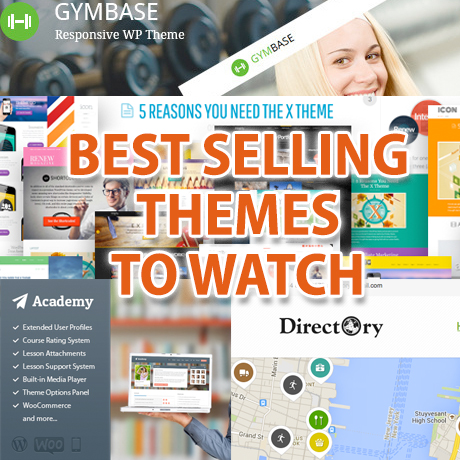 There are some things that are truly unique and outstanding that they can't help but stand out and rise to the top of the heap. Here are some of the best selling WordPress themes that owe their popularity to a unique niche that they fill.
Dubbed as Themeforest's most popular new product, this theme presents itself as the ultimate WordPress theme. The claim's validity is backed by real world results and real time feedback from its satisfied users who have experienced the endless customization options available to its owners. While it offers a lot to those who want to dabble into the "nuts and bolts" of the theme, X also offers strong solutions for those who just want to get something up and running on their sites in no time. The theme has 3 predefined stacks that can be easily tweaked to give newbies and non-techies a "made by a professional" look for their websites. X offers features that have set the standard and raised the bar as far as WordPress themes go. Not surprising considering the experts who have given their inputs in the development of the theme not to mention the developer's open ears to customer feedback. It is also not surprising that many already consider this as the last WordPress theme they will ever need.
This unique theme allows you to easily set-up an online directory portal listing categorized items of any type. You can have a directory of shops, websites, companies and more. This may be accomplished conveniently with from a frontend like admin panel giving you a more user friendly set-up experience. Visitors will find Directory a convenient reference resource as it delivers information in a concise, convenient manner. Entries are displayed as pins on a google map of the locale of interest. Alternatively visitors may search from a search box or browse off a category of entries. Directory comes with a lot of ad spaces so you can cash in on the traffic your content generates. This theme is integrated with Paypal so administering payments from advertisers and listed establishments isn't a hassle. With more than 6000 satisfied users, Directory is considered the Best selling directory portal theme on themeforest.
This theme has been around for quite a while but remains a bestseller in its own right because of its special qualities. First and foremost it's a Gym theme – unique and not like the rest. It addresses a viable niche market – the health and fitness market – where gym owners can easily create a website that can service players in this industry. Some of the useful features the theme has include: a timetable plugin included that allows members and visitors to plan the classes they will attend, Gymbase also displays the pricing for classes, features that allow updates for its members regarding upcoming classes, an easy to use admin panel equipped with a color picker to help you create your own custom look, and everything else you need to run a health and fitness website.
Designed to be a learning management solution for educational or training institutions to maximize the power and reach of the internet, Academy enables you to sell and share knowledge online. This theme gives you the platform to deliver classes and lessons to interested parties. Academy allows you to upload media content and documents as well as to encode quizzes and tests to check for your subscribers competency. You are also able to check the progress of your students, monitor the courses they take, as well as, administer payments. This theme is integrated with WooCommerce. Academy is an invaluable tool especially today, as more and more people turn to e-learning as a means of acquiring new skills and education.
Fundify is the first WordPress theme designed for crowdfunding. This enables you to have a websites in the likes of Indiegogo and Kickstarter where parties can setup campaigns to raise funds for causes they support. Fundify allows you to setup campaigns for a fixed amount of money where supporters are only billed if the minimum target amount of the campaign is reached. Alternatively, the theme also enables flexible campaigns where whatever amount pledged is collected. Fundify also allows you to administer rewards to those who support your causes. The theme integrates with Paypal and easy digital downloads which makes it convenient for supporters to finance causes and advocacies that appeal to them.
With knowledge and information being an important commodity nowadays, it is not surprising to find a knowledge base theme in this list. What makes Knowhow special is that it enables you to setup your own knowledge base with ease and convenience while maintaining the privacy and control of information not available on public Wikis. You can list your content in the form of an FAQ. Knowhow also allows users to search by question or by topic which makes searching more convenient. Not your ordinary WordPress theme.
Globalization and the internet have made the job market more competitive. Jobseekers have a need to display their resumes online so they can get the best jobs available. In a similar fashion, employers need to get the best talent available. Jobify is a job exchange solution used by top companies like dropbox to acquire the best talent globally. Employers can subscribe to your site for posting privileges. Jobseekers can post their resumes in response to job postings. This theme integrates with WooCommerce and Contact forms plugins to give you the best in payment and input management.