MultiMedia WordPress Themes August 2013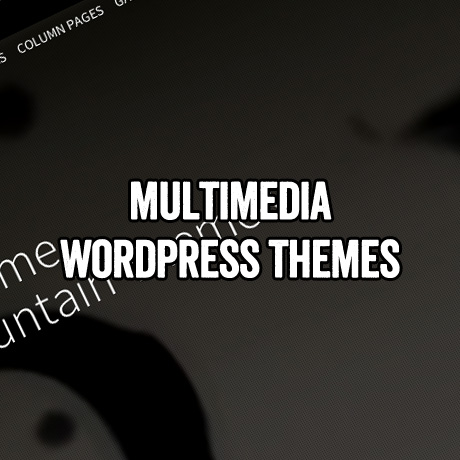 Today's multimedia audience has been bombarded with multi sensory stimuli that engage and entertain like never before. Competing in such an environment is pretty challenging and demands a lot of creativity especially when it comes to web design. Here are some innovative WordPress themes that offer you more than your usual WordPress fare:
Fuji Premium WordPress Theme is an innovative theme with design aesthetics that are far from your typical WordPress theme design. Its modern and clean design is visually refreshing in every aspect. All the best trends in web development have been implemented in this theme: No pages reload (Html5 pushstate), Retina ready, Responsive Layout, Audio Player and Css3 animations are just some of the features of this theme. It also includes features such as: 9 different page types (Home, Standard Page, Column Page, Full Page, Half Page, Collection, Gallery, Video and Blog), Unlimited Galleries, Unlimited Collections (Portfolio) and Unlimited Audio Tracks, and so much more to fit any type of web application you need.
Why scroll downwards when you can scroll or swipe sideways? Acid Premium WordPress Theme combines the best design features you adore in Metro and One-Page and brings it all together into this one theme. Choose from Colorful Hipster, Serious Black, and Retro Grandma to create the website you need in the style that you want. This theme includes the following key features: unique portfolio layout, unlimited color options, mini parallax, unlimited scroll, One-Page horizontal layout with the option to choose and use the Metro Style blog and portfolio or a combination of both.
If creativity is your passion then up the ante and create a website that reflects just that with Anthe Premium WordPress Theme – a reliable, fast and responsive WordPress theme designed to promote small design agencies or big creative minds. This fresh and creative premium theme gives you four page styles and two page layout options. It's a 2 in 1 theme – multi-page & single-page solution – all in one package. You can combine your WP pages to create incredible single pages with only a few clicks.
Wildhorn Premium WordPress theme is a full screen theme designed to put your multimedia content (images, videos, and audio) in the spotlight. Equipped with the bests trends in web development such as: No pages reload (Html5 pushstate), Retina ready, Responsive Layout, Audio Player and Css3 animations. This theme also comes with an embedded music player (can be turned on or off) to add that something extra to the whole web experience.
If you are an artist looking for a theme to house your art on the web check out Wave Premium WordPress theme – a responsive WordPress theme made for artists that can also be used as a portfolio cum blog by anyone needs a theme to showcase images and galleries and a blog as well. It is designed on a 1180px grid with 16 columns which can be quite flexible for showcasing art in different sizes or dimensions. This premium theme is also WooCommerce ready which opens up opportunities for artists to sell their artwork online right on the spot.
Note: Many of the articles on this site include affiliate links that may earn us a commission if you decide to buy the recommended product.
Related Articles