Miscellaneous WordPress Themes January 2014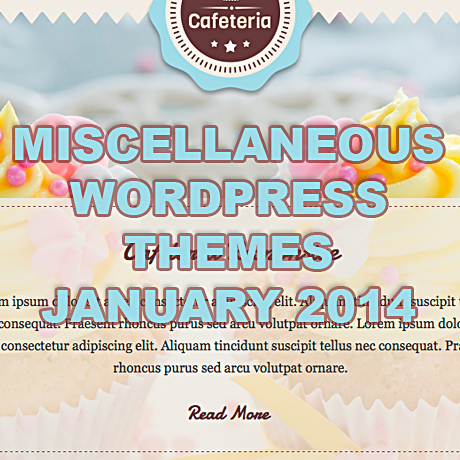 Start off the year in style with these miscellaneous WordPress themes to match your online business:
Cafeteria Responsive WordPress Theme is a premium theme designed for a cafeteria web site, a restaurant web site, or any other types of food service website such as bistros, bars, fast foods, bakeshops, etc. The sweet and deliciously saccharine design appeal of this theme will surely put a smile on your clients' faces. The template is adaptive and very easy to customize sporting a semi retro style complete with parallax effects to help make your site simply irresistible.
Mercy Premium WordPress Theme is a clean and elegant theme, developed mainly to setup NGOs, non-profit organizations and corporate websites. It is easy to fully customize the layout, colors and style within minutes due to the superb flexibility of its framework. You can also create unique websites for other purposes like magazine, blog, creative or business. Use the color picker to create your own color scheme and make it as elegant or as high impact as you want. This theme is most suitable for small to large NGO organizations' website. This clean and minimalist PayPal integrated theme allows you to add as many causes as you need, is translation ready with built in RTL support, and is also WooCommerce ready.
Humbleshop Premium WordPress Theme is a Bootstrap based framework theme designed for the Easy Digital Downloads Plugin. This simple and straightforward responsive theme comes with a real-time theme customizer, related product function, and is additional product image ready. It also includes scripts and plugins: Flexslider, Magnific Popup, Fitvids, Equalize, and Selectnav, to give you more customization options.
Partynight Premium WordPress Theme is a sleek and modern club and party WordPress Theme for night clubs, parties, night events etc. Its flat, clean, and tidy graphics create a classy vibe sans the usual garish and screaming designs typical of night club or events themes. Enhanced functionality allows users to easily customize the look of the theme. Main Features include: Revolution Slider, Events booking support, Table reservation support, Advanced Events organizer (tickets, event builder), WPML support, News Management, and Blog Management.
Actority Premium WordPress Theme is a professional responsive casting agencies' WordPress template especially designed for those in the entertainment or theater industry. If you're a producer looking for background talent, or a background actor looking for work, create your own online portal with Actority. This premium theme can also be for other kinds of agencies like real estate or a travel/tourist agency. This fully responsive theme includes several pages like: For Actors page, Application List page, Contact page, Portfolio page (filterable), and other additional page templates. Actority fits any screen, from the largest desktop screens, to any tablet size, down to the smallest smartphones and is very intuitive on any device.
Note: Many of the articles on this site include affiliate links that may earn us a commission if you decide to buy the recommended product.
Related Articles