Happy Birthday WordPress!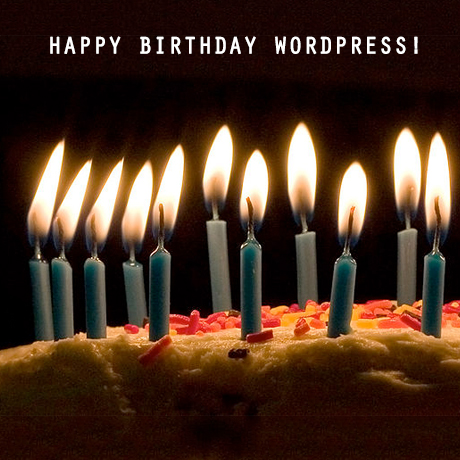 WordPress celebrates its 11th year this May and it can only get better. It may be a bit more quiet than last year's 10th year celebration but things have been equally if not more exciting than ever. Here are some interesting statistics you need to know about WordPress (.com and .org).
11 Years
It's been 11 years since WordPress was first released – May 27, 2003 to be exact.
22% Usage, 60% Market Share
According to W3Techs.com, WordPress is used by 22.3% of ALL the websites, which translates to a content management system market share of 60.0%.
WordPress 3.9 – Downloaded 19.3 million times
WordPress 3.9 which was released fairly recently has already been downloaded more than 19.3 million times (as of this writing).
2,531 themes, 101,742,042 downloads
– in the WordPress Theme repository alone with approximately more than 10,000 themes available in the marketplace.
More fun embed stats from partners and friends that their users have embedded WordPress short codes on their sites:
Twitter – 32,978,750 (as of May 2014)
YouTube – 12,933,230 (as of Apr 2014)
Flickr – 14,952,725 (as of Apr 2014)
Vimeo – 29,158 (as of May 2014)
WordPress localized in 140+ ways. Find your language here.
Happy Birthday, WordPress!
Note: Many of the articles on this site include affiliate links that may earn us a commission if you decide to buy the recommended product.
Related Articles