Five Drag and Drop WordPress Plugins To Try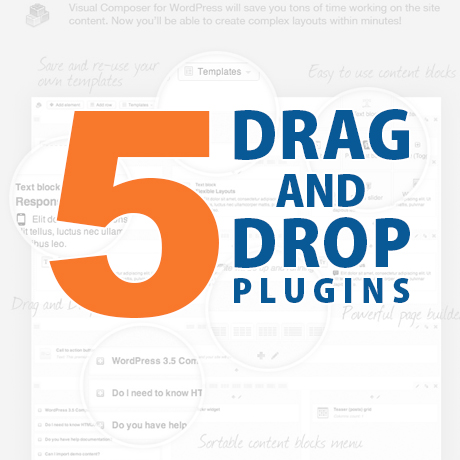 The drag and drop feature has become one of the most popular features in WordPress themes lately. We remember how everyone clamored for responsive themes and multiple slider options. Now it's all about drag and drop. Below are some of the available drag and drop plugins in the marketplace today.
Visual Composer for WordPress is a popular drag and drop page builder plugin that will save you tons of time working on the site content. Take full control over your WordPress site. Add columns, rows and choose from 40+ predefined elements divided in logic groups with single click, by using intuitive and handy UI. Then simply use your mouse to drag elements around to re-arrange them. You can also use your creativity and skills to extend Visual Composer with unique elements by using the developer API. Outstanding features include: intuitive drag and drop interface, object oriented code, template system, responsive grid, custom post types, WordPress user access support, 40+ built in content blocks, and so many other features. Create totally unique websites with no programming knowledge required with Visual Composer.
Aqua Page Builder is a powerful WordPress plugin that allows you to create an unlimited number of template variations for use in your WordPress themes. It follows the same user interface used by the Menus & Widgets admin pages – making you feel right at home with the UI. Similar to the Widgets &amps Menus, Aqua Page Builder features the drag and drop interaction to build its templates.This free open source plugin blends seamlessly with the WordPress admin interface making it familiar and easy for users to get used to it. Aqua Page Builder was also designed to reside on a completely independent page, instead of cluttering the post editor. The idea was to offer the freedom to build content outside of the editor, and use it anywhere they like at all. The "template" doesn't have to be a complete page at all, it can be part of a page that can be re-used on a unlimited amount of pages/post they like.
The Themify drag & drop Builder for WordPress helps you build any page layouts with a live, frontend preview. Layouts are completely responsive, and what you see is what you get. Easily create complex grid layouts by dragging and dropping on Builder's intuitive user interface. Content can include static text, images, videos, sliders, galleries, tabs, maps, etc. or dynamic content, such as posts, menus, and even sidebars + widgets. It works on desktop, tablet, and mobile. The Builder comes with any Themify theme as part of the Themify framework. You can also purchase the Themify Builder plugin to use in a non-Themify WordPress theme.
The Elegant Themes Builder is a plugin that provides some incredible tools for structuring the content on your page. These tools were previously only available in our Convertible theme, but now they have been added to a new plugin that will work with any theme. The plugin creates a visual drag-and-drop canvas where you can add, arrange and re-size advanced elements on your page. This builder appears below the normal text editor when you create a post or page, creating a unique canvas for each. The builder allows to you quickly create columns, sliders, tabs, buttons, toggles, boxes and so much more. This plugin will work with any theme, not just Elegant Themes but is can be purchased if you are an Elegant Themes member.
Page Layout Builder plugin is a Drag and Drop Page Builder – Layout Builder – Content Builder for WordPress. Building custom WordPress page layout using Page Layout Builder is as easy as dragging-and-dropping. No need to learn HTML or find a coder/designer to change a page layout, modify sidebars, etc. You can directly use more than 3000+ widgets from wordpress.org to place anywhere inside your page content. Modules like sliders, galleries, images, drop-down menu, progress bar, timeline, testimonials, message box, warning box, notification box, loop for custom post type, post loop with various templates, sub-pages, heading, regular html etc. are currently under development. This plugin is available in the WordPress plugin repository.
Note: Many of the articles on this site include affiliate links that may earn us a commission if you decide to buy the recommended product.
Related Articles