Explorable Now Available From Elegant Themes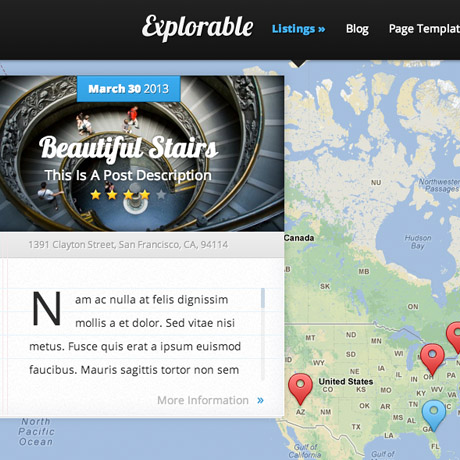 How would you like to go around the world and explore it in a matter of minutes? Create the perfect travel blog that will transport readers and visitors to exotic and distant lands with Explorable Premium WordPress Theme. This location-based theme takes your readers on a journey through different locations as tagged in your posts. Be the ultimate resource for travel bugs and backpackers with Explorable – the ideal theme for travel blogs, travel agencies, local business directories and similar sites.
Explorable's homepage backdrop is a full-width map where each post you make is pinned to a specific location. This interactive map is a fun way to introduce different places for people to visit and explore. Clicking on a pin opens a picture window on the left side of the page containing an excerpt about the location. Clicking the image opens into the page containing the full post content. Not sure what location to look for? Discover new places by just clicking the side arrows of the picture window to scroll through pinned locations. You can also filter the displayed pins to show posts according to specific posting type, location and rating.
Explorable also has other page templates that are available if necessary. The portfolio template can be used as an image gallery of trips, travel, and on location photos to share with users. The blog template can be used to document travel details, reviews, recommendations and even ratings to guide soon to be travelers. The advanced search template makes it easy to search through posts and pages or according to category. These templates can serve as tools to enhance user experience on your site.
As far as appearances and functionalities go, this responsive theme includes shortcodes to help you customize this theme and make it completely your own. From colorful buttons, content boxes, toggled or tabbed content, slide presentations, layouts with 1 to 4 columns, and even pricing tables. Create the ultimate destination website with Explorable Premium WordPress Theme.
Features:
Responsive Design
Shortcodes
Page Templates
Secure and Valid Code
Complete Localization
Google Maps Integration
Visitor Ratings System
Filterable Listings Search
Explorable Premium WordPress Theme includes perpetual updates, unparalleled support, and access to 81 high quality WordPress themes included in every Elegant Themes subscription.
Get Explorable Now!
Note: Many of the articles on this site include affiliate links that may earn us a commission if you decide to buy the recommended product.
Related Articles