Excellent Resources for Free and Premium Micro Stock Video Footage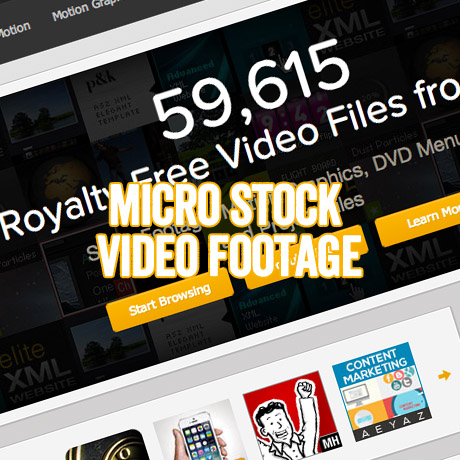 Video is an excellent visual eyecatcher making it an effective marketing tool. It generates curiosity and is a perfect hook to grabbing the attention of website visitors. If you are not so video savvy or simply don't have the time to shoot videos yourself, here are some outstanding resources for micro stock video footage for your website.
VideoHive is an Envato Marketplace where you can buy and sell royalty-free footage and motion graphics, After Effects Project files, motion graphics, and dvd menus starting at just a few dollars. Items are priced on the complexity, quality and use of the file. You can also get a free featured video file monthly when you sign up. Registration is free.
Pond5 is a stock media marketplace with over 1.9M stock video footage to choose from. Prices start at $5 for video which tend to be among the lowest in the industry because they are are set by the artists themselves who earn a much higher percentage than they do elsewhere. Free weekly stock video clips.
iStock started with just a handful of photos in 2000 but now offer vector illustrations, videos, music and sound effects. All iStock files are royalty-free1, which means you only have to pay once to use the file multiple times. iStock has 3 types of licenses : standard, editorial use only, and extended license for all their multi media stock. Free video given away monthly.
Sony Pictures Stock Footage is the stock footage arm of Sony Pictures Entertainment, provides advertisers, corporate video producers, and entertainment productions access to over 120,000 stock footage clips. All of the clips in the Sony Stock Footage collection were originally filmed for Sony Pictures feature films (Columbia Pictures, TriStar Pictures, Screen Gems, & Sony Pictures Home Entertainment) and Sony Pictures Television productions (previously known as Columbia TriStar Television). Sony Stock Footage content is available on 35mm, HD and any other digital format. Sony Pictures Stock Footage offers a wide range of rights managed clips with pricing determined by the exact licensing terms you require for your production.
VideoBlocks.com is a subscription-based (monthly) website that provides members with unlimited downloads of stock video, motion backgrounds, production music, sound effects, special effects, After Effects templates and much more. Instead of charging per download, members are given unlimited access and are allowed unlimited download rights to royalty free multi media clips that can be used on all types of video productions and projects.
Fotolia is the first worldwide microstock organization to offer both crowdsourced and professional images on one site. Their crowdsourced library includes millions of royalty-free images, vectors, illustrations and video footage clips. All video footage clips on Fotolia are royalty free, and can be added to your commercials and presentations without time limits or restrictions on the number of copies you distribute. Fotolia requires you to use your credits to download images, vector illustrations and video footage. You can also download with a subscription plan and benefit from amazing volume discounts.
Note: Many of the articles on this site include affiliate links that may earn us a commission if you decide to buy the recommended product.
Related Articles