Events and Entertainment WordPress Themes – December 2013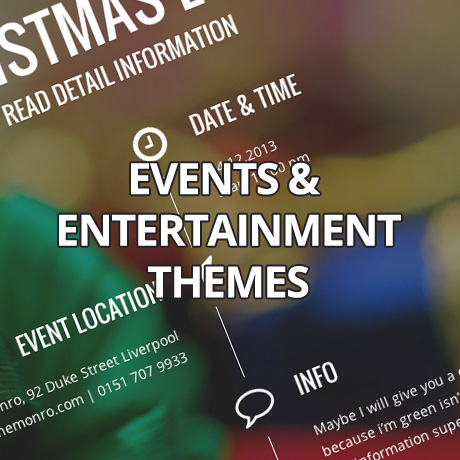 Get into the groove with these cool WordPress themes just in time for the most event-filled season of the year. Create a site for you or your clients that will surely stand out with these creative events and entertainment WordPress themes.
Polaris Premium WordPress Theme is an ultra responsive and modern one page WordPress Theme suitable for events or parties. This premium retina ready theme comes in 16 color styles and includes: Magnific popup, Font Awesome iconic font, parallax, easy to extend and much more. It is a great way to present your important events and activities all in one sweep.This premium theme is based on popular Twitter Bootstrap framework. This template uses the latest HTML5 and CSS3 technologies.
Clubix Premium WordPress Theme is a responsive theme designed especially for nightlife, events, and music related websites. Party goers,fans, followers, or nightlife club hoppers are always on the lookout for the latest happenings around town. A cool way to address the needs of this specific market is putting up an online calendar of events, concerts, gigs, tours, launches, and other events or nightlife activities that will keep them up to date. For music enthusiasts, Clubix has two custom post types 'under the hood' to help you create and upload new songs organised on albums and events. You can customize your background image and also the color of the main elements from the theme, add music players, sliders, WooCommerce, Google maps, and so much more.
Flycase Premium WordPress Theme is a professional and easy-to-use Music WordPress Theme that is highly and easily customizable, ready for all devices, simple to set up, and even e-commerce ready. Specifically designed for music enthusiasts, professional or not, this theme includes all the features you need to present, promote and sell for your band or label. This edgy, modern theme has everything a fan wants and everything a music artist needs – from photo/video galleries, discography, tour dates, multiple playlists, etc. – all in one cool theme.
Amplify Premium WordPress Theme is not your typical band theme with its minimalist and clean design but still capable of managing music website requirement such as gigs, discography, and videos with ease using the AudioTheme plugin. The WordPress admin panel is transformed into your band's ultimate management tool with an easy-to-use user interface. Add your own language and display RTL languages as intended. Upload your tracks and allow users to play clips or full songs on every page of your website with the custom audio player. It ties in directly to your AudioTheme tracks and offers an easy-to-use interface for selecting and updating tracks in the jukebox. This theme is powered by Foundation by Zurb and Sass, a powerful CSS pre-processor where you can either edit the CSS directly or use Sass to regenerate your theme CSS easily and quickly.
Applause Premium WordPress Theme is a responsive one page band & musicians theme, built using Bootstrap framework using HTML5 & CSS3. For all who love music or those who are in the music industry such as music bands, musicians, DJs, producers, labels or organizers of events and festivals, this theme is the perfect solution to organizing necessary information and media such as Events, Audio, Galleries and Videos. Applause can display each event on their own map with its location and venue, the price and availability of the tickets. It can display your latest audio tracks with awesome player and you can even add a remote link or upload your own mp3.
Note: Many of the articles on this site include affiliate links that may earn us a commission if you decide to buy the recommended product.
Related Articles