Elegant Themes Releases Their 84th Theme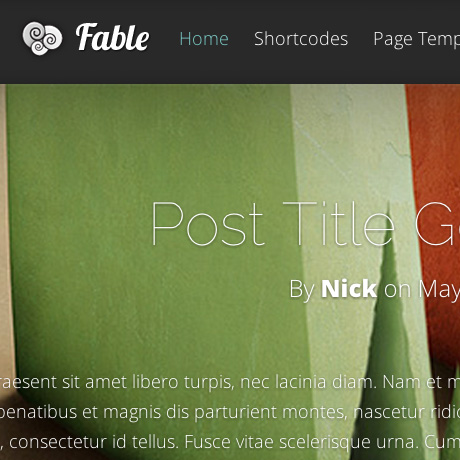 Never underestimate the impact of a good story. Better yet, the impact of great visuals to enhance a good story and make it as engaging as possible. Elegant Themes has done just that with its 84th premium WordPress theme, Fable.
Fable Premium WordPress Theme is every writer's delight. If you've ever wanted to publish your own writings to reach and influence an audience with your ideas and thoughts in a way that will engage them, Fable is the ideal theme for you. This latest theme from Elegant Themes is beautifully designed with its carefully chosen color styles and typography that will magically frame each post or article. Professional bloggers and serious writers will enjoy the way their posts are put in the spotlight and brought to the fore. Telling a story has never been as easy and as beautiful.
Fable was built with a Post Formats UI that's a breeze to use. Its minimalist approach, wide and spacious layout, full width and long-format style, and overall relaxed design aesthetic makes for easy reading. Tablet and mobile users can simply grab a cuppa Joe, sit back and relax as they scroll through every post and get lost in your stories.
Fable is more than just fluff. This theme also contains other powerful features like a portfolio, an image gallery, shortcodes, and more. It comes with 4 different post formats – Article, Video, Gallery, and Quote – to support whatever literary whim you have at the moment. These different post types are individually designed to bring prominence to your post by giving it the "stage" that it needs. Its carefully chosen typography sets the tone of the whole theme, however, users can also select from the many font options to give their own sites the character that they want.
Features:
Responsive Design
Theme Options
Shortcodes
Page Templates
Unlimited Color Schemes
Secure and Valid Code
Complete Localization
Fable Premium WordPress Theme includes perpetual updates, unparalleled support, and access more than 80+ high quality WordPress themes included in every Elegant Themes membership.
Get 80+ WordPress Themes For $39!
Note: Many of the articles on this site include affiliate links that may earn us a commission if you decide to buy the recommended product.
Related Articles