Elegant Themes Releases First Ever Free WordPress Theme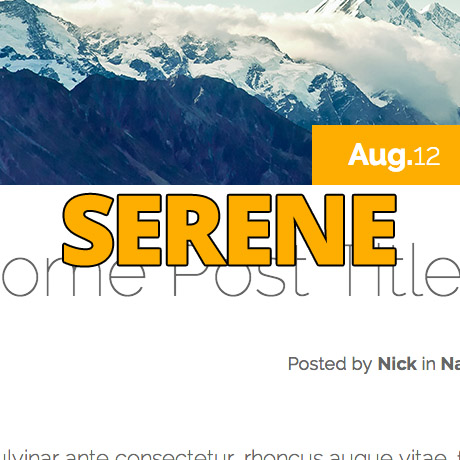 Great news from Elegant Themes! Elegant Themes just released it's first ever FREE WordPress theme and it is a gem. Check out Serene – a clean, minimalist and absolutely beautiful blogging theme that will surely inspire your writing muse. Its modern and yet elegant design create that easy to read feel that will make visitors want to linger a little longer.
Customizing is definitely easy using the Theme customizer giving you freedom to be creative with it and match your blog to your personality and writing style. Capture your every mood in every post with the use of any of the available 6 post formats to choose from (article, gallery, audio, link, video, and quote). Post on the go and be confident that your blog will look amazing on any mobile or handheld device because of this theme's responsive design. Organize your posts and color code each section or post type with custom colors and select fonts. The theme's overall typographic style is clean and conducive to encouraging reading. Prefer some other type of font? You can easily change it to any of your font preferences in the theme's admin panel. Social networking is also a breeze with the built in social networking buttons that can easily be configured in the Customizer panel.
Overall, you get the tried and tested Elegant Themes quality with all the basic things you need to set up an amazing looking blog at absolutely zero cost. This free WordPress theme includes features such as:
nElegant Design
Secure and Valid Code
6 Different Post Formats
Browser Compatibility
Unlimited Colors
Unparalleled Support
Serene Free-mium WordPress Theme is available for download in the WordPress.org WP theme Directory. An exclusive version with additional bells and whistles will soon be made available to Elegant Themes members and subscribers.
Get Serene Now For Free!
Note: Many of the articles on this site include affiliate links that may earn us a commission if you decide to buy the recommended product.
Related Articles