Elegant Themes Launches Lifetime Option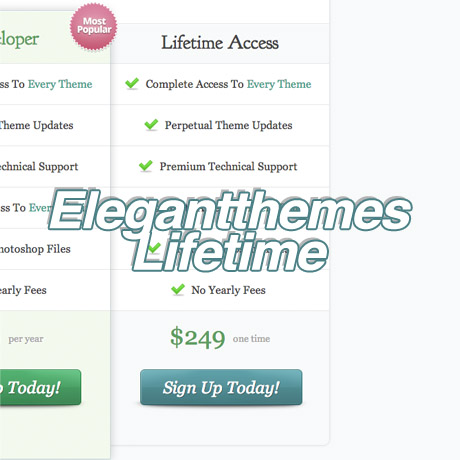 For business people, time is a precious commodity. The busier they are the more deliberate they are on how they spend it. Most of the time they do not want to waste their time on business decisions like necessary recurring business expenditures that can be dealt with once and for all. Why? Because they already know that these activities are necessary to their business and they know that they will repeat themselves over and over again and . So instead of spending time repeating something that can be done once they opt to get rid of this tick list item so that they could spend their time on other things that need more of their attention.
If you are a busy WordPress professional building, servicing and handling several website accounts and you want to save yourself time doing admin stuff and spend more time marketing, developing, or providing support to your clients, you might want to check out one of Elegant Themes' licensing options – the Lifetime Access license. What's great about it?
Aside from the affordable Personal License for the average user and the extremely Popular Developer License for experienced designers, Elegant Themes also offers Lifetime Access for a one time fee of $249 which is perfect for the busy WordPress professional who wants to maximize his working hours. What does the Lifetime Access License include?
You get:
Complete Access To Every Theme – around 81 beautiful and functional themes as of this writing
Perpetual Theme Updates
Premium Technical Support
Complete Access To Every Plugin
Layered Photoshop Files
NO YEARLY FEES
If we do the math, for $249, it will cost approximately more or less $3 (as of this writing) for each theme, plugin, not counting the psd files, updates, support, and, not including all future themes and plugins yet to be released. At the rate Elegant Themes is releasing new themes, the cost per theme will go down even more. Not only that, you don't need to pay yearly fees ever, you lessen your admin load, and save time which you can use to do something else. Sounds like a good investment, don't you think?
Check out Elegant Themes today.
Get Elegant Themes Lifetime
Note: Many of the articles on this site include affiliate links that may earn us a commission if you decide to buy the recommended product.
Related Articles