Cool Blogging WordPress Theme From Elegant Themes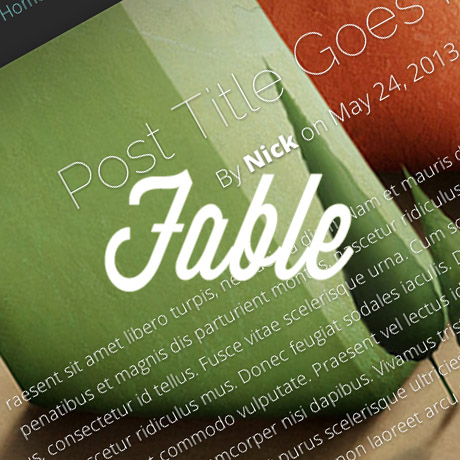 We all have a story to tell. Simple, funny, sad, challenging, happy – everyone has an opinion, a point of view, a story. That's why blogging will always be here to stay and that's why people secure their own dot coms as an avenue to voice their stories. As such blogs, need to visually reflect the author's persona giving him or her the platform to share and present text and media content effectively to visitors who are drawn to our site.
Fable Premium WordPress Theme is a theme conceptualized to help us tell our story to a worldwide audience. An important method employed in this theme is the use of post variation, allowing visitors to distinguish one post after another. The theme is also designed for easy reading as it employs a full width, long format style turning your scrolling into a pleasurable journey. Subtle emphasis on your content is achieved by using bold types giving your content a non-overpowering full screen attention.
Fable comes with an options panel for convenient and powerful customization features. You also have the option to use shortcodes for more complicated customization. Ready page templates are also available for those who'd like to put the theme up and running in no time. Fable is responsive and adjusts to the smaller displays of mobile devices.
Features:
Responsive Design
Theme Options
Shortcodes
Page Templates
Perpetual Updates
Secure and Valid Code
Browser Compatibility
Complete Localization
Unlimited Colors
Unparalleled Support
Fable Premium WordPress Theme includes perpetual updates, unparalleled support, and access more than 80+ high quality WordPress themes included in every Elegant Themes membership.
Get 86+ WordPress Themes For $39!
Note: Many of the articles on this site include affiliate links that may earn us a commission if you decide to buy the recommended product.
Related Articles