Black Friday & Cyber Monday WordPress Deals 2012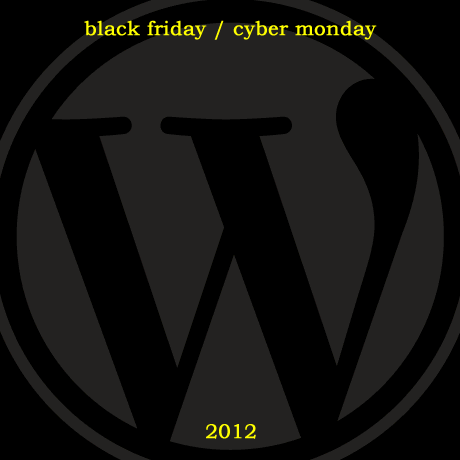 We like to keep our pulse on the latest and greatest in the world of WordPress, and we wanted to bring you a list of some of the biggest and best WordPress deals for Black Friday and Cyber Monday 2012.
Bluehost: You can join Bluehost hosting at the bargain basement price of $3.95/month starting Friday November 23, 2012 – Monday November 26, 2012. Get the Bluehost Promo here.
HostGator: Get 50% off your hosting order on Black Friday and Cyber Monday. This includes shared, VPS, and even dedicated accounts. Get domains for $1.95 (this is the lowest price HostGator has ever had on domains). Get the HostGator Promo here.
Themify: Starting now until November 26th, 2012, you can use the coupon code BLACKFRIDAY to get 40% off on all of our Themify WordPress Themes including the Club membership! This is a great opportunity to join their developer club at a fantastic price. You can get all 33 themes (Photoshop mockup files included) for just $53.40 (normally $89). That is $1.62 per theme! If you are an existing member, this is a good time to buy more themes or upgrade to the Club membership. Get the Themify Promo here.
ManageWP: Subscribe to a premium subscription and you'll receive a 30% life-time discount for any ManageWP package or configuration, which will remain active for as long as you remain a customer, even if you upgrade or downgrade in the future! Get the ManageWP Promo here.
Theme Junkie: This year, Theme Junkie is offering a promo code that allows you to get 40% off with the promo code BLACK. This brings the lifetime membership to $119.40, the 1-year membership to $41.40, the 6-month membership to $29.40, and the single purchase (which lets you get 3 Themes for the price of 1) to $23.40. Get the Theme Junkie Promo here.
Obox-Design: Obox has put together two bundles for the Black Friday/Cyber Monday promotion this year. The Classic Bundle gives you 4 overhauled classic Themes + 1 Plugin for just $25. The Super Premium Bundle gives you 6 amazing Premium Themes + 2 Plugins for $50 (an incredible savings of $610). Get the Obox Design Promo here.
Solostream: Get 20% off your Solostream purchase with promo code: 5084BE. The promotion is valid through Monday November 26, 2012. Get the Solostream Promo here.
---
Related Articles