30 Different Content Slider Plug-ins for WordPress
When looking at websites, slideshows and carousels are the best way to present images and this is usually achieved using jQuery. To have jQuery slider galleries or other image presentation on your web page you have to code or download a jQuery slider plug-in and integrate it. Those sliders give effective looks and are very attractive to users.
Here you can see 30 Different content slider plug-in for WordPress. Hope these plug-ins help you…Enjoy!!!

CCSlider WP makes it easy to embed the CCSlider jQuery slideshow plug-in in your Word Press theme. CCSlider is an unique slideshow plug-in because of the fact that it supports 3d transitions! There are 14 stunning 3d transitions available, and also 16 stylish 2d transitions. You have the option for mentioning a 2d transition fallback for old browsers that don't support HTML5 Canvas, which is used for producing the 3d transitions.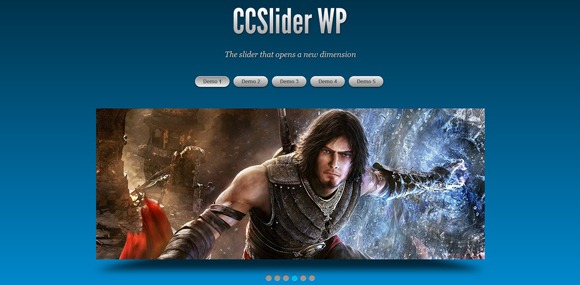 A ready to use jQuery slider/carousel to present your images in a unique, smooth and customizable way.Simply link to the JavaScript and CSS files and apply it to your HTML element like other jQuery plug-ins.

In this tutorial we are going to create a stunning full page gallery with scrollable thumbnails and a scrollable full screen preview. The idea is to have a thumbnails bar at the bottom of the page that scrolls automatically when the user moves the mouse. When a thumbnail is clicked, it moves to the center of the page and the full screen image is loaded in the background. Now the user can move up and down and the image will get scrolled automatically, giving him the opportunity to see all of the image.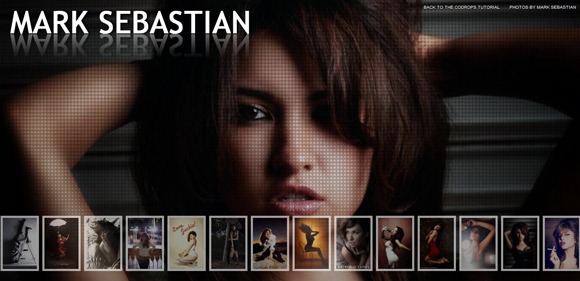 Fancy Thumbnail Slider is a Full screen carousel slider with lot of features and settings. The slider fit automatically to the Browser size.
With just some small changes on the css file you can change the layout of your Slider.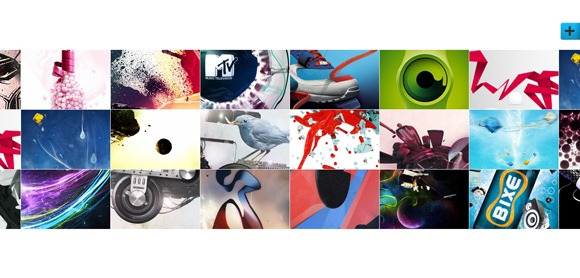 liJQuery Image Slider is carefully crafted slider/banner image rotator, full of features, easy to install and customize. Whenever you need a full featured slider image rotator or you need a simple ad banner, liJQuery Image slider will do the job with ease

uBillboard is a Premium Slider for Word Press. It is a jQuery based slider with a multitude of transitions and options for you to be able to customize it to your needs while not overwhelming you with options you never wanted or needed. Version 3 is a revolutionary release with most of the codebase rewritten from scratch.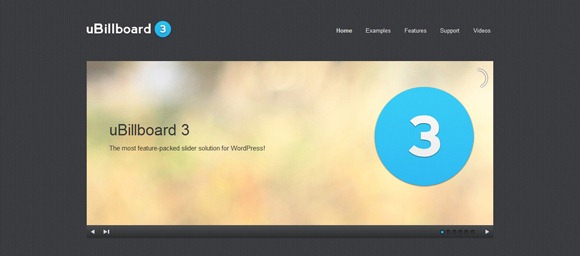 BLADES jQuery is a flexible jQuery banner rotator that makes an impression. Easy to customize with several options including 5 unique transitions, BLADES jQuery is the type of banner that can easily headline your next project.

DD Slider WP features EVERYTHING that the jQuery plug-in already offered PLUS a custom admin panel, with total management of slides.

Multipurpose Bookshelf Slider Word press Plug-in is useful for displaying products such as books, magazines, DVD, cd and others. It's a way to showcase products in an attractive manner.

This is a Word Press plug-in of the Layer Slider. You can create as many layers and sub layers as you want. You can use images or any other HTML elements, including Flash movies as layers. The script is very user-friendly, you can add global settings or local (per slide) settings to each layer or sub layer. You can change delay times, easing types, durations and much more with the WYSIWYG editor.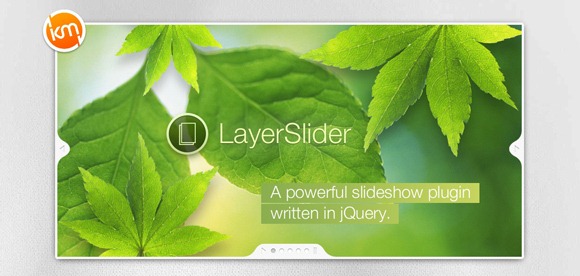 Flip Book Word Press Plug-in is based on XML Flip Book / AS3 one of the three top selling items of all times on Active Den. It has been built from scratch. Almost everything you see on the page is easily customizable through the Word Press administration panel – easy installation, no coding skills required.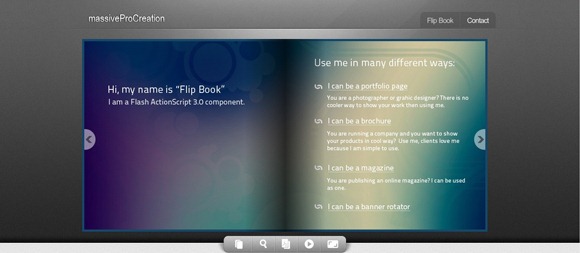 We've taken the solid technological foundation which underpinned the success of the Estro jQuery plug-in, and have pushed it even further. We have added a custom admin panel which will allow you to customize all aspects of your slider without having to touch a line of code. Drag and drop arranging of your slides, multiple slider insertion, skin selection, Ken Burns customization, you name it, we've included it.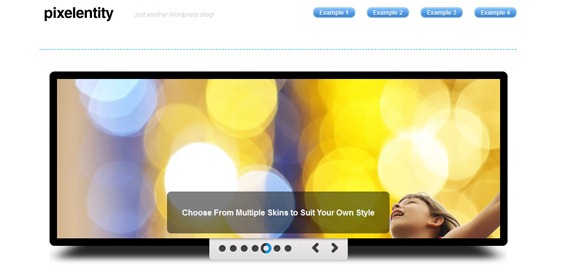 Word Press Media Gallery is the ultimate gallery for your Word Press site. It supports any kind of content from simple images to advanced inline content to videos. Because of this, it can be used not only as a gallery, but also as a slider, banner rotator, video gallery and more. This is the only gallery you will ever need.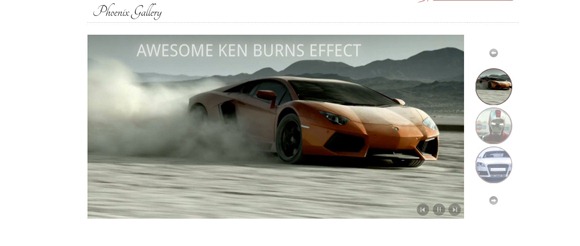 A combination of Parallax Effect, state-of-the-art Slider and Text Animations defines this slider. Customize unlimited sliders with our own Drag&Drop Slider Editor to your very needs. Give each slider a parallax caption to transport your message.

Royal Slider for Word Press is a cross-device jQuery content slider with touch-based navigation and responsive layout.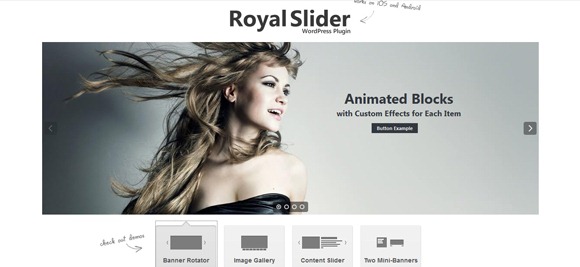 18. Rama ($6)
Rama – The jQuery Slider Plug-in animates your image and text slides with transition effects of the wide library (21 transition and 10 object animation effects available). Easy installation, state-of-the-art transitions and text animations define the fresh line style.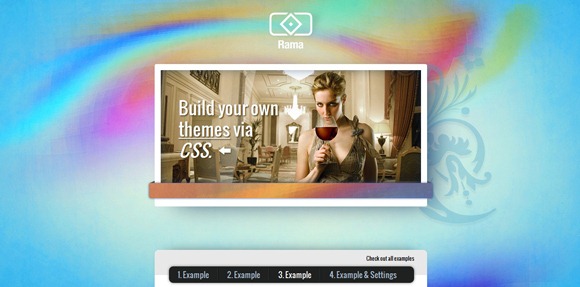 This file is suitable for homepage banner, slideshow, product viewer, Gallery even though you can use as an intro. All animations are customizable so it suitable for any type of banners. You can use any number of layer on each slider. You can position and spacing each layer easily using data attributes. In download file, five default samples are available in separate html file.

Cycle is a script that supports image presentations to easily display multiple images. This script supports a lot of effects and the cycling of html elements. Presentation Cycle is a variation on the functionality of Cycle. Instead of generating a list of numbers that are clickable Presentation Cycle generates a progress bar that shows when the new slide will appear.

jAccordion is a flexible and lightweight jQuery (1.4.3+) plug-in full of features that let you customize it to suit your needs.

This is a jQuery Banner Rotator / Slideshow with translucent background set for caption. Supports Responsive and fluid layouts. Supports touch swipe navigation on iPad and Android tablets. 8 example variations included with source package, Around 55 plug-in settings included for deeper customization. The captions can be customized by both plug-in settings as well as CSS .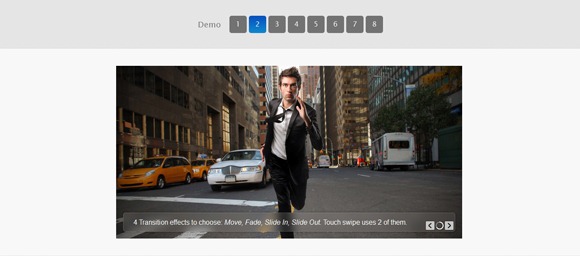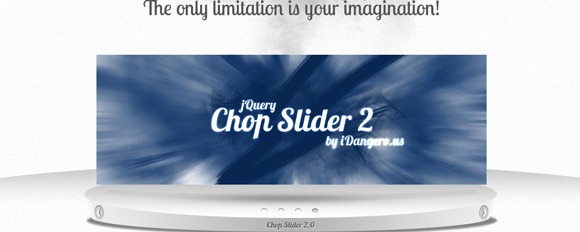 Before-After allows you to place two images on top of each other and use a drag gable slider to hide and reveal each image. This is especially useful for highlighting a Before/After makeover or Untouched/Photo shopped images side by side.

Responsive Ken Burner Slider jQuery Plug-in is the premium way of using a slider in your website. A combination of Ken Burns Effect, state-of-the-art Slider, Text Animations and Responsive rebuilding defines this slider.


Timeline Slider is the definitive plug-in to build your history timelines. Its main configuration can be easily customized due to its compact config parameters, directly from the html file. Also more configurations can be edited through the css style sheet file. It comes with 2 skins, Dark, Light, to make easy the integration on your web project. The powerful jQuery library makes this component cross-platform.

CJ Shuffle A jQuery Banner / Ad Rotator, is a nice departure from typical banner rotators. It will instantly grab a users attention with its shuffle effect and help engage your website's visitors.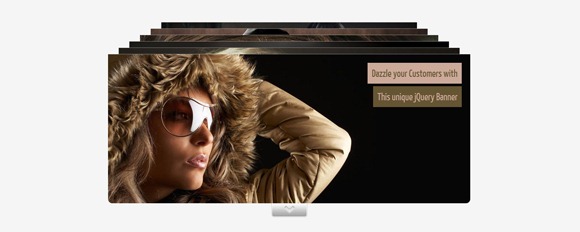 Jaw dropper Slider is a jQuery image slider that comes with some really unusual transition effects.

Use this sexy and stylish banner slideshow to spice up your website. Place images, inline HMTL content, media (video etc) vie pretty photo inside the slider. Some of the options include vertical or horizontal orientation, with or without rotation, and 4 different types of movement. Embed multiple instances in same page (example included in download package). All 9 demo examples included in the download package for easy setup.

Hope you enjoyed watching this different sliders, tell us what you felt by dropping down your comment.
---
Related Articles