15 Sensational Mobile WordPress Themes
According to a survey I came across a few months back, the number of people who use a smartphone is larger than the number of people who use a toothbrush! This means that if your website is not mobile phone friendly then you are missing on on a lot of visitors. Some people feel that if the number of people who surf the Internet on smartphones is A and the number of people who use the Internet from their computer is B then the total number of Internet users is A + B. Wrong!
A lot of people browse the Internet on their smartphones only when they can't access it via a computer for e.g. while travelling in a car, train or bus etc. This means that there is a big overlap between A and B. A major portion of smartphone browsers is a subset of computer browsers. So what does this has to do with your website? A lot. If you ensure that your site is easily accessible to smartphones then the number of page impressions your site gets can dramatically increase as the same people who were visiting your site via their computers can visit it even when they are…say…travelling.
Below we have collected 15 beautiful WordPress themes designed specifically for mobile phones. Some are free and some cost a nominal amount. Check them out and see which ones work best for you! NOTE: A post on great Responsive WordPress Themes for 2013 is coming soon!

My Mobile Page WordPress Theme is a minimal mobile word press theme. With a modern look and a lot of cool features this can be the perfect personal mobile website for you.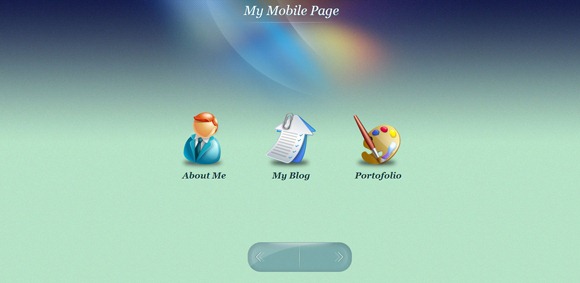 My Mobile Page V3 WordPress Theme is the third version of "My mobile page" word press mobile theme series. The Word press version comes with a custom Ajax powered admin panel, from where you can setup the theme and his features. You can customize the home navigation menu, adding and editing the icons and the numbers of pages to display.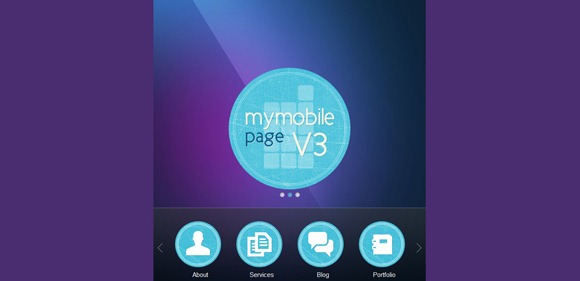 Mobi Theme is a mobile theme for WordPress. It can be used either as a standalone blog OR in conjunction with one of the many plug-in that offer theme switching according to the users platform (See FAQ 's for more info). Although compact in design, this theme offers all the features to the user that a normal Word Press blog theme has to offer, in other words it doesn't cripple the users browsing experience by hiding archives and categories selection and other browsing options.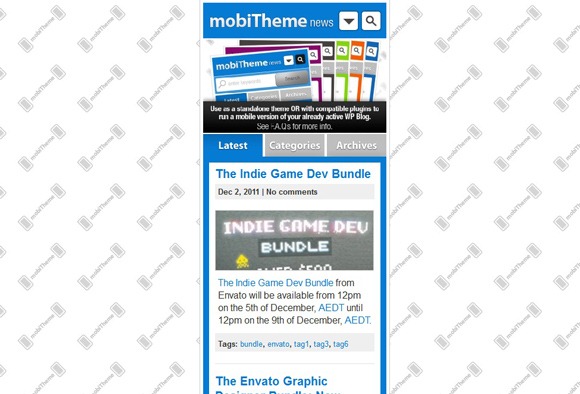 My Mobile Page V2 WordPress Theme is a unique word press mobile theme with some amazing new features, 100 % customizable, fluid layout, automatically resized to every mobile resolution, auto device orientation resizable, custom admin panel.
iWorld is a wp theme designed exclusive for iPod Touch and iPhone, Can be use for corporative site, portfolio, blog.

Obox Mobile is a Mobile Framework that will seamlessly convert your Word Press site into a mobile friendly experience when people visit it via their phones.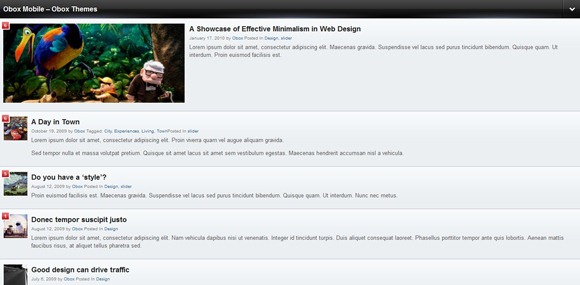 Sensational brings out the awesomeness of your blog to the fullest. It will transform your average looking Website into an absolute stunner. You can play with different Color Options and layout styles to make it a perfect fit for showcasing your content.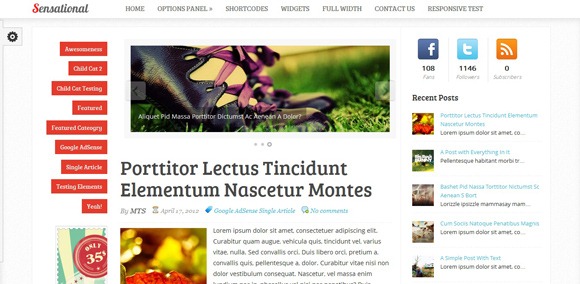 Simple Mobile is a WordPress theme designed for mobile devices, especially iPhone.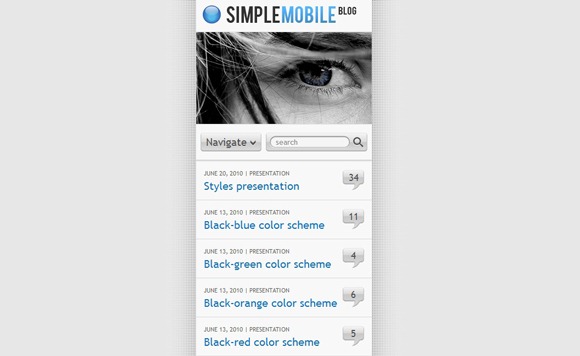 WPtouch automatically transforms your Word Press website into an application-like theme, complete with Ajax loading articles and effects when viewed from the most popular mobile web browsing devices like the iPhone, iPod touch, Android mobile devices, Palm Pre/Pixi and BlackBerry OS6 mobile devices.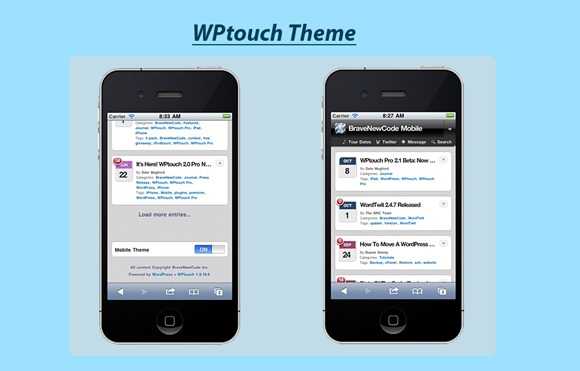 Touch Mobile & Tablet is a WordPress theme built with HTML5 and CSS3 for mobile and tablet devices. It is a fluid design that will adjust to screen size and orientation of the device and is suitable for business and personal sites.
1stGiantLeap Mobile is a HTML5 /CSS3 template tuned to look perfect in mobile browsers. The markup is device orientation (landscape/portrait) sensitive, so when you change device orientation by rotating it 90 degrees CW or CCW this template will look nice.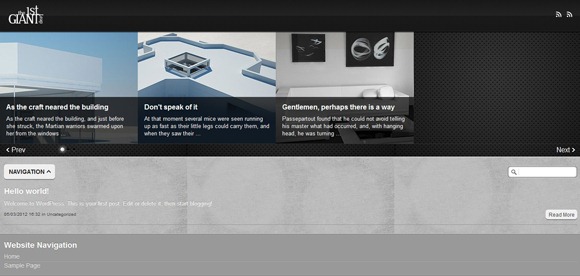 Mobile PRO is a beautiful professional WordPress theme for mobile devices. However, it looks great on any computer screen. Mobile PRO comes with an intuitive, easy-to-use admin panel. Mobile PRO automatically detects your device, and resizes and reorganizes its components to make the best possible use of space.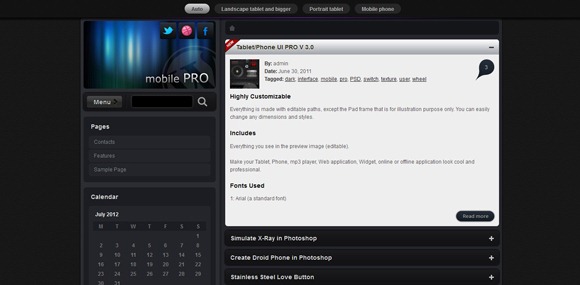 I feel glad to introduce a free WordPress theme for the Mobile Phones. This is a minimalistic theme that can be used by bloggers who want to target mobile phone users. This theme will fit perfectly in all the mobile phones (any resolution) and because of its light weight, will also reduce loading times.
Hybrido is clean and elegant word press theme. Many features and Custom Widgets makes this theme very flexible.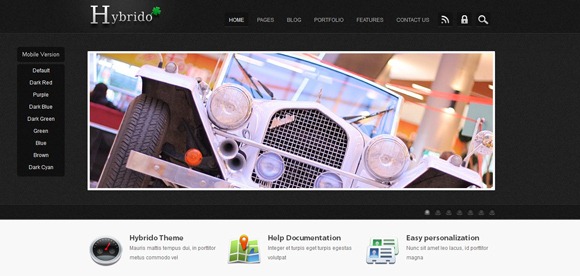 iKon is WordPress theme designed exclusive for iPhone and Android devices. In case if you want to use this theme on the same WP installation with your main desktop theme the ikon-option plug-in will allow you to set all the options of the iKon theme without to activate it.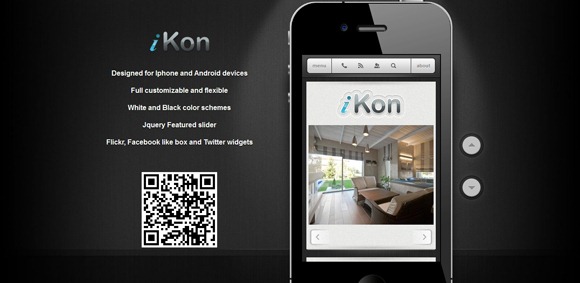 ---
Related Articles