Statua Premium WordPress Theme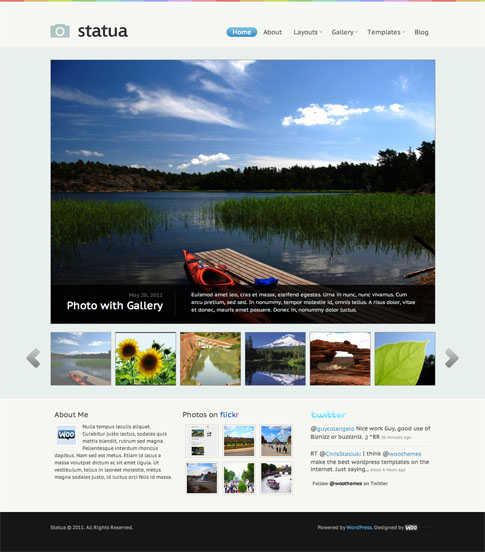 Statua premium theme is another WordPress theme designed by Chris Rowe, which is aimed at photo enthusiasts who want to use WordPress to show off their photos, galleries, and overall mad photography skills in a stylish fashion. Statua premium WordPress theme makes use of JavaScript sliders and alternative layouts to make it easy to setup and customize so that you don't look like every other WordPress template user. Statua is the true definition of a premium WordPress template that allows users to truly utilize the theme's extensive flexibility to tailor their web presence to exact specifications. It's worth every penny — give Statua theme a spin at the end of the post!
Statua Theme Features
Custom Post Type for Photos — Statua takes full advantage of the new custom post type functionality than came with WordPress 3.0, so adding photos and galleries is dead easy!
Alternative Layouts — Statua currently includes 3 alternative layouts which you can set as your homepage or use as a page template. Each layout has its own set of options in the options panel.
Photo Sliders — Statua makes beautiful use of JavaScript sliders in the layouts to show of your photos. You can set the slider to fade or slide between photos, and also adjust speed, et cetera in the options panel.
Custom Typography — You can customize the typography in the theme to suit, and there is full support for Google Fonts in the font selector.
Custom Widgets — Statua free theme has 1 sidebar and up to 4 footer widgetized areas, and as always comes with custom Woo Widgets (ad space, blog author, WooTabs, subscribe, feedback, search, embed/video, Flickr, and Twitter).
Alternative Styles — The theme includes 8 alternative color styles which you can preview in the demo, and also has styling options for background color/image and setting link and button color.
Sidebar Manager — Statua's sidebar manager allows you to replace all widgetized sidebars and footers in WooThemes' layouts with unique custom sidebars.
Custom Shortcodes — All of WooThemes' templates include custom shortcodes that allow you to easily add buttons, boxes, social buttons, columns, and more to your posts, pages, and widgets!
Custom Navigation — Woo Custom Navigation has officially become part of the WordPress core. WP Menus allows you to customize the themes navigation to include pages, categories, and custom links.
Built-in SEO Options — Every template developed by WooThemes now includes SEO options to help propel your site's search engine ranking.
Standard Statua Theme Features

Backend Theme Options
Making simple changes without editing code — like adding your own logo, changing to an alternate color style, or adding Google Analytics — couldn't be easier with WooThemes' backend options panel.

Cross-Browser Compatible
WooThemes has tested their layouts to ensure they are compatible with all the modern web browsers like Firefox, Safari, Google Chrome and Internet Explorer. All are web standards compliant.
Auto-Sizing Thumbnails
An image resizer script built into the Woo Framework automatically scales your post images for pixel perfect display in your template. No need to upload new cropped images when re-designing your website.

Localized for Translations
All of WooThemes' templates come packaged with a PO file for easy WordPress translations into your desired language — editing one neat, little file without hunting down text in all your theme templates. (Supports WPML plugin)

Woo Framework
All themes are built on the same Woo Framework — modifications through the options panel are a breeze, and all is neatly coded for search engine readiness and further theme development.

Custom Page Templates
Every WooThemes layout comes packaged with a full-width page template without the sidebar, and sitemap/archives page templates for efficient quick links to all the hidden posts you wrote ages ago that still deserve to be seen.
Statua Theme Showcase
Come back and check out the showcase as we find more sites from around the web using Statua.
Statua: $70 | Demo & Download
Buy one for $70 or get access to EVERY WooThemes layout for only $125!
---
Related Articles