Prestige Premium WordPress Theme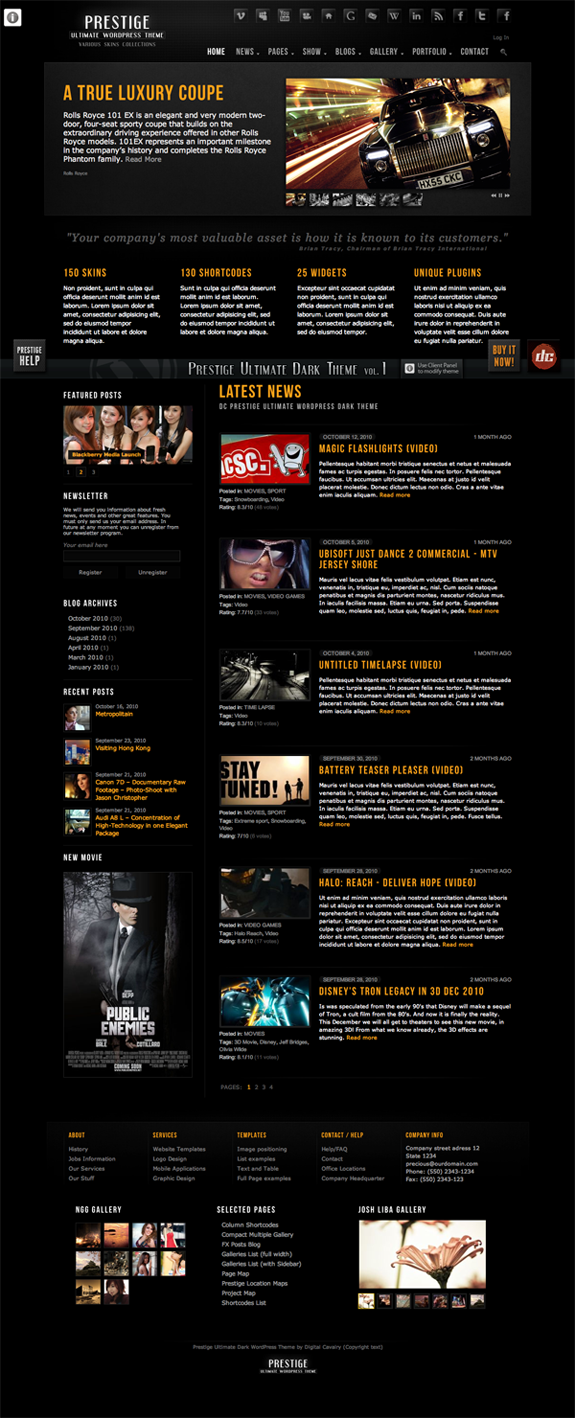 Prestige is a unique and advanced WordPress theme that comes with a large pack of various skins, shortcodes, widgets, and fonts. Thanks in part to the massive content management system options panel, you can fully customize this theme to your needs. Prestige is an incredible package loaded with powerful, yet functional features.
Prestige Features
300 skins — You can check out all of the skins via the Live Preview button at the end of the post. Some skins will work better with specific fonts and colors. In Prestige, two skins collections are included:

Vol. 1: 150 classic and elegant skins
Vol. 2: 150 modern and stylish skins

130 shortcodes with full, live documentation — A huge list of simple and advanced shortcodes that allow you to customize text, insert media files (images, videos, and audio), create unique mini galleries, use sliders in content, and much more. Here you will find a detailed description for all Prestige shortcodes with some examples.
25 widgets — All widgets are described in the Prestige widget list. You can use it to build sidebars and a widgetized footer.
30 fonts — You can check out all the fonts in the Live Preview.
6 header icon sets
DC ratings system plugin — It's possible to use a rating system for blog posts, news, projects, and regular pages. You can also use special rating shortcodes that allow to use the rating system for galleries and portfolios. This plugin also allows vote comments and displays a top comment for each page/post (thumbs system). The plugin can be customized in some ways (for example, you can change the star icons to your own graphics very easily).
DC newsletter plugin — Allows you to collect emails from your viewers. This feature allows you to build multiple collections of emails.
5 homepage sliders — Classic Prestige slider, advanced accordion slider, unique progress slider, functional chain gallery slider (works with NextGEN Gallery plugin), and video slider (allows the display of embeded videos from YouTube and Vimeo). You have full control over sliders via CMS options.
Portfolio and news pages with own categories — 5 types of layouts for portfolio pages, news page with a functional calendar archive search option, and 2 types of featured news displays (slider/single image plus description).
Functional galleries — Thanks to NextGEN Gallery features and shortcodes, you can easily build and manage massive gallery sections. To use this feature, the NextGEN Gallery plugin must be installed.
Multiple blogs, portfolios, news pages, and galleries
Advanced footer — Can be built from four elements (links, widgetized footer, bottom line text, and bottom logo).
Extensive documentation — Features full, live documentation for shortcodes and full documentation of all features as a PDF user guide.
Totally customizable content — Using Prestige's content management system options and a massive collection of shortcodes, you can customize your pages and posts. You can create full-width posts and change the sidebar position from left to right.
Additional Prestige Features
Search system
Flowplayer included
Shortcode sliders as main media item for posts
Map pages
Contact page
Unlimited sidebars
PrettyPhoto lightbox
Main navigation menu
Header icons manager
Prestige location maps
And much more…
Prestige Showcase
Come back and check out the showcase as we find more sites from around the web using Prestige.
Prestige: $35 | Demo & Download
---
Related Articles