MyCuisine Premium WordPress Theme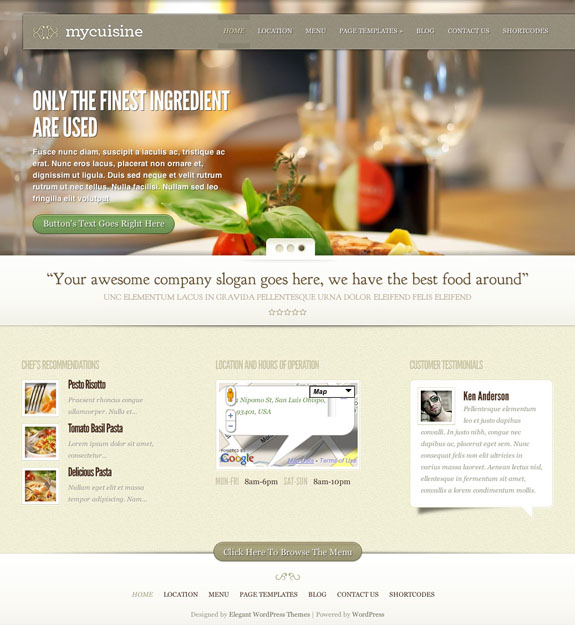 As a chef, you're most comfortable in the kitchen. So why are you wasting precious time endlessly tweaking your site because it isn't quite how you want it? Move beyond those frustrations and let your restaurant resonate with the community using MyCuisine premium theme. MyCuisine serves up eye-grabbing visuals wrapped in a rustic, Tuscan shell. It is tailored for local businesses; however, MyCuisine WordPress theme can easily be altered for any business seeking a cool, vintage look and feel for their website. And with features like a menu page template and location page to give your customers the information they're looking for — all for only $39, which includes the ENTIRE ElegantThemes club — it's a no-brainer!
MyCuisine Features
WordPress 3.0 compatible
Valid XHTML and CSS
Smooth tabless design
5 different color schemes (white, black, blue, green, and purple)
Threaded comments
Gravatar ready
Theme options page
Widget ready sidebars
Advertisement ready
Custom thumbnail images
PSD files
Compatible with all major browsers (Opera, Chrome, Internet Explorer, Safari, Firefox, and Netscape)
Advanced MyCuisine Features

ePanel Theme Options
Tweaking your blog has never been easier. With the advanced theme options page, you are given complete control over your theme and its various settings. Improving usability is important to ElegantThemes and they have made every effort possible to greatly enhance your user experience.

Shortcodes Collection
Designing and organizing your posts is a snap using ElegantThemes' large collection of shortcodes. Quickly create beautiful and complex layouts with ease, while greatly improving the functionality and variety of your content.

Menu Section
The menu page template gives you an easy way to display a list of products separated by categores.

Complete Localization
MyCuisine theme has been localized for easy translation. Using the theme's MO and PO files, you can quickly translate the design without having to hunt through the theme's PHP files to change each word, (if you've spent any time doing this with your own WordPress themes already, you will realize how invaluable this feature really is).

Location Page Template
The location page gives your visitors an easy way to learn your business' address, hours of operation, and contact information.

Support and Updates
If you don't have any way of ensuring the longevity of a well-designed theme, what is the point of making the purchase in the first place? Rest assured that as long as you are a member of ElegantThemes, your theme will always be compaitble with the latest version of WordPress and that their tech support staff will be there to assist you.

Optional Blog-Style Structure
If you would rather not use the abbreviated post structure, you can instead select the optional blog-style layout. When enabled, your posts will be displayed in full like a traditional blog.

Automated Thumbnail Resizing
MyCuisine utilizes timthumb to automatically resize your thumbnail images. Because of this, only one thumbnail image is required per post despite the various thumbnail sizes used in the theme.

Advertising Management
With MyCuisine, you can place 125×125 banner images in your sidebar and 468×60 ads to your post pages with ease. Advertisements are handled from within wp-admin and can be turned on and off at any time.
MyCuisine Showcase
Come back and check out the showcase as we find more sites from around the web using MyCuisine.
MyCuisine: $39 | Demo & Download
Includes the entire ElegantThemes club — truly a best deal in premium WordPress themes!
---
Related Articles