Duotive 2WO Premium WordPress Theme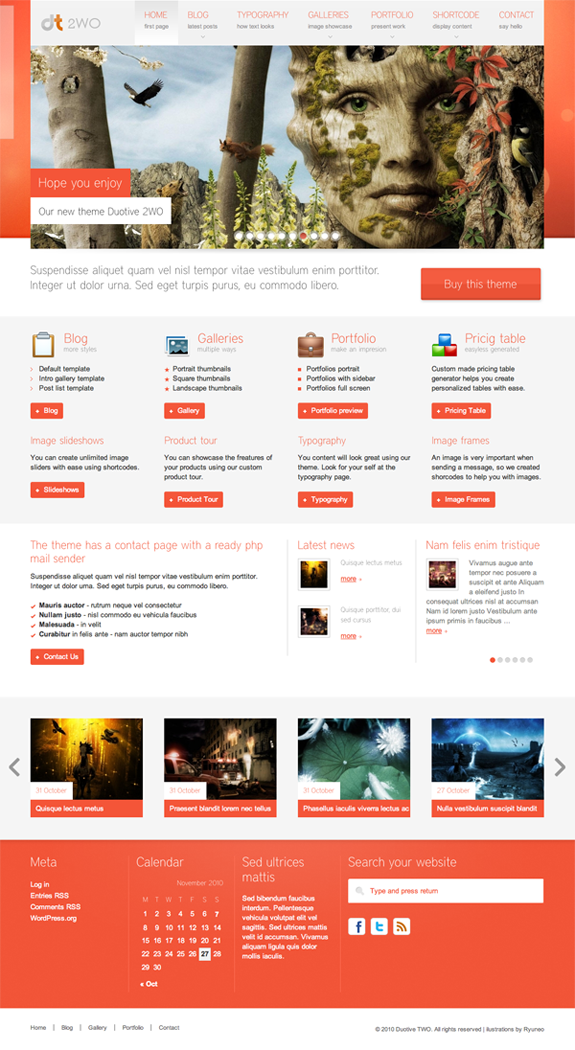 An incredible all-in-one WordPress theme, Duotive 2WO is a wonderful choice for anyone looking to set up a blog, gallery, or portfolio with a sophisticated (but not stuffy) appearance. The theme features extensive options for customization and is well documented. As it is compatible with all major browser types (Google Chrome, Firefox, Internet Explorer, Safari, and Opera), you will have no problem displaying your work properly for the world to see. Take a look at the many features that Duotive 2WO boasts below.
Duotive 2WO Features
Exclusive Features

Product tour
Pricing table with table generator
Tabs and accordions
Multiple image frames
7 slideshow options
Contact page with working PHP mailer
Full-width columns
Multiple list styles
Headings with icons
Gravatar support

Website General Look

2 main color schemes (light and dark)
16 color schemes (business blue, amber, anjou, candy pink, ocean cyan
nature green, Icelandic, khaki, lavender, maroon, orange, papaya,
pink, purple, velvet red, scarlet)
130 backgrounds to choose from (2 for default main colors and 8 for
every color)
12 custom Cufón fonts

General Website Custom Options

Possibility to choose from text logo or a picture via URL
Choose from a left sidebar or a right sidebar
Option for breadcrumb navigation
Enable predefined widget areas only if needed
Single blog post sharing buttons
Twitter, Facebook, and RSS footer links
Custom copywrite text

Front Page Manager

Turn on/off manager (when it is turned off, the front page is displaying
your latest posts)
Every section in the front page manager can be turned on/off via the
admin panel
Variable column number for widgets (2, 3, and 4)
Intro text with possibility to disable the big button
Front page bottom area with a big 1/2 width widget area, a latest posts
scroller, and content scroller from a category of your choosing
Content scroller with multiple options (category where to get posts,
the number of posts to display, and order selection)

Slideshow

Possibility to turn the slider on/off
Change where you want the slider to be displayed (only on front page or
the whole website)
6 slider possibilities
Slide manager (add new slide, delete existing slide, edit slide, move
slide up, move slide down)

Unlimited Sidebar

You can create as many sidebars as you want with the sidebar manager and
assign them to the proper page/post

Blog Options and Customization

5 blog styles (default template, with no meta, with no extended date meta,
list, with intro gallery)
Option for categories to be displayed on every blog page
Option for the number of posts on a page for each blog style

Unlimited Portfolios

You can create unlimited portfolios with the portfolio manager in the
admin panel
Multiple portfolio styles with 1, 2, 3, and 4 columns and templates (with
sidebar, full-width, and portrait)

Custom Widgets

Duotive contact details
Duotive Flickr photo stream
Duotive Facebook "Like" box
Duotive Facebook "Like" button
Duotive mini-gallery
Duotive newsflash
Duotive recent tweets
Duotive testimonials
Duotive 2WO Features
Come back and check out the showcase as we find more sites from around the web using Duotive 2WO.
Duotive 2WO: $35 | Demo & Download
---
Related Articles