Dropbox – New Data Synchronous Service – AWESOME
Today, I got the link from Twitter friend (I'm sorry that I cannot remember who that guy :D) about Dropbox service. I was really surprised about what Dropbox can do. Actually, I don't usually published any entries like that, but I should forward you guys to a service that you have never used before. I recommend this service from Dropbox to all web designers. This is an awesome Data Synchronous Service that can syncs across your computers, even when go online.

Dropbox is software that syncs your files online and across your computers.
Put your files into your Dropbox on one computer, and they'll be instantly available on any of your other computers that you've installed Dropbox on (Windows, Mac, and Linux too!) Because a copy of your files are stored on Dropbox's secure servers, you can also access them from any computer or mobile device using the Dropbox website.
When you created an account from DropBox website, you can simply install DropBox application on all of your computer with same box account for using. So, what's that mean? Oh my god, What file is on your Macbook will be accessed easily from your desktop. I'm currently using 3 computers, 1 MacBook, 1 Dell Laptop and another one is Desktop of Dell. I feel great when I can access all of my files easily from any computers. It likes Local Network, but sometime, I cannot connect to my Desktop from my Macbook without any reasons. Now, I can do anytime I want.
With Dropbox, your files are always in sync.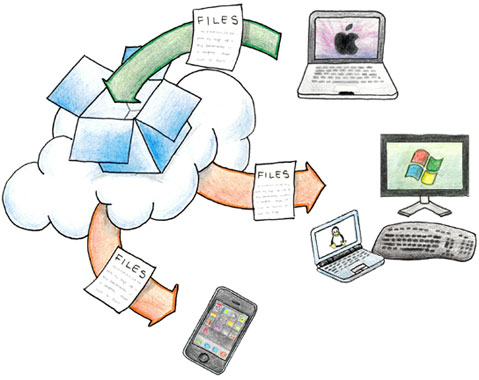 Let's say you're editing a document at home. As soon as you click 'Save', Dropbox will sync this same file to all your other computers instantly and automatically. It's as if you saved the document to all of your computers. This gives you the freedom to work on any of your computers and always have the files you need.
That sounds cool, huh? Every files you save online will be synced to all of your computers. Even when you copy your files into Dropbox synced folder, all of your computers will receive the same. But, please turn your computer on :D. However, you don't need to worry that you will miss the synchronization if your computers was not turn on. Next time, when you turn it on, the synchronization will occur.
Dropbox lets you share files easily.
Copy you files into shared folder, that means you already share them. You can easily share entire folders or photo albums with Dropbox. Simply put the folders you want to share in your Dropbox, and invite people to them. This Dropbox's feature is good with photo sharing. You can put your image into your photo folder on Dropbox account, then invite people to and … enjoy viewing all the photos.
With Dropbox, online backup is automatic.
With free account, you have 2GBs data storage. That amount is good for backing up documents. Even when you computer get crashed (It always happens with Windows usesrs), you files are still safe on the secured server of Dropbox. You can access your files on your computer and whatever happen with your computers, the files are always safe. What could be better than that, huh?
Dropbox lets you go back in time to undelete or undo changes to files.
Every time you save a file in Dropbox, Dropbox syncs it to our secure servers. Dropbox keeps a history of every change made so that you can undo any mistakes and even undelete files. By default, we keep the last 30 days of undo history for all your files. We also have an unlimited undo option called "Pack-rat".
With the same feature of something you always used on your desktop when you deleted files or make an unexpected changing to the files. Thats ok! Let's way back to the time you never done.
Conclusion
Although, this service is the new on web, it is a simpler alternative to what you may have used in the past, such as: Emailing file attachments, copy and paste file between computers, backup and restore files… If you always backup and restore your file between computer, or get mad with messy file storage, Dropbox service fits what you need.
P/S: If you gonna get an account from Dropbox, why not help me earn a little bit extra space by getting referral from my link https://www.getdropbox.com/referrals/NTIxNzUxMTg5 :D. Thanks!
---
Related Articles