WordPress Plugin – Create Your Own Job Board
Willing or not, from Bill Gates to your neighbor, we all are influenced by the economic crisis, (which I prefer to say that it passed) but some of the brilliant minds in economy say that there is still more to overcome the effects. In spite of that, the activity in the online environment remains interesting for the investors and employers. Under these circumstances, the companies changed the strategies and seem to prefer more and more the small teams based on various places worldwide.
It has many advantages (there is no rent to pay for offices, no issues related to transportation) but also there are some disadvantages. People involved, that work online noticed this fact and so appeared the need for an easier way to get in touch with people to hire. Thus, the developers created job boards where clients and freelancers/people interested in being hired could met online and discuss.
Creating a job board is a profitable affair so everyone has an interest in launching such online presences.If you already have a Word Press based website and you want to add a job board, then I have great news for you: a new plugin allows doing this in a wonderful manner. Much more, the options and the features of it will make your job board very attractive for people and in the same time, it will be a piece of cake to manage. It is the perfect item to realize a qualitative job board and here are some ideas that will convince you about it: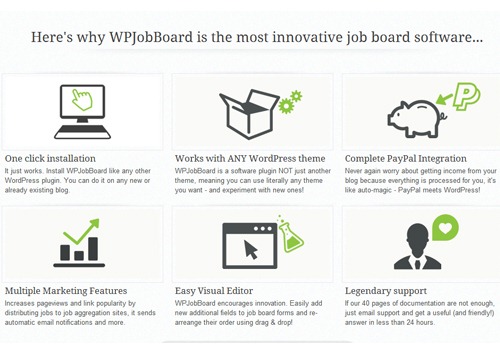 it is very easy to install, what do you think, a single click would annoy you?
the plugin works with every Word Press theme
complete PayPal integration
complete and efficient support, so any issue will be easily resolved
simple visual editor, you mustn't be an expert to handle the new job board
it has multiple marketing features, just to name few: job alerts, job feed, Twitter auto-posting and so on.
There is nothing more convincing than seeing it working in reality; the team behind this plugin is aware about and added on their website few demos to prove the features. If you are interested, please enjoy these!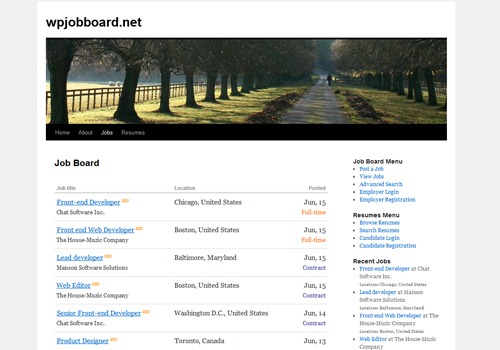 Another point that must consolidate your opinions are the numerous and emulating testimonials from satisfied customers and press. There is another pleasant surprise for everyone that visits the website: here is a blog that keep updated the readers about the new improvements of the plugin and it contains also information about the state of Word Press.
In the end, I am sure that all the above facts make you a brief idea about WordPress Job Board Plugin and its great features. I think is better to visit by yourself the website, look at the features and finally get it because the offer is irresistible.
Purchase options are very good and comparing to the amount of money that may be obtained, buying it is a real bargain. The team expects the feedback from you and the comment form is available for everyone that has something to say, don't be shy and get in touch with them.
---
Related Articles