WordPress for iPhone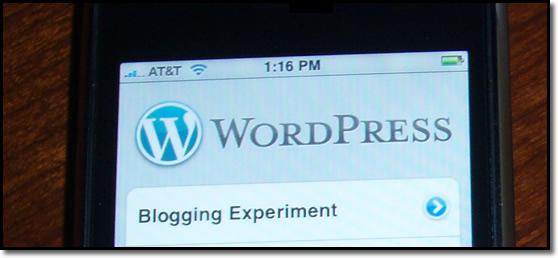 If you don't have an iPhone
, buy one.
If you can't afford one just yet, save your money then buy one
. This won't be a post on why I love the iPhone, but let me just say that this one piece of technology has literally become the brain of operations for about 85% of my online businesses.
While we can never replace the desktop or laptop entirely (I haven't seen the photoshop app … yet) this computer with a built-in phone is nothing short of amazing.
O.K. so how can it help you make money blogging? Glad you asked. After upgrading to the 3G version, I started browsing the App Store for programs I could use in my business. After typing in the keyword "WordPress," I was presented with the WordPress for iPhone Application, and I wanted to take a few minutes to outline some of it's features since I've been playing around with it all day.
How To Add A WordPress Blog To Your iPhone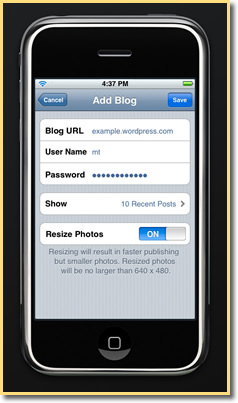 Like most things with the iPhone, adding a blog using the WordPress Application is a breeze, and in the picture to the left, you can see just how easy it is.
Simply click the Blog URL button to enter your domain (both wordpress.com and self hosted blogs are supported), then add your username and password and your done!
Before hitting the save button, you are given the option to chose how many posts are to be displayed in the App as well as whether or not the images you add to a post will be resized (allowing for faster publishing).
Finally, for all this to work, you must enable the check box under Settings>Writing>Remote Publishing that says XML-RPC. This allows you to do remote publishing, and is not checked by default when you install WordPress. Once that box is checked, you're all set to start writing, editing, and posting to your WordPress Blog from you iPhone.
How To Write A WordPress Post With Your iPhone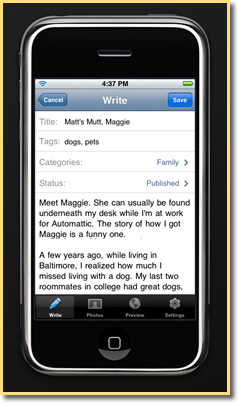 When it comes to actually writing a post, you'll be pleasantly surprised at just how easy it is. Just like in the main WordPress Admin area, you are prompted to give the post a title, tags (if applicable), categories (if applicable), and a Status: Pending Review, Draft, Published, etc. You can also flip the iPhone to landscape mode for a wider viewing area when typing.
Pictures – All images you add to a post are put to the bottom by default, but since html is allowed, you can align or justify the photo(s) as desired. At first I thought you could only add text and photos, but when I previewed the post then went back to the "Write" tab, I saw that the picture was in html. Most likely, you won't be doing any long posts with lots of pictures, but it's nice to know you can use or edit html if you know how to do it.
Preview – After you've written the post and added any pictures, you can click the Preview button to see how it all looks. Sometimes it will be displayed just as it would on your site and other times it will say, "Sorry, the theme for your blog could not be retrieved. A simple preview is shown below." Either way, you'll be able to see how the finished post looks before publishing.
Settings – This final tab allows you to set the Publish Date, Password (if necessary), and select whether or not the photos will be resized.
Comments – Moderating comments is another available feature within the WordPress App for iPhone. You can Approve, Disapprove, or mark them as Spam.
Publishing – When you've got the post just how you want, hit Save and the post is put to your Local Drafts folder on your iPhone. All that's left is to visit the folder, change the check mark to Published, then hit Save. Your post is now published to your site.
Learn more about the WordPress iPhone Application.
---
Related Articles