WordPress Editing Issues
Editor's Note: This is the second week of WordPress Wednesdays and the last of the pre-submitted questions. From here on out if you have a question ask it either through the contact form or the comments and we'll be selecting the best question(s) to answer each week. Enjoy!
When I edit my posts, I lose paragraph breaks and line breaks. The posts become just one long run on paragraph.
I'm going to go out on a limb and assume you're using Safari. Although I've occasionally heard of this problem (see here and here for example ) occurring with other browsers, Safari is notorious for not playing well with TinyMCE, the open source visual HTML editor bundled with WordPress.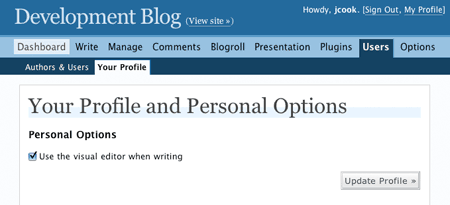 Turning off the WYSIWYG editor (in your WP User Profile uncheck the "Use the visual editor when writing" option seems to help. But the solution I reluctantly settled on was to download FireFox and use it for writing and editing posts in WordPress.
Using WP's built-in Theme Editor is very frustrating. In particular, I find the editing window to be too small and it's annoying to lose my place in the file every time I save. Is there an alternative?
I share your frustration with the Theme Editor but those problems are hard to avoid with an online file editor. I've also experienced another, more serious problem with the editor. Back when I was using it regularly, the editor would occasionally add or move a stray bit of code in my file. Obviously that produced some undesirable results.
I now bypass the Theme Editor altogether and use an FTP/text-editor combination that lets me open, edit and save files directly from and to the server. As a Mac user, I've settled on a combination of Captain FTP ($40) and BBedit ($125). Edit with BBedit is a built-in option in Captain FTP which is especially convenient. Similar shareware programs are available but, since this is how I make my living, I appreciate the support and regular updates that these commercial programs offer.
In addition to offering full-screen editing and the ability to keep my place following a save, the ftp/text-editor combo offers other significant advantages over Theme Editor, including, to name just a few:
The ability to undo past my last save.
Syntax highlighting (different types of code elements are highlighted in different colors).
The ability to search and search-and-replace within a file.
The ability to save a copy of the file to my hard drive.
If you're going to be doing any serious theme editing, I strongly encourage you to use a similar set-up. If you have better (or at least other) solutions, can recommend and FTP/text editor combination for PC and Linux users, or have other questions you'd like to see answered, let us know.
---
Related Articles