Why Do Some Premium Theme Makers Give Themes Away?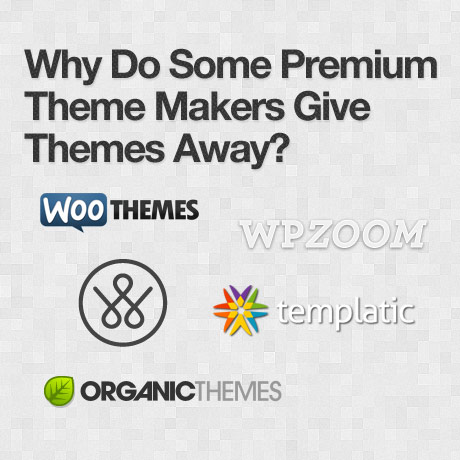 People love freebies. Who doesn't? Gift cards, pens, movie passes, coffee, doughnuts, detergent – if it's free, it's great. People love getting free stuff. It's just a fact. Many businesses recognize this and use it to market their business.
Business owners set aside budgets specifically for giving away samples of their products. It's part of their marketing and advertising campaign. What good would it do you if you come up with a great product if nobody knew about it? No matter how wonderful the product is, it wouldn't really matter unless people know about it and test it. People won't know until you put it out there.
Giving away samples is a great marketing tool to introduce your brand or your product to the market. It gives people an opportunity to test, taste, feel, or experience a product before they commit to it. A free sample, no matter what it is, is your proverbial carrot on a stick. If people bite it and eventually like it, you can sell them a whole bunch of carrots later on.
Premium WordPress Theme developers give away free themes all the time. It's a way for them to test their designs and see if it's what their customers need. It's also a way to test new ideas, improve on an existing theme, or be innovative and create something totally out of the box.
People are only too willing to download and try free themes. And if they are satisfied, they go back to buy the full version, buy other themes and even refer more people to buy. Not only do you establish your customer base but you also build trust and confidence in your brand which eventually translate to increased sales. All because these people downloaded your free theme.
For theme developers who are just starting out and probably the best place to start is by giving away a free theme. Sure it might suck but it might also turn out to be a hit. Who knows? It might be the next big thing.
We all have to begin somewhere.
Note: Many of the articles on this site include affiliate links that may earn us a commission if you decide to buy the recommended product.
Related Articles