What's Your Theme Grade?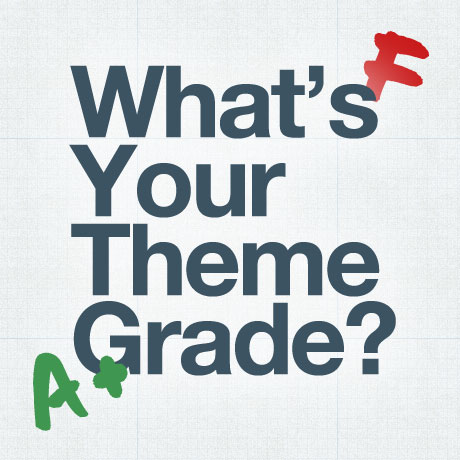 There are many ways to determine whether the WordPress theme you are eyeing to purchase will work for your needs. Online reviews, HTML validators and other tools are good indicators to measure how a theme will function given a set of standards. If you want to find out how a WordPress theme fares in terms of compliance, browser compatibility and SEO capabilities you need to check out themegrade.com.
ThemeGrade is not your ordinary review site. It is more than just a directory of the latest WordPress themes available in the market. According to Brian L, co-founder of ThemeGrade:
ThemeGrade is a site that provides:

The most comprehensive review of WordPress themes
Grading of individual themes, with quality themes being awarded Gold, Silver or Bronze status
Easy search function that allows you to quickly find your ideal themes
Top 10 rating of theme providers in the functionality and usability, graphic design, coding, and overall best category
Detail editor review of over 40 WordPress theme providers
Grading of theme providers based on the users' review"

Source: themegrade.com
ThemeGrade conducts comprehensive tests ranging from general coding issues to browser compatibilities to SEO testings. WordPress themes are subjected to technical compliance and validation tests to determine whether they are coded using acceptable WordPress standards. Themes are given a Gold, Silver or Bronze status depending on the outcome of the test results. All WordPress theme test results are explained in detail and posted on ThemeGrade's website. If you are curious as to how your WordPress theme is rated you can check out their list of tested themes or submit a theme for them to review.
Another unique service that ThemeGrade offers to the WordPress community is that they also grade and rank the top WordPress theme providers based on graphical, functionality, and coding criteria. This information is quite useful because it serves as a guide as to which theme providers are the most reliable.
Take the ThemeGrade test and see if your WordPress theme makes the grade. An informed decision will help you avoid costly mistakes in the future.
Note: Many of the articles on this site include affiliate links that may earn us a commission if you decide to buy the recommended product.
Related Articles