What Portfolio Designs Would We Continue to See in 2010?
There are a lot of web design trends were published somewhere over web design community to help us predict what is next in 2010 about web design. Each trend has especial idea, each trend tells us something interesting about web design in the past and help us continue to go forward to future. This one is not a trend. It's just a small preview that works on the new, fresh, and never-seen-before portfolios some web designers prepare for their portfolio in 2010.
The idea of this post comes out from the researches around the biggest art community website DeviantArt where web designers like to post their art-works to. Although, the number of new pre-designs for 2010 is not much, it shows us something will change or not in the next year.
Beautiful background portfolio will continue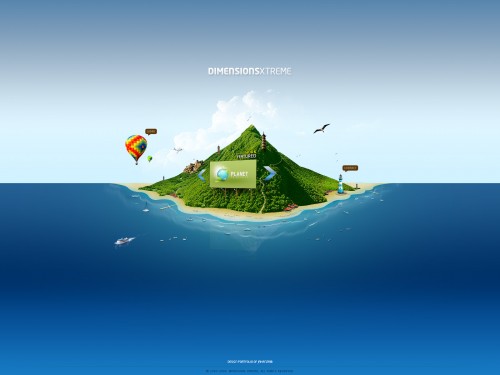 The only one page portfolios with awesome and beautiful background are really attractive to visitors or your customers. This kind of portfolio known as the full page backgrounds. It usually takes long time to complete the work. The most time your spend for it would be in drawing programs suchs as: Photoshop, Corel, Illustrator… The advantage is it shows customers your skill clearly. Who doesn't want a beautiful design? The more beautiful and attractive by your art, the more impression on the clients. However, the disadvantage is it's hard to find a space to show up your works. In 2010, this kind of portfolio still continue by some talent designers with great drawing skill.
Portfolio with creative design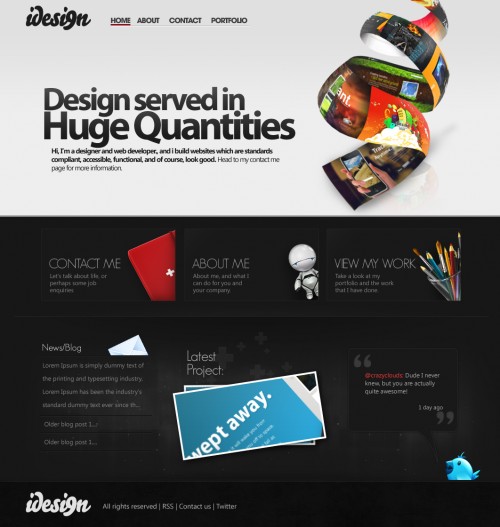 The huge images like these would have taken forever to load just 5-6 years ago and would not have been piratical. Thanks technology that today, the internet speed has changed, the minimum speed people is using is 512kbs/s now and they can load any web page with any size (not too much !!!). People love to put their awesome art-works with creative ideas and a lot of nice and beautiful icons on their design. These image and creative arts will invite people in. This kind of portfolio will stay for further works in 2010.
Minimalist and clean portfolio design will get changes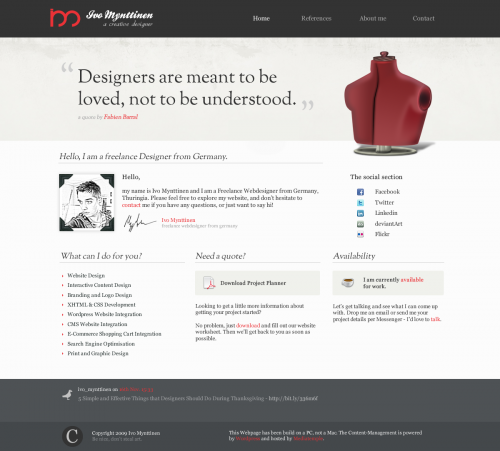 The year 2009 was a golden-age of clean design because it doesn't require to much drawing skills or techniques. It was designed base on the simplification of needs. Most of them shows the small number of colors in used, long long text in typography, but this kind of design highlights the services and social activities on your portfolio. In the next year, hope see more alternative minimalist and clean portfolio design with some different backgrounds, colors and typography.
What's a perfect portfolio?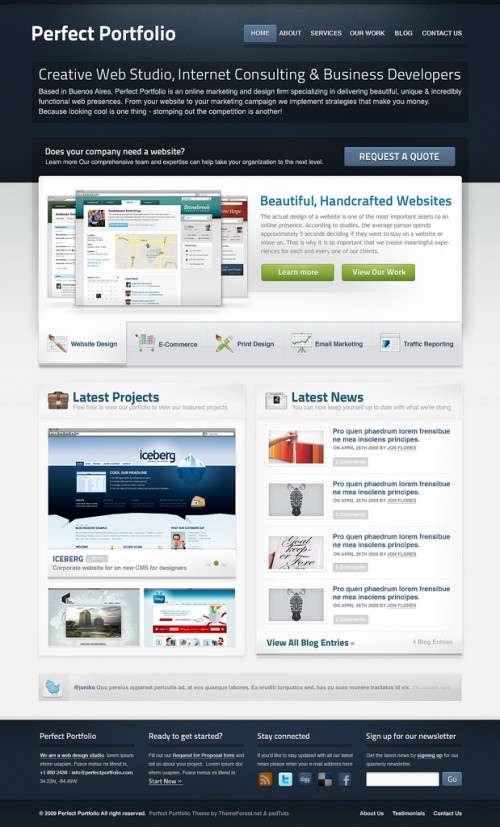 In an individual opinion, there is no perfect portfolio, but still have the best one that provides clients the most completed and interesting information. Some web design companies give to the visitors the fully content of their works, prices, life streams… the good one should talk more and put their services – what you do best – in the front of visitors. The modern style portfolio will stay alive with corporation model in the next year.
Colorful portfolio design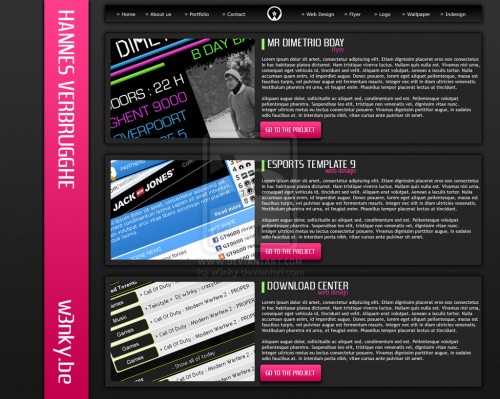 In 2009, besides the minimalist and clean design, people still step forward to 2010 with colorful style. You can realize that there are a lot of designers are following webdesignerdepot style in their design. The advantage of this style is it show clearly a great job of incorporating color and creating an attractive appearance. However, design a colorful web page is not easy as we can see. The strongest problem is blending a lot of colors in one design. If you don't have the ideas or at least the aesthetic eyes, your design will be terrible. Anyway, people are doing well and still continue in 2010.
Some portfolio designs prepared for launch in 2010
---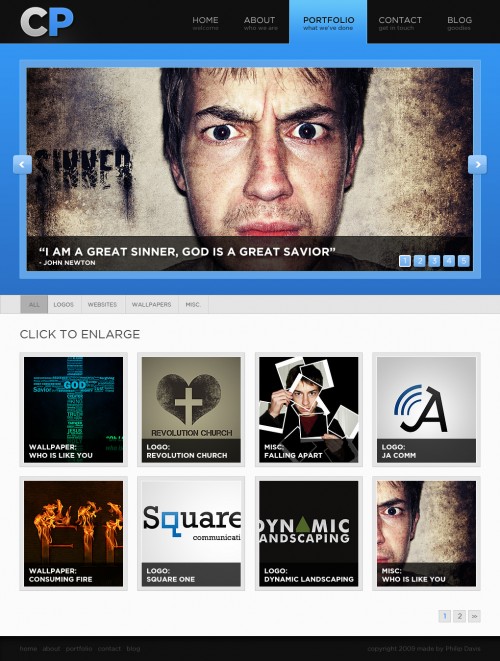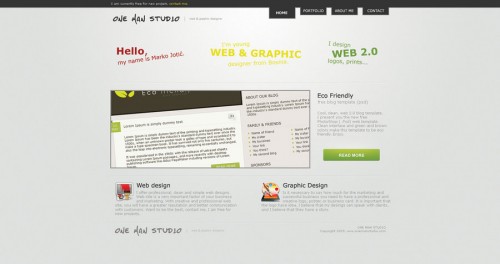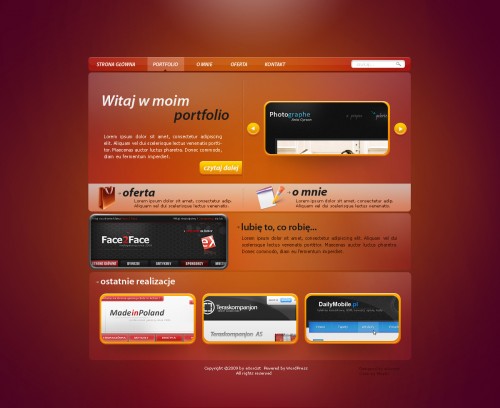 [smartads]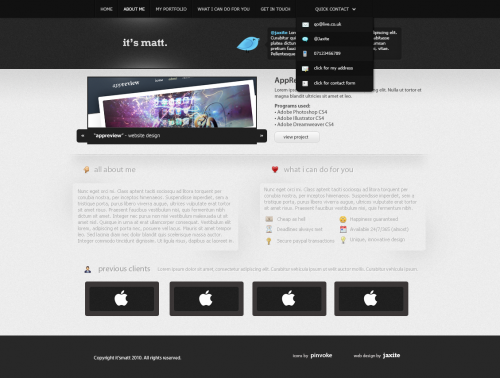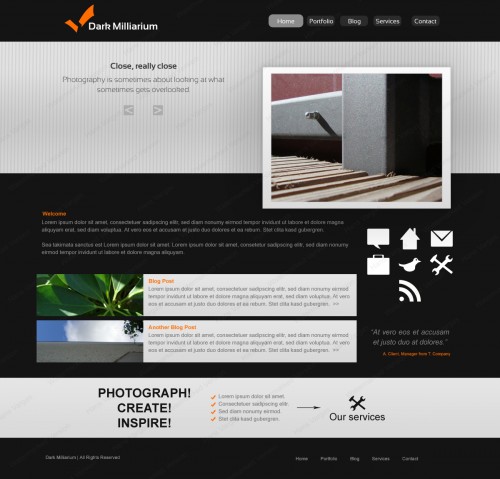 ---
Related Articles