WebHosting Premium WordPress Theme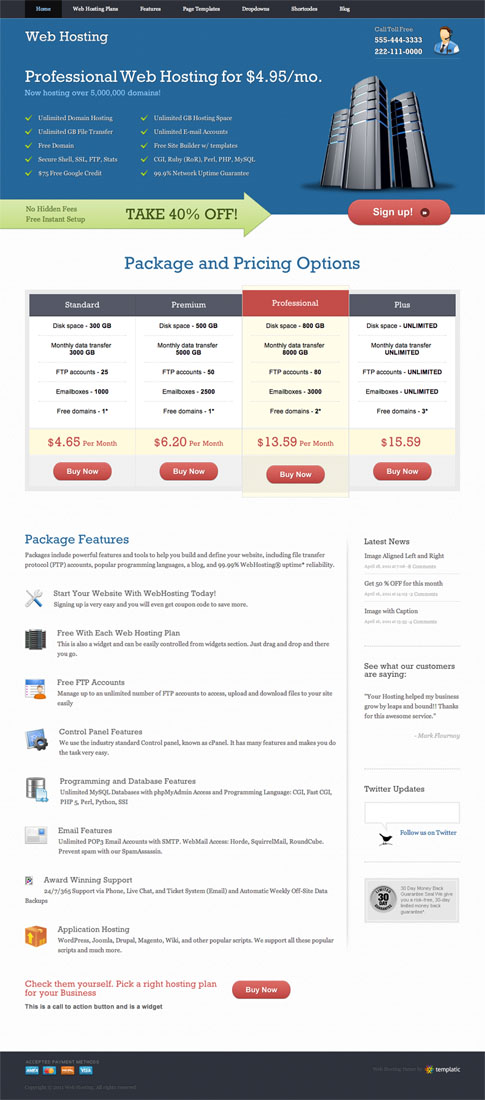 WebHosting premium WordPress theme is the perfect solution for those looking to create and manage their hosting business in WordPress. WebHosting features a tidy, professional layout and is easy to use and manage, saving you time, money, and effort in developing your online presence. You put up with enough headaches as it is running your own business — don't make running your website another one.
WebHosting Features
Auto-Install — Gone are the days when you had to setup every section of the site step-by-step in WordPress. With WebHosting premium theme, you simply activate the theme and—voila! You can start adding listings, description, images, widgets, testimonials, blog posts, and pages out of the box. The theme adds these dummy elements for you so you can easily locate them and edit (or delete) as you wish.
Strategic Homepage Design — The homepage of WebHosting theme is customizable via dynamic widgets, which are built specially for this theme. Designed strategically, the structure of the page is done in such a way that gives maximum exposure to essential elements.
Design Settings — Design settings are integrated into the layout, allowing you to control various elements of WebHosting theme through the design panel. Change font color, link color, body background color, and many more settings without even touching the code!
WebHosting Plans — You can easily create a web hosting plan page so that users can easily compare different packages. Plus, you can add a "Buy Now" link on that page for fast signup.
Blog — You're not limited to adding hosting plans and creating pages — you can also have a full-featured blog on your site. Through this blog you can let your visitors know about latest announcements and news going on with your company.
Integrated Shortcodes — WebHosting theme features 30 different shortcodes to be used anywhere.
WebHosting Showcase
Come back and check out the showcase as we find more sites from around the web using WebHosting.
WebHosting: $65 | Demo & Download
Tough choice? Don't limit yourself — enjoy access to the entire Templatic club for only $299!
---
Related Articles