Wazala – Get Your Own Online Store Within Minutes, No Coding Required
One of the biggest challenges for small businesses is to develop a cost effective and smooth ECommerce solution for their customers. You want to sell products through your own shopping cart website but you don't have any knowledge of setting up an online store, manage payment gateways and handle all the technical challenges that may occur. Most online stores have to rely on a dedicated tech team who developed the ecommerce store for them and manage it whenever required.
While this may be an ideal solution for large stores, it is certainly not very cost effective for small businesses. So how do you setup your own online store and sell products, without having to code anything or handle technical overload e.g tweaking the codes, managing a giant database of products/customers and integrate the online store on your own website? How do you provide an automated portal for your own products and sell online?
Enter Wazala – a simple online tool which lets you create an online store within minutes, without having to code anything at all. After your online store is ready, you can simply copy paste a code into your site's HTML template and your store is ready to be used by anyone. Wazala makes it dead easy to integrate your customized store on any platform, be that your Facebook fan page, your blog or on an existing website of your choice.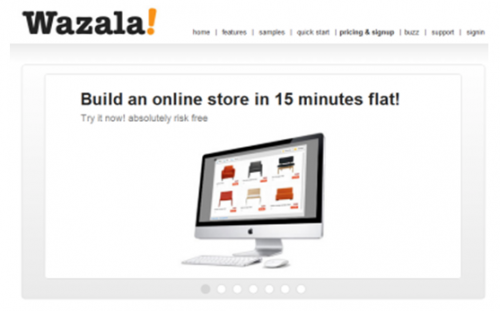 Here is how Wazala works. You create an account at Wazala.com and get your own store page at yourname.wazala.com. Wazala also makes it super easy to get a custom domain name for your store page, so if you want complete branding, Wazala won't disappoint you. You can then add this store to any website, blog or even your facebook page as well. This allows you to have your store on multiple locations all while managing one central location. From your Wazala store account, you can customize the design of your store by adding a logo, choose a background image and tweak the colors so that your store dwells well with the existing design of your website. Check all the features here.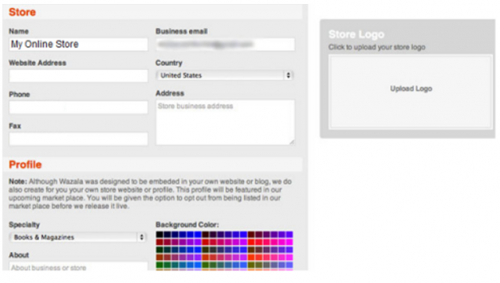 Next, you can add product listings on your store one by one through a simple form Wazala provides. This includes adding keyword rich descriptions, thumbnails, price, shipping details, discount options, coupon codes and more. This is how the product listing form of Wazala looks like: Wazala lets you define payment gateways and accept payments from Credit cards, Paypal and Google Checkout. Hence, you need not buy another payment handling script from any developer as Wazala is quite capable of securely handling payments from your customers. The best part: no additional service fee is deducted from any sale made on your Wazala store.
Here is how one of your product pages will look, once your online store is up and running.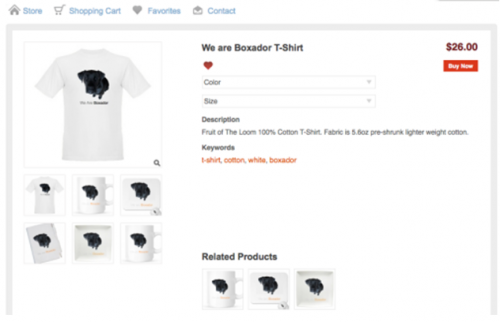 I am sure you will agree that this looks more like a full featured eCommerce site. And the best thing is that you don't have to manage the software or worry about the payment system. If you need to track the inventory of some or all of your products, Wazala has a nice inventory management page where you get alerts when your store is getting low on certain products. All the sales and commerce of your products can be easily tracked within your online Wazala dashboard, as shown below: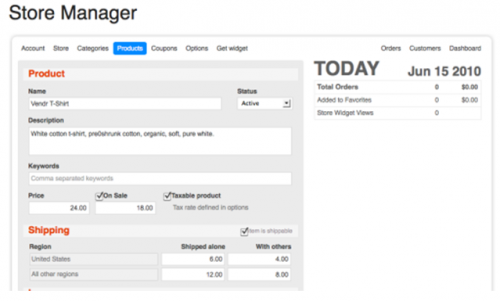 No, you don't need to setup another store for selling digital products e.g music, PDF ebook or a software. Wazala lets you sell digital and shippable products within the same store, so this is really a piece of cake for small business owners who can't afford a paid ECommerce solution. As far as digital products are concerned, Wazala can limit the number of times a particular product is downloaded and as a store owner, you can also set an expired date for the product you are selling. I must say that Wazala provides all these features at a really small monthly fee. Here are all the pricing details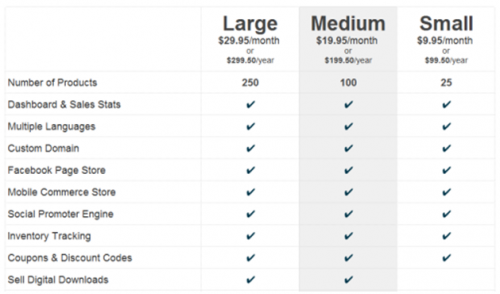 At just $9.95 a month, you can sell up to 25 products, track sales stats, setup a mobile commerce store, offer discounts and coupons and use Wazala's social promoter engine. Moreover, the first 15 days of your subscription is completely free and you can cancel your account any time. Overall, this is one of the best ways to sell stuff online, if you are not tech savvy and want something that just works out of the box. Give this a try!
---
Related Articles