Way to Choose the Best Web Hosting
There are some web hosts on the internet that provide free hosting for your website but search engines tend to ignore such sites or at least give them a lower ranking in their search results. If you need a professional, well designed website and if you really want to take your online business seriously then it is almost mandatory that you buy some web space via a webhost. Thousands of such paid web hostings are available out there. Which one is the most suitable for you? Webhostingclue.com provides the answer.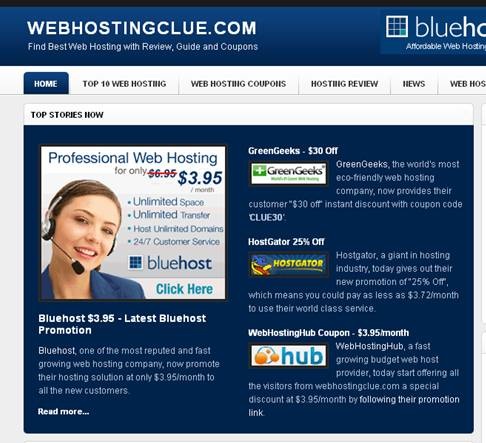 WebHostingClue.com is a website that provides information about the best web hosting services on the net. The site offers neutral, unbiased and well researched outlook on the best possible webhosts.
Darren Rowse recently did a survey on his blog about the best blogging platform. At the time of writing of this article, 1561 people had voted out of which 896 (57%) voted for self hosted WordPress. Webhostingclue understands the fact that most webmasters use the WordPress platform and hence they have devised a whole webpage about best WordPress hosting.
The site is created and maintained by a group of professionals who have over ten years' hosting experience. They give away all their wonderful information for free.
So what's their benefit? And more importantly what's yours?
The links provided on their site are affiliate links – which means that if you make a purchase through those links then they will get a commission.
Your benefit is that if you buy via those links then you will get some discount which would not have been the case if you would have bought directly.
The site is well designed and easily navigatible. Top 10 web hosting, web hosting coupons, hosting review etc – you will find everything on the home page.
The best feature of the homepage is that it provides a list of all top ten webhosting platforms in a nutshell. The list contains information like the
The name of the webhost hyperlinked to their official site. So your webhost is just a click away.
Price – the amount the webhost charges per month. It's really wonderful how Webhostingclue has found out the cheapest possible webhosts on web.
Band Width – The amount of bandwidth a webhost allows. More band width will allow more traffic.
Disk Space – More disk space means more information can be uploaded on the webhost.
Free Domain – For a professional look you must have your own domain name like www.yoursite.com and not something like www.yoursite.blogspot.com. The list provides the answer as to how many domain names you will get when you buy a webhost.
Hosting Review – A link that will direct you to a page on Webhostingclue.com that reviews the respective webhost in detail.
Please see the screenshot below to understand what I mean.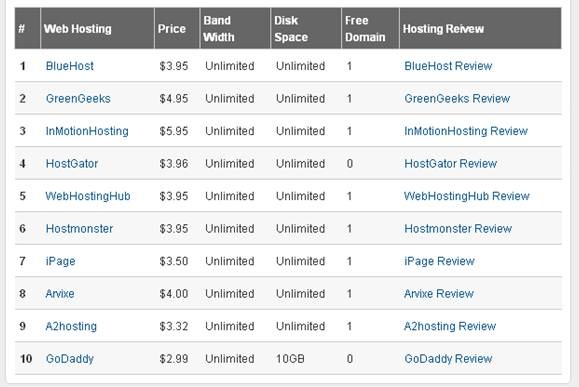 Some special coupons are available which also result in a discount. This discount can even amount to about 50%.
For example BlueHost provides a $4 discount on its original price of $7.95 per month for 2-3 years. Click here for the complete list of coupons.
---
Related Articles