Unstandard Free WordPress Theme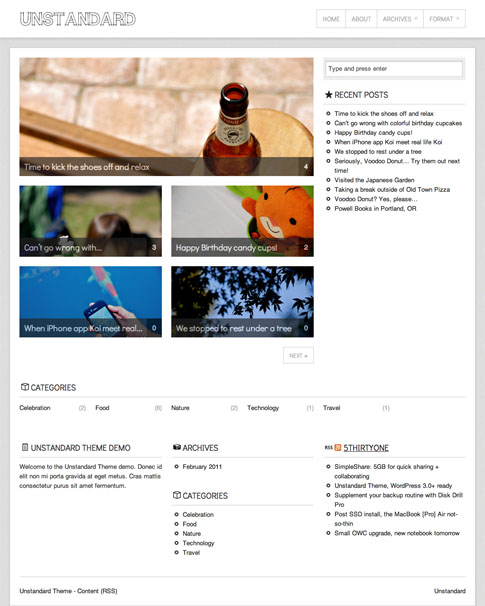 Unstandard free theme is a two column WordPress template featuring three widget enabled zones. At the time of this writing, the current 2.0 release is a complete rewrite requiring WordPress 3.0 or better. Prior versions of Unstandard free WordPress theme utilized a timthumb + custom fields setup to populate thumbnails for core pages. Thanks to the latest features offered by WordPress, assigning a thumbnail to a post is a simple two-step process — no more manual custom fields for post thumbnails. Hooray!
Unstandard Theme Features
Lightweight
Optimized structural and presentational markup
3 customizable widget zones
Featured post thumbnail support for core page presentation
Custom background support
Custom nested menu support
Includes 5 color options
Unstandard Theme Showcase
Come back and check out the showcase as we find more sites from around the web using Unstandard.
Unstandard: FREE | Demo & Download
Related Articles