Unlimited Facebook Fan Pages with WPFacePages
Self hosted WordPress is now the famous content management software and blogging software in web. As top search engines like Google and Bing have started indexing social media content, blogging has become an important strategy for businesses to generate quality leads and huge traffic for their business online.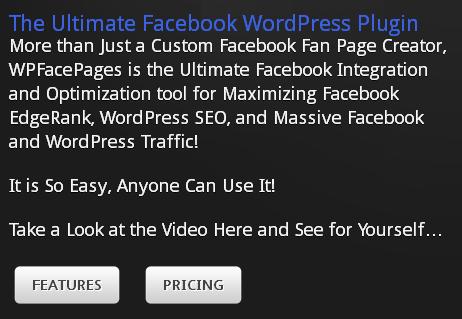 Blogging helps business owners and professional bloggers to reach social media websites like twitter and Facebook easily. Many plugins have been developed that automated content to social media. There are many WordPress plugins that have been displaying votes that have been received for individual votes from top social media websites like twitter, facebook and LinkedIn.
Among the top social media sites, Facebook has recognition as one of the powerful websites for generating leads for business online. Millions of users use facebook and targeting Facebook for business helps in generating quality leads for business online.
Targeting Facebook for business
There are many ways one use Facebook for their business. One of the best ways is to create Facebook fan page for your business products and publish your latest articles or posts to your Facebook fan page.
Advantages of Facebook Fan Pages
Some of the advantages of having Facebook fan pages for business are given below
Give Information about products
Facebook Fan Pages helps in generating information about your products in Facebook.
Reach market faster
With help of facebook fan pages, you can reach information about your products, your recent launches and information about offers and promotions through Facebook fan pages.
Create Quality back links
Facebook Fan pages helps in generating quality back links from Facebook which are very crucial in the eyes of search engines. This helps in generating high quality back links for your keywords and reach top pages of search engines.
There are many more huge advantages with Facebook fan page. So businesses started thinking about creating multiple Facebook Fan pages. But creating individual facebook fan pages is very difficult as it takes much amount of time. With powerful WordPress Plugins such as WPFacePages, it is now easy to generate unlimited number of Facebook Pages from your wordpress blog.
Now with the help of powerful Facebook SEO tools such as WPFacePages, you can convert each of individual posts on your professional blog to Facebook Fan pages. This means lots of back links for your wordpress blog, lots of customers for your products and reach top pages of search engines for your keywords.
How to use WPFacePages
WPFacePages 2.0 is very powerful for businesses to generate leads. It is very simple to install and get started. You can get the complete video tutorials in their website on how to get started with integration of WPFacePages with your website in simple steps. Once installed, you can create Facebook Fan pages from your WordPress blog to Facebook.
Start using WPFacePages and generate quality leads from Facebook.
Already have a FB account? here is FB Login
---
Related Articles