Under the Microscope: Med Store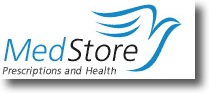 I've discussed affiliate marketing countless times on this blog. However one niche I haven't mentioned yet is prescriptions and supplements. A lot of times people immediately think of "PPC" (in this case, pills porn and casino) as soon as they hear prescriptions. The truth is though, prescription affiliate sales can be a great source of income. Most affiliate programs in the niche give you credit for all sales over the lifetime of any customer you refer. As your referral base continues to grow, it wouldn't be tough to imagine affiliates generating some significant passive income. With so much money to be made, it's no surprise companies in the industry hope to recruit as many affiliates as possible. In fact, when MedStore.biz asked me to put their site under the microscope, they asked that I focus exclusively on their affiliate program.
When landing on the affiliate information page, you'll immediately see that MedStore boats an impressive 70% commission rate with the leading program. Now don't get too excited because to get that commission rate you actually have to generate more than 81 orders per day. However, even the lowest rate of commission (50% for 1-5 orders a day) is still a pretty high percentage. Basically, the more orders you generate, the higher the commission rate. While that aspect isn't unique to MedStore, there are a couple of aspects of the program that were different than any other affiliate program I've participated in.
First of all, that commission percentage isn't just a percentage of the product price. The percentage is actually taken from the profit you generate from each sale. While that seems a bit odd, it makes quite a bit of sense considering the other interesting aspect of the program. The reason MedStore can't just give you a percentage of the product price is because that price will change with every affiliate. You see, MedStore allows each affiliate to set their own price for the products that they sell. This gives you a larger measure of control over your earnings from each sale. You can choose between setting an extremely low price and hopefully generating a lot of orders per day (earning a higher commission rate in the process), or you can set the price higher and make more profit off every sale.
Suggestions
Really the only negative observation I have about the site is the lack of information about the affiliate process. MedStore does a good job of selling their affiliate program, but they don't give many details about the program itself. Do you sign up and embed product listings on your own site? Do you simply link to a dynamic page on their site? How do you go about setting your own prices? What kind of tracking do they provide? I'm guessing that affiliates that have previously participated in this niche and therefore know the drill, but adding this sort of information might help them attract more affiliates that are new to the prescription industry.
What do you think?
So I've given you my opinion, what do you think? Have you ever participated in an affiliate program for a drug or supplement site? If so, what kind of results did you see? If not, why haven't you given it a shot? Also, I'd love to hear any suggestions or feedback you have for MedStore.biz. To get started with the MedStore affiliate program, simply click the banner below, then click on Affiliates:

---
Related Articles